While searching for some information on Google, you must have seen a section called "People Also Search For". In this blog post, I will elaborate on this topic.
Google works hard to provide searchers with the most accurate, relevant, and high-quality search results. To make this a reality, search giant comes up with innovative features for their Search Engine Results Pages (SERPS).
What is Google's People Also Search For (PASF) Feature?
The main aim of Google behind rolling out this feature is to offer users an overwhelming search experience. Google introduced the 'People Also Search For' or PASF feature back in 2018 to improve the search experience of users.
With this feature in place, Google started showing follow-up searches to the searchers if they didn't find the results satisfying.
When you hit Google search for searching a particular keyword or a topic, it throws up a list of relevant high-quality search results consisting of links to the web pages. If you navigate to a particular website but bounce back to the search page without reading much, Google assumes that the search result didn't answer your query.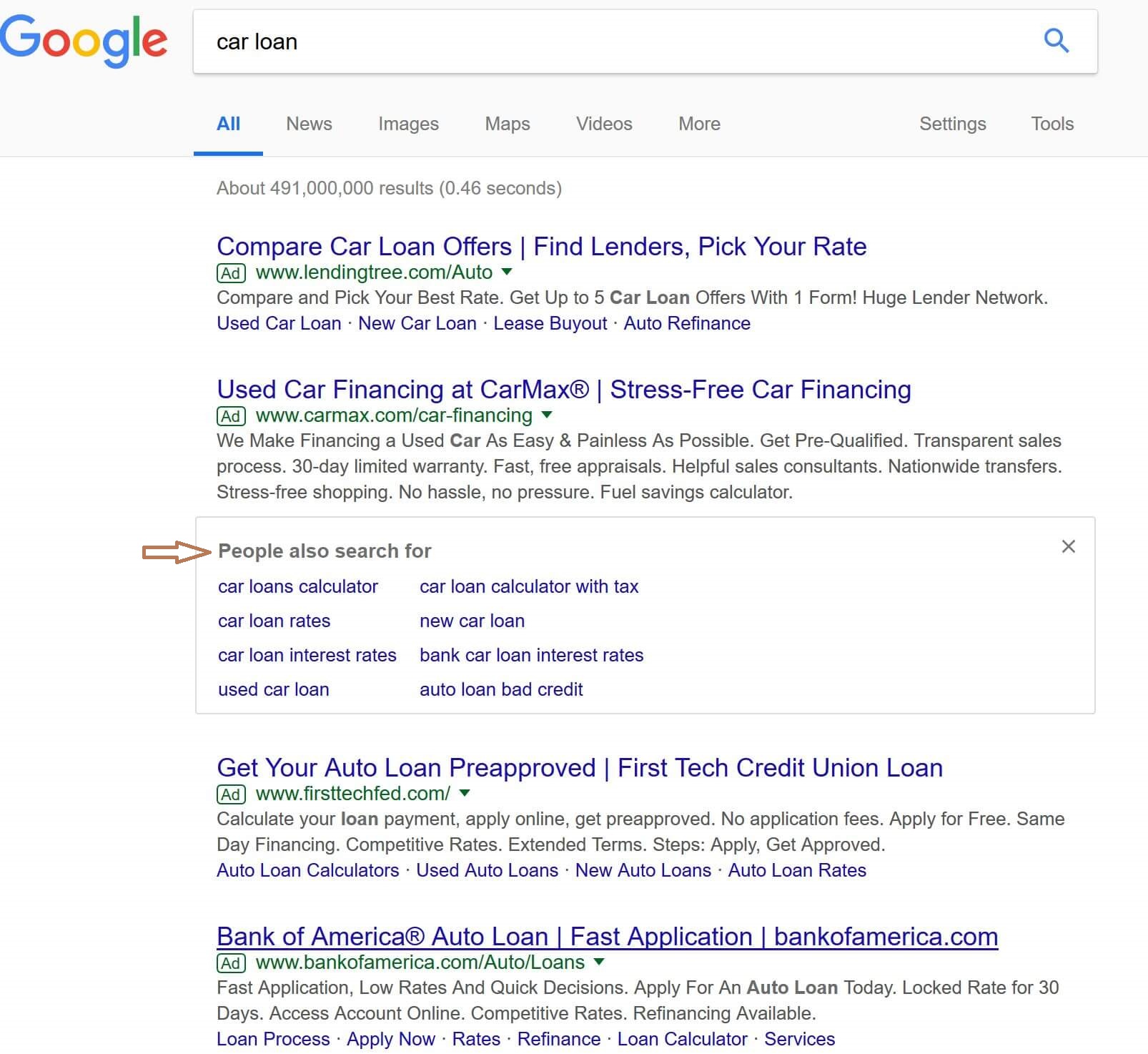 To give searchers more options to find the right answer and engage them for longer, Google offers the "People also search for" snippet right under the search result. The section contains some other related and relevant keywords that might have answers to the query you asked. These are the important key phrases that users have frequently used while searching for this topic.
People Also Search For: History
The PASF feature is not new. It's been an integral part of Google search since the knowledge graphs were first introduced. The only difference is that it's now more interactive and useful.
Over the years it has evolved from an image thumbnail to display topics closely related to the original search query. It's not always the case that the PASF box can be found at the bottom of the page, its standard position. Sometimes it's placed in some other location on the SERP. Google's algorithm tests and adjusts its position on the page.
How is 'People Also Search For' different from 'People Also ask or PAA'?
Among many differences between the two, their positioning is the domain distinction. The PASF keywords appear directly under the search results you click, while related searches are shown at the bottom of the search page. Since the former is more visible to the users, it gets more clicks than related searches.
Both the 'People Also Search for' or 'People Also Ask' features appear dynamically and consist of a set of questions related to the original query. The 'People also ask' entries are not keywords but questions people ask regarding a given topic.
'People Also Search For' In Mobile SERPs
If the numbers are to be believed, over 58% of desktop searches and over 88% of mobile searches show People Also Search For results.
Interestingly, on mobile searches, this box is labeled as "Related searches and placed at the bottom of the SERP. If you watch closely, you can see little three dots above the PASF box on the right. They read: "These are related searches that other people have done" if you click on them. Google briefs it as "Your search & this result".
These are the recommendations that Google suggests based on the search keywords and user intent. The language of the suggested result is English and they are not advertisements.
Importance of 'People Also Search For' for SEO
PASF keywords are crucial to your SEO strategy. Google algorithm pulls them right from its database. These keywords are the key terms that searchers use to access some information online or learn more about a topic.
Since the success of an SEO campaign relies more on your target audience, The "people also search for" keywords help you have deeper insights into your target audience's search intent, preferences, and interests.
How to Use "People Also Search For (PASF)" for High Rankings:
So far we have learned about the different aspects of PASF. Now we will discuss the many in which we can use the feature to rank higher in Google search rankings.
1. Use PASF to Understand User's Search
By analyzing the keywords appearing in this section, you can better understand the overall search intent of the target audience. These keywords will give you an idea of what people are searching for while using these search terms. This way you can optimize your content for your target audience.
2. Use PASF for Keyword Research
The 'People Also Search For' feature can give marketers ample keyword ideas for their next content marketing campaign. Since this data is pulled right from the Google database, it is highly relevant to your topic. You can generate great organic traffic and achieve ranking if you create high-quality content using these keywords.
3. Use PASF to Conceive New Content Ideas
These keywords can help you to conceive some great content ideas for your next marketing campaign. Find your target topics first and then discover its PASF keywords using a keyword tool.
Analyze the top pages in the search results that are ranking for these key terms. It will give you great content ideas and you will be able to create fabulous content for your blog or website.
4. Use PASF to Create FAQs
You may have seen FAQs at the very bottom of the blogs or articles. These FAQs help to engage readers and rank for multiple search keywords used in the questions. You can explore the PASF section to find keywords/topics to include in your FAQs. These are the search terms your audience is already searching for.
How "People Also Search For (PASF)" Works?
The section pulls data from Google's database itself. The process is powered by Google's Related Searches algorithm which considers numerous factors to establish which queries are related to the main query.
The algorithm refers to the main query triggered by the user to determine the related queries. Searcher's location and the searcher's devices are also important in ascertaining the related queries.
Other factors that play a significant role in finding the related query to the main query are the searcher's search history and the content of the SERP. Google updates the People Also Search For algorithm in real-time.
How You Can Manage Duplicate PASF Topics?
You may find tons of duplicate topics in PASF or Google's related searches. It's not difficult though to manage them. Instead of using the same query on different pages, it's recommended to create a single landing page for all related queries. It will cut keyword duplication to an extent.
In case you have several pages across the website covering the same topic, it's important to use canonical tags to tell Google which page is the original and which ones are duplicates. You can also use redirects to navigate users from the duplicates to the original pages.
How to Optimize Pages for PASF Keywords?
While creating the content, make sure it's aligned with the searcher's intent. To do so, conduct thorough research on all the related topics to understand what are the keywords your target audience is using to find your products or service.
Find all keyword combinations that you think are important for your content to rank. While writing the content, including the search terms that are related to your content topic.
Best Tools to Find PASF Keywords 'People Also Search For' (PASF) Keywords:
To attain high rankings in search results for PASF keywords, you should find the right keywords first. There are many tools available there that may help you in this. We have covered here a few tested tools (available in both free and paid versions) that can help you in keyword research.
Keywords Everywhere
The tool displays data directly on your search page. It's available as a Google Chrome extension and helps you to find both 'Related Keywords' and PASF keywords. The tool shows as many as six keywords related to your search query for every search result on the SERP. The keywords are shown along with their monthly search volume, CPC, and competition.
Google SERPs
Google search engine result page is also an ideal place for finding PASF and PAA (people also ask) queries. Using Google search, you can easily find keywords and related terms that people are searching for.
Google's People Also Ask (PAA) section can also help you in the discovery of these keywords that you further use to create content or marketing campaigns.
Conclusion:
Google's People Also Search section gives search marketers an outstanding opportunity to discover new keywords and content ideas. These keywords are directly pulled from Google's database, so you can trust their credibility and reliability.
---