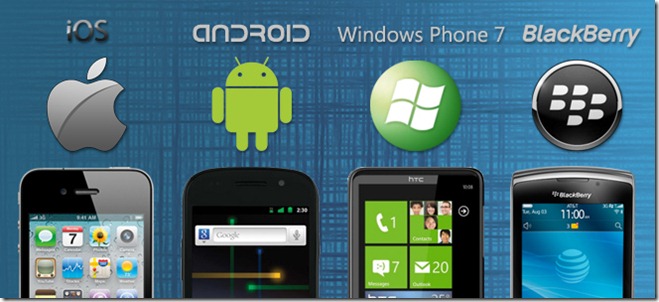 As technology has evolved over the years, smartphones have turned into personal computers. They are now feature-packed devices, where you can access documents, emails, music, videos, etc. besides making audio and video calls.
Most of my friends keep an edge over me when it comes to have knowledge about the latest mobile trends in the market. They are really fluent in oral showcasing of latest mobile brands in the market, their features, app they do support and why they could be a better deal. However, they stuck whenever someone asks about the mobile operating systems largely being used by the companies in their handsets.
What is an Operating System?
Technically, an operating system is a software designed for mobile phones to run all the mobile functions on the hardware. Operating System is designed to control all the basic operations that are necessary to install and run new extra applications.
Top 5 Mobile Operating Systems
If you're one who doesn't know much about the mobile operating systems your own mobile phone runs on, here is a basic introduction. The article presents a quick look at the major and most popular operating systems used in mobile phones. Please note, I am just covering the chronology and not the technical details of the operating systems. May be, I can touch that part later on.
Android OS:
It was September 20th, 2008 when internet giant Google unveiled its first mobile operating system dubbed as Android Astro. Following the release, Google continued with the release of upgraded versions of Android OS namely 'Bender' and 'Cupcake'. After some time, Google decided to name its android OS versions after any dessert or a sweet in alphabetical order.
And thus, we got the names Android Donut, Éclair, Froyo, Gingerbread, Honeycomb, Ice Cream Sandwich and Jelly Bean. The latest from the Google Android family is Marshmallow (Android 6.0). Being the open platform, Android is the first choice for mobile app developers for developing advanced mobile applications. The top features of the Android app are the following:
Gesture navigation
Wi-Fi and QR codes
Undo app removal
Location control
Privacy settings
Better notification controls
And many more
Apple iOS:
Apple's flagship operating system iOs was unveiled on 29 June 2007 when the company introduced its first iPhone to the mobile frenzy world. Since then, Apple has released several versions and updates to Apple iOS. The latest version of this OS is iOS 9.0.
Unlike other operating systems in the list, iOS doesn't share its code with other handset makers, means the operating system is specifically built and regularly upgraded for Apple iphones. For Apple, performance matters more than appearance. If different stats frequently establish iOS being the most popular and powerful mobile operating system.
Emergency Calling Button Presses
Improved App Privacy
Legacy Contacts
QR Code Enhancements
Shared With You Media
Focus Mode
FaceTime Calls for All
BlackBerry OS:
BlackBerry OS, specifically developed for BlackBerry Smartphones, was developed in 1999 by RIM (Research in Motion). BlackBerry is very different from its contemporary operating systems. From its interface to design to navigation scheme, its functioning is bit distinct.
It has a trackball for move around the menu and a qwerty keyboard to type and text. Like Apple's iOS, BlackBerry operating system is a close source operating system and is not available to other handset makers. BlackBerry 10 is the latest version of this OS available to the users. BlackBerry is a rigid and unbeatable OS and quite immune to vulnerable attacks.
Windows OS:
As we use Windows OS for desktop and laptop, Windows OS for phone is designed for Smartphones and Tablets. Needn't so say, Microsoft is the brain behind the both.
On the popularity chart it comes after iOS and Android. Its look and feel is entirely different from other two as well. People who are familiar with iOS and Android, find it quite complex to deal with Windows' UI and navigation. People using Windows on their workstations can easily get familiar with this OS.
Symbian OS:
Once very popular among the mobile operating systems, Symbian operating system is now fighting for its existence. Symbian OS designed and developed by Nokia and still is being used in low-end. Nokia has made several attempts revitalize Symbian by upgrading it several times. Symbian ANNA and BELLE are two latest update which are currently used in Nokia's Smartphone.

Tarun Gupta, CEO of Brainpulse Technologies, is a prolific author and digital marketing specialist. His insightful writings span SEO, content marketing, social media strategy, and email campaigns, offering invaluable expertise to businesses worldwide. Tarun's contributions continue to shape the digital marketing landscape, guiding success in multiple niches.
---