Responsive Website Designing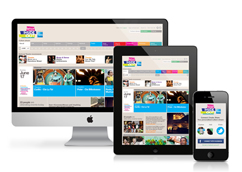 Our HTML 5.0 based responsive website designing solutions bring together the most advanced web technologies HTML5.0, CSS3, media queries and JavaScript and our 20 years of robust experience in web designing domain. Our responsive website designing team strives to design responsive and mobile-friendly business websites that are visually appealing, offer uncluttered user experience and designed using interactive responsive prototypes. Whether it's a startup or a big enterprise, our responsive designs help you with some best-in-class and pixel-perfect responsive websites that run uninterrupted on any device.
Amid growing trend of users turning to mobile devices for shopping and browsing, business owners need to choose responsive websites optimized for all kinds of devices, operating systems and browsers. It immediately improves user experience and increases website's conversion rate.
Why You Need A Responsive Website?
Mobile Phones, Tablets, Laptops and iPads have completely changed the way people browsed and shop. Thus, businesses need to ensure that their websites are easily accessible on different devices without compromising user experience. Failing to make your website responsive may hurt your website rankings as well. A responsive website ensures that its text, images and other elements are being displayed without clutter on any device. Another main factor why you should go for responsive website design is that more and more people now access information and shop for their stuff on the go. Therefore, you can't afford to leave your mobile audience untapped.
Better and improved user experience
Obtain Higher Conversion Rates
Attract mobile customers
Considerable reduction in designing cost
Single website for different screen size and resolution
The idea of Responsive Website Designing (RWD revolves around making a bundle of structural changes in the website to rev up a website's performance on every platform it's being opened on. Responsive designing is a new-age technology which ensures seamless cross device browsing without compromising on the user experience.
Responsive Website Designing Services @ Brainpulse?
While designing responsive sites for mobile users, our designers consider all website designing elements including navigation, user experience, text and graphics very minutely. The websites we develop have device-independent user interface so that they can be easily adjusted and run across the devices used. Our responsive web designing team takes advantage of flexible grids to adapt the website for different screen sizes. They scale the images perfectly without breaking the layout.
Still have queries? Call us now on 0120-6790400 to get in touch with our Responsive Website Designing team. They will tell you about our exclusive Responsive Designing plans made specially for the businesses like you.
Latest Blogs & Insights From Responsive Website Designing