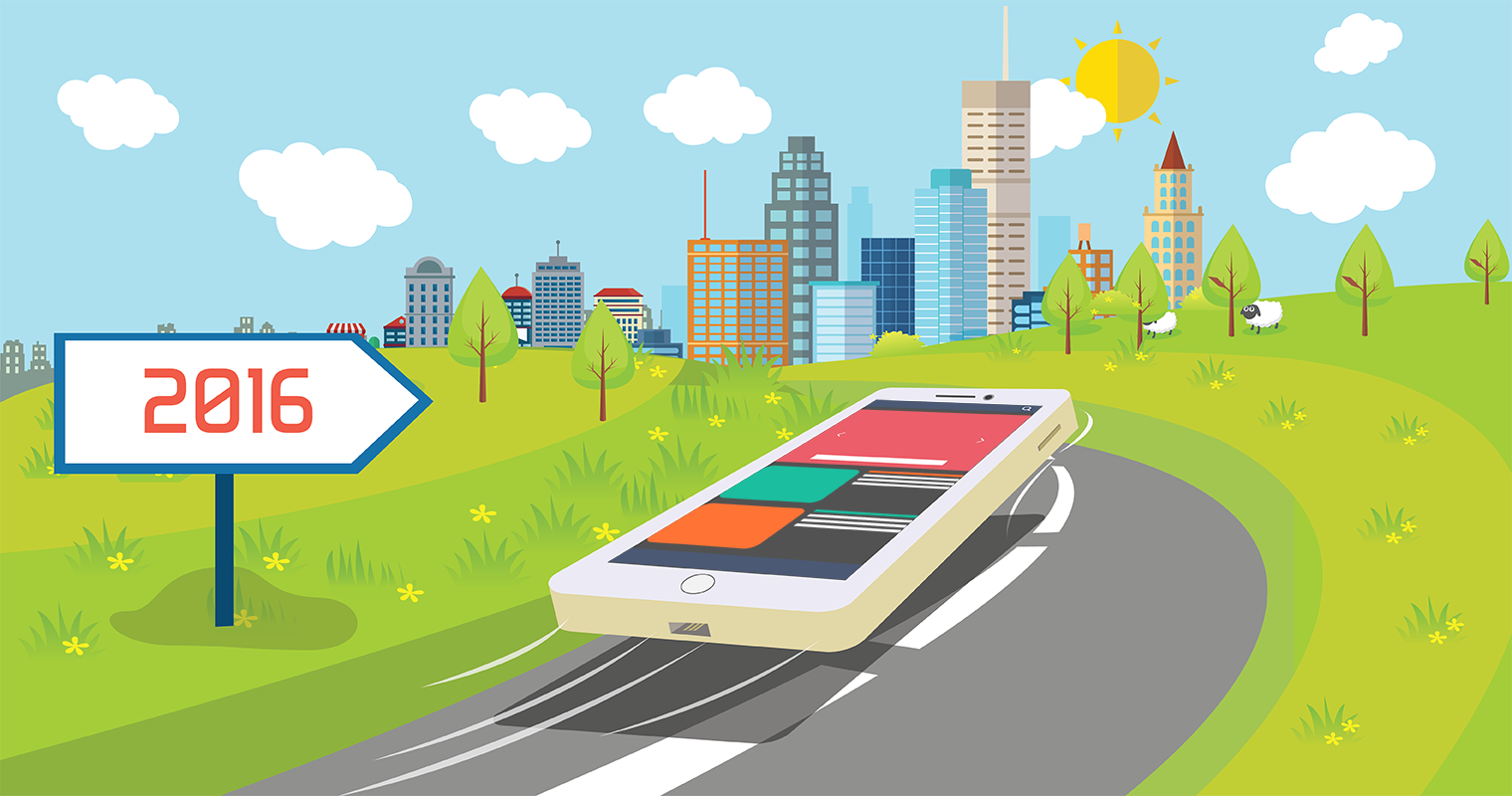 Even after Google's mobile search algorithm if you haven't yet made your website mobile friendly, you may lose a big time. With massive growth in mobile population, having a mobile site isn't now an option to follow, but a requirement you must fulfill. This means mobile readiness is now a thing to talk. Despite all that has been said about the mobile friendliness and responsive web design, there are marketers who are confused why they should invest on mobile app.
2016 Mobile Apps Development Trends:
The fact remains that many companies, specially ecommerce giants, now have their full fledged mobile apps. Using these mobile apps, buyers complete their buying process from start to finish with ease. The story is quite similar with grocery apps, sharing ride apps and hundred of other app based services.
A Nilsen study says that people tend to browse mobile apps 10x more than the mobile web. The year 2016 has been the year of incredible transformations in mobile world, and we can see even more innovation in times to come. Here are six mobile apps development trends that marketers should consider important to act around in 2016.
1.Android Will Remain The King:
If booming sales of iPhone stuns you or sends you thoughts that it's dominating over Android, think again. Though, iOs is strengthening its reach by each passing day, the growing demand and sales of Android devices all over the world is itself proving its popularity. Thus, if you are planning to launch a mobile app, consider both iOS and Android platforms equally.
2. Offline Mobile Apps Will Continue To Amaze:
Say a big thanks to HTML 5.0 for giving push notifications a new lease of life. It offered web apps a capability to work without being connected, and this has become prevalent now. Push notifications are a great way to let users get news and updates from the websites without actually opening them in the browser. This is currently true for the web apps, but in future it could be a part of business mobile apps.
3. Safari Browser Could Get A Revival:
Safari browser, once a gem, gradually lost the place and became a thing of the past. It disappeared as soon Mozilla and chrome arrived and overtook the podium. But as rumor mills are making the rounds, we can see a revamped Safari browser very soon. If it becomes possible, the only reason would be the maker's reinstated faith in mobile boom and unlimited possibilities the mobile browsers can offer.
4. We Can See Rise In Event Apps:
Recently, Facebook launched an event app that updates users about the events, get together, parties and concerts in your neighborhood. Using this Facebook Events app, users can also create their own events and share them with their friends who might be interested in going. This trend will continue to grow as companies regularly host big conferences. Creating such mobile apps for promoting events and conferences keeps down the pricing cost and helps attendees get more engaged.
5. Apps Might Have Better Device Detection:
If you are readying your mobile app, don't forget to test it for flawless device detection. This is the only way to find whether or not the sent content is getting delivered to another device in a timely fashion. Server side detection started getting traction in 2015, and if the trends are true, it is going to get become mainstream this year.
6. Localization Will Be Important:
Although, localization not a priority for mobile apps, the localization feature is getting a lot of attention nowadays. In a global marketplace, you can't take the risk of targeting a mobile audience who only speak one language or belong to certain locations. While doing mobile apps development, ensure that the entire layout of a site/app is in keeping with the target audience's native expectations. For example, if you receive payments online for your service, offer users localized currency options so that they can make their payments without hassle.

Tarun Gupta, CEO of Brainpulse Technologies, is a prolific author and digital marketing specialist. His insightful writings span SEO, content marketing, social media strategy, and email campaigns, offering invaluable expertise to businesses worldwide. Tarun's contributions continue to shape the digital marketing landscape, guiding success in multiple niches.
---