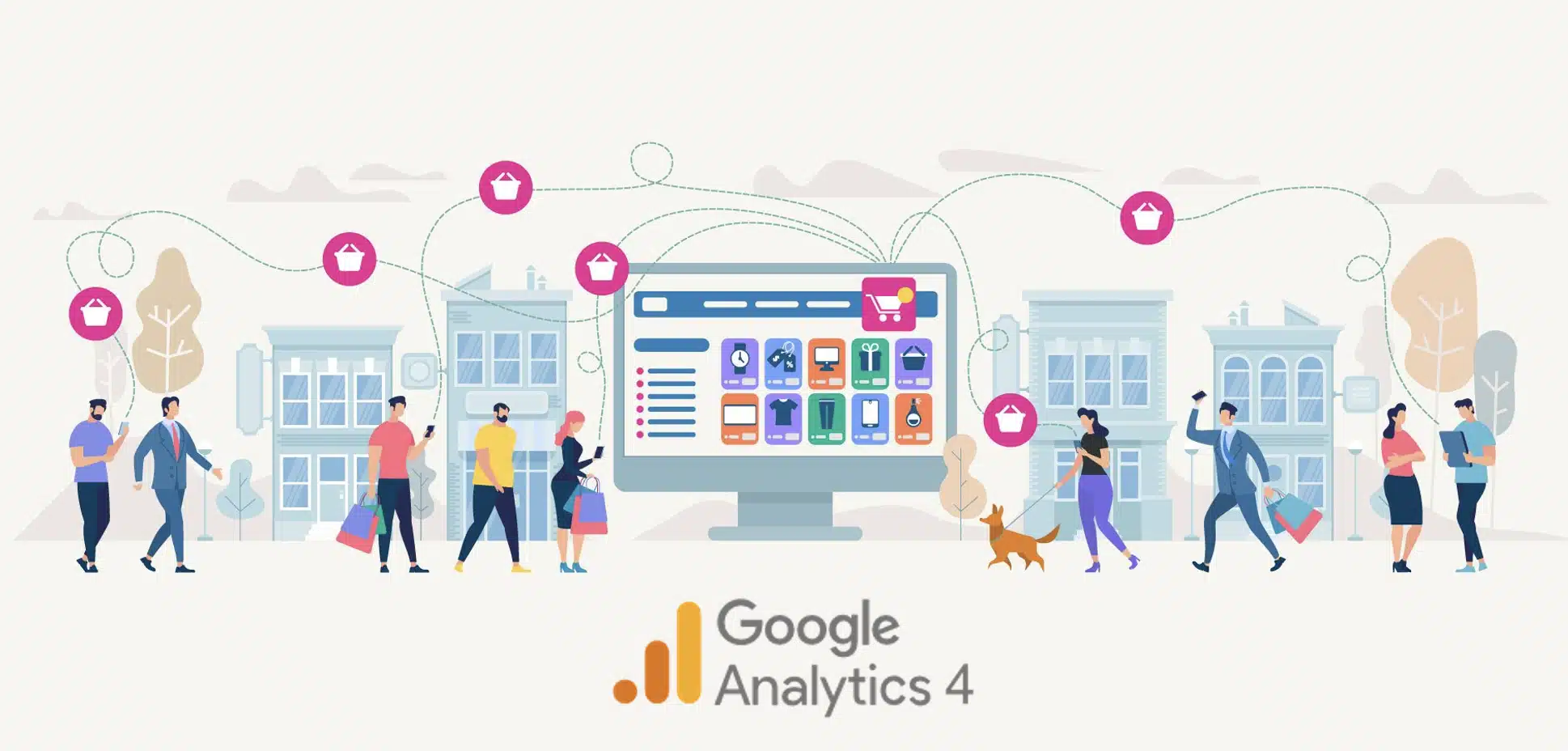 For digital marketers and SEO professionals, Google Analytics hosts a range of features. The GA4 helps marketers measure their SEO performance and find bottlenecks and other opportunities for better conversion. GA4 has several inbuilt reports that enable marketers to further analyze their SEO performance and strengthen their strategy.
The Importance of Google Analytics4 for SEO
Google Analytics provides detailed insights into your SEO campaign performance. With a precise GA strategy in place, you can monitor the good and bad of your campaigns. The reports it generates can tell precisely what is working and what is not based on your goals. Google Analytics reports throw light on the following important metrics:
The source of traffic
Content engagement
Content that converts the most
Device-based conversion
Following are the 10 most important reports that GA4 brings in for marketers to measure the performance of their ongoing SEO campaigns:
1. Conversions Report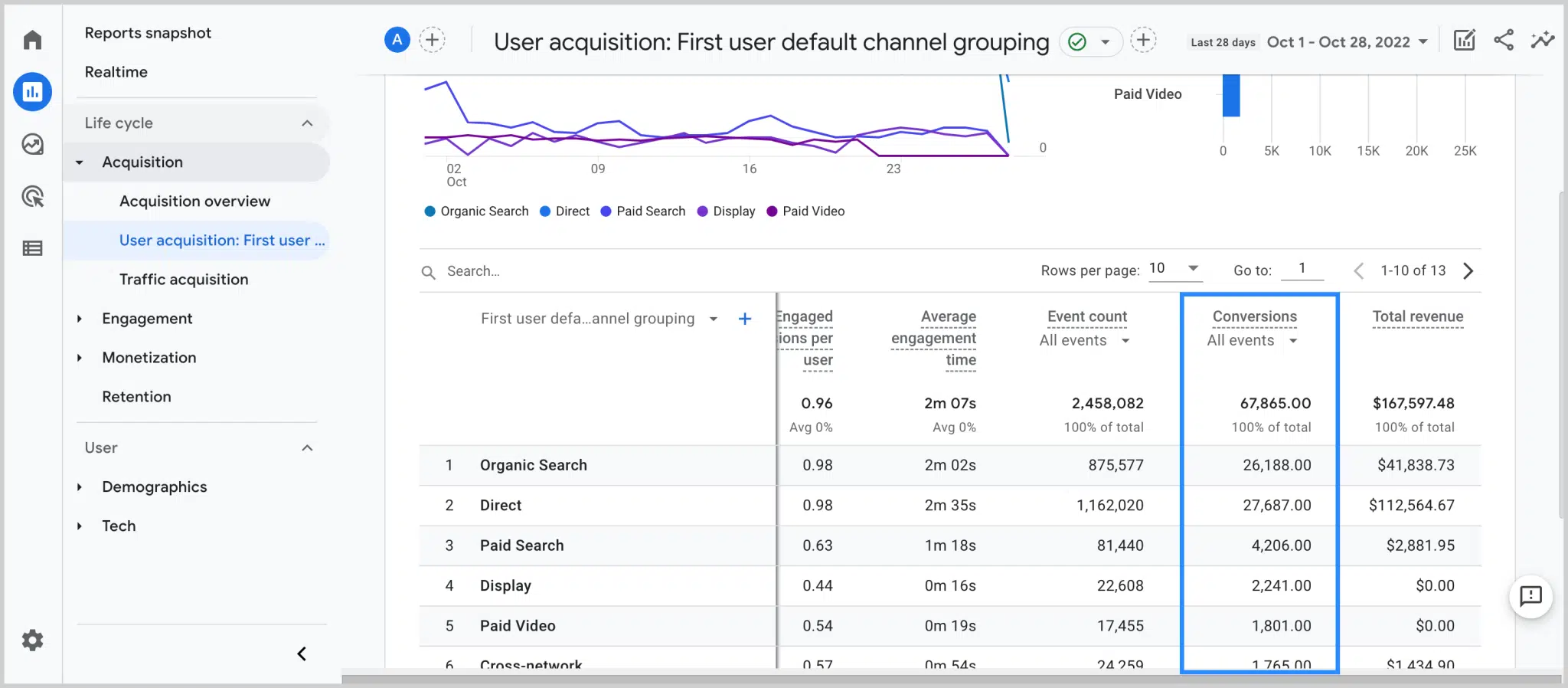 Sometimes it seems difficult to calculate ROI for several reasons. The best way therefore is to measure the conversion of the website using conversion reports. GA4 conversion reports let you track target objectives so that you can calculate the SEO goals such as the number of page views, sales conversions, form submissions for leads, or any other action.
2. Overview report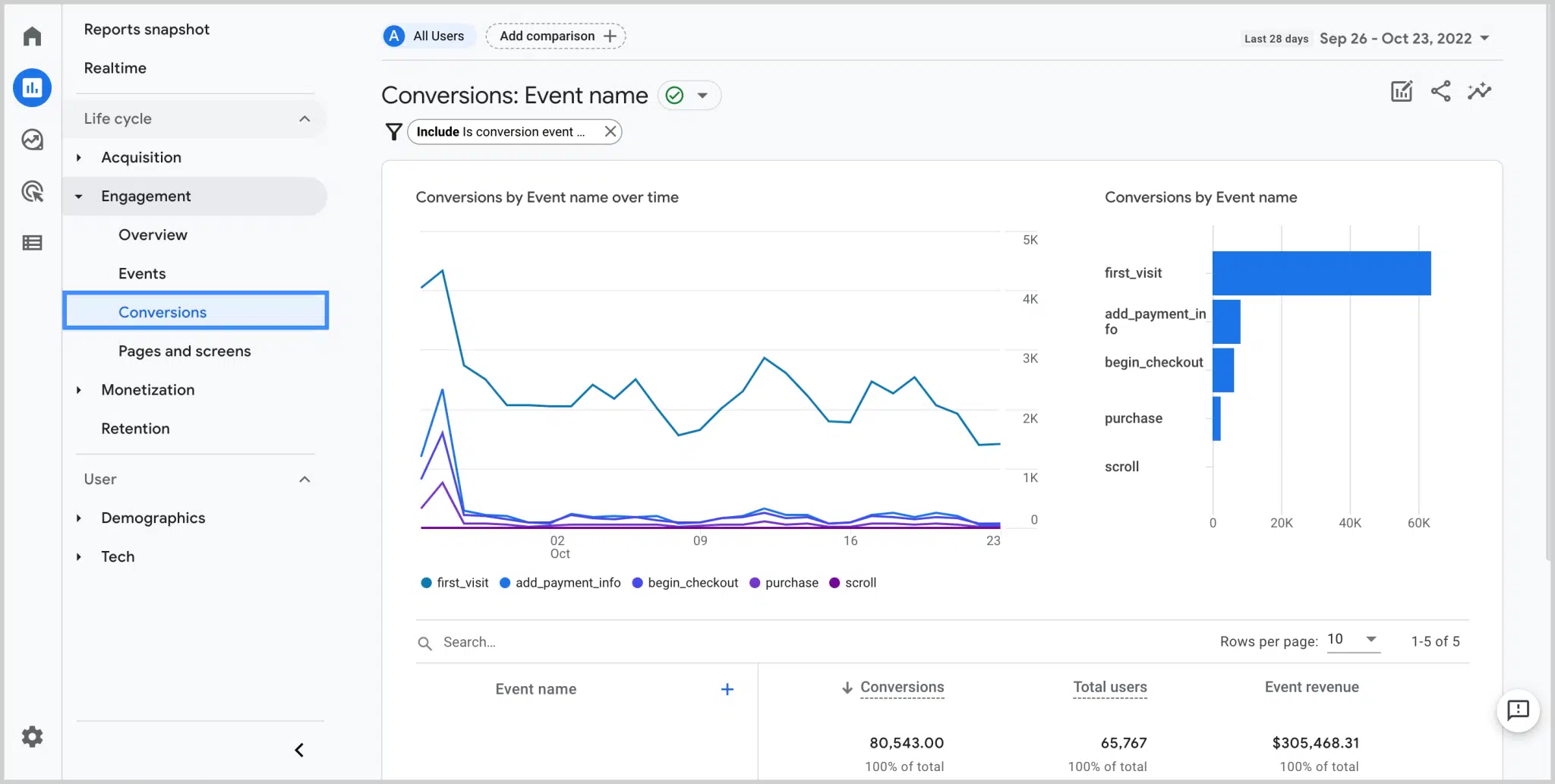 The GA Overview report provides a comprehensive and detailed summary of your website traffic, engagement, monetization, and retention. In addition to that, it also features an expandable snapshot of your website performance over a selected time. You can use this report to identify trends and areas for improvement.
Following is the data you can pull using this report:
Sessions
Users
Pageviews
Bounce rate
Conversion rate
Revenue
The overview report is available in the form of charts and graphs that can help you understand your website performance. For instance, a line chart shows your website traffic over time while a pie chart indicates the distribution of your traffic sources.
You May Also Be Interested in: What is Google Word Coach?
3. Acquisition report
The Acquisition report in GA4 provides a detailed insight into how users are discovering your website or app. These reports include data about traffic sources, channels, mediums, and campaigns. A comprehensive acquisition report provides a detailed account of the following:
Traffic sources that drive the most traffic
Channels that are most effective at converting
Campaigns that are generating the most revenue
Most successful Marketing strategies
The overall cost of the campaign
4. Engagement report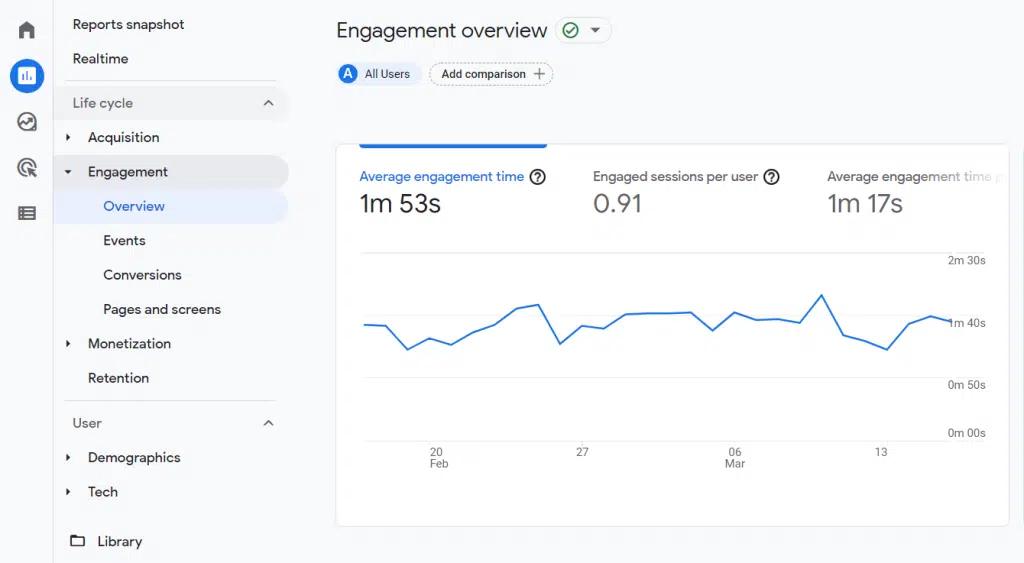 In Google Analytics 4 (GA4), an engagement report provides comprehensive insights into how users interact with your website or app content. It will help you to find how much your content is engaging your audience. The report covers the metrics and data related to user interactions, including:
Pageviews
Average Engagement Time
Engagement Rate
Bounce Rate
Event Tracking
Specific user interactions, such as clicks on links or buttons, video views, downloads, and other custom interactions
Scroll Depth
User Interactions
5. Monetization Report
This is a collection of reports that provide important information insights into how your website or app is generating revenue. It consists of reports on e-commerce, subscriptions, and ads. The Monetization report can be used to understand the following:
Products or services that are generating the most revenue
The most popular purchase flows
Marketing campaigns that drive the most revenue
Average order value
Website/app Conversion rate
The GA4 Monetization report is important for businesses willing to accelerate their revenue performance. Based on these reports, you can effectively make more informed decisions about your products, services, and marketing campaigns.
Some of the key reports that you can find in the Monetization collection are:
E-commerce
Subscriptions
Publisher ads
6. Retention report

The Retention report in Google Analytics 4 (GA4) hosts several reports that present insights into the efficiency of your website or app in retaining your users over time. The reports provide data about active users, churn rate, and lifetime value. Comprehensive retention of several turnkey questions including:
Number of users coming back to the website or app
Duration for which users stay active on the website or app
Groups of users are most likely to convert
The lifetime value of the user
Some of the reports that you can access on retention collection are:
Overview: Provides a high-level overview of your retention data
Cohorts: Helps to analyze the behavior of specific groups of users over time
Path Analysis: Enables users to analyze the paths that users take through a given website or app.
7. User Report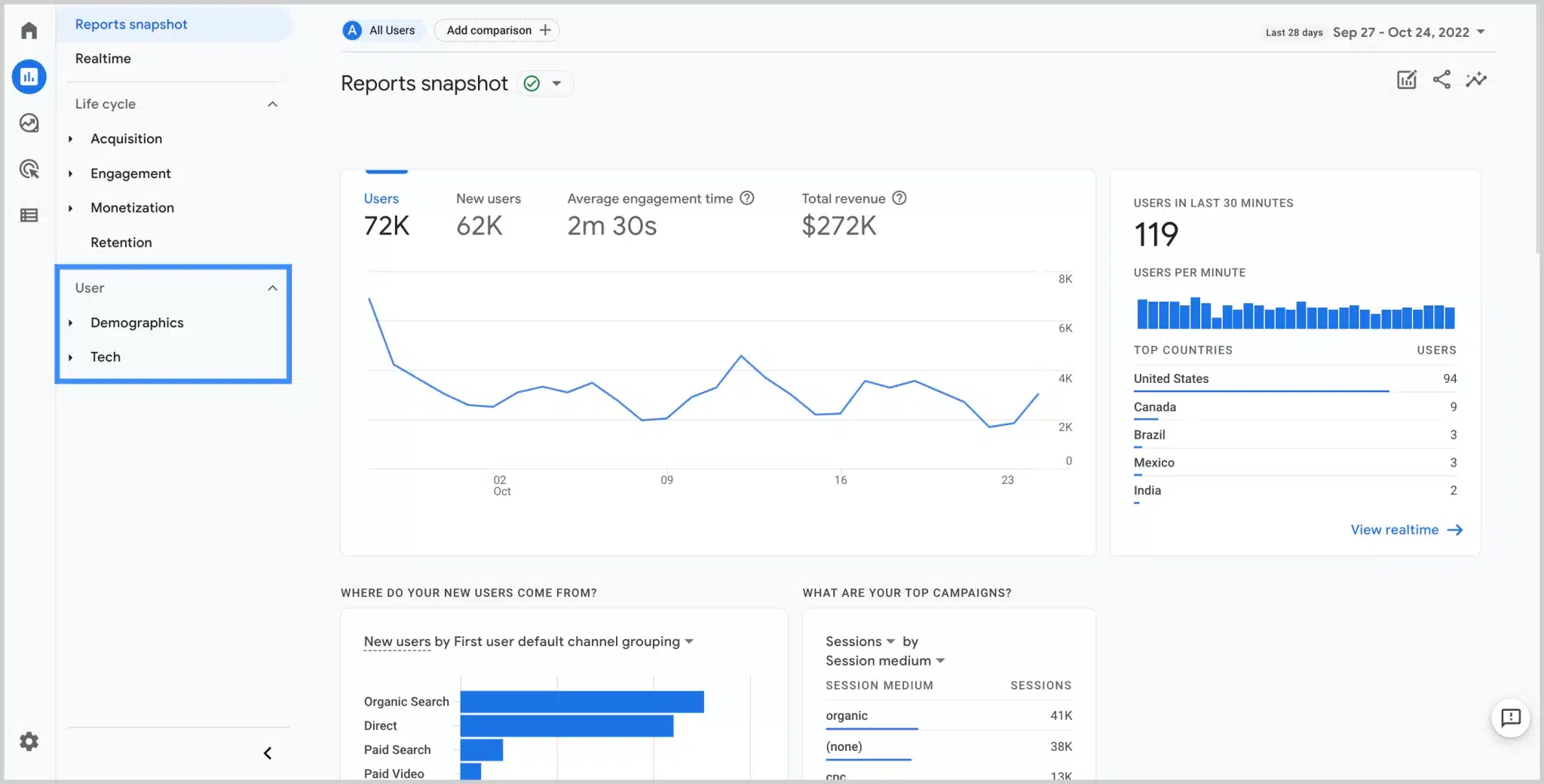 Like other GA reports, user report is also important. The User report combines several reports aligned to user engagement and retention. The report dwells on the people who use your website or app. It presents data about user demographics, interests, behavior, and lifecycle.
The report helps you to understand your customers and provide them with a better user experience. Once you understand who your users are and how they are interacting with your website, you can make more informed decisions related to your marketing campaigns.
Some of the reports in the collection are:
Overview: Presents a high-level overview of demographics, interests, and behavior.
Demographics: provides the age, gender, location, and other demographic information of your users.
Interests: This report presents the interests of your users
Behavior: This report shows you how users interact with your website or app
You May Also Be Interested in: How Google Analytics 4 (GA4) Features Help Marketers
8. Tech report
This is another important report that pulls the details about the technology that users are using to access a particular website or app. The collection includes reports on browsers, devices operating systems, etc. Once you understand the technology users are using, you can make effective and more informed decisions about your website or app.
Here are some of the key reports in the Tech collection:
Overview: Provides a high-level overview of your tech data
Browsers: presents the details about the browsers that your users are using.
Devices: This report shows you the devices that your users are using.
Operating systems: This report provides information about the operating systems that your users are using.
9. Lifetime Exploration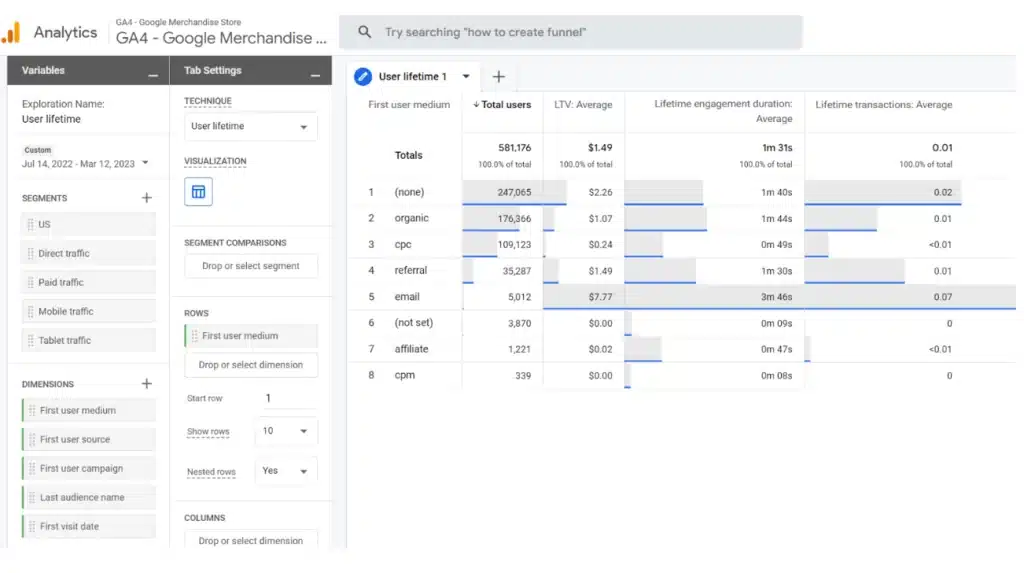 This is another important metric in Google Analytics 4 (GA4). The tool helps to analyze the behavior of your users over their entire lifetime, starting from their first visit to your website or app. The tool utilizes the machine learning algorithm to predict future purchases, activity, and revenue from the users. Once you create the lifetime exploration, you can start exploring data. When you're in, you can effectively segment your users based on their lifetime value, purchase history, or other factors.
It helps marketers to unleash the following in a very organized way:
Identify the most valuable customers.
Segment users based on their lifetime value
Identify product adoption, engagement frequency, and customer support interactions.
Predict the impact of changes to your website or app on customer lifetime value.
Summary:
Overall, Google Analytics 4 (GA4) is a powerful tool packed with a wide range of reports to enable marketers to understand website or app traffic and performance. By utilizing these reports you can do a lot of things including tracking website or app traffic, identifying the most popular pages and content, and measuring the effectiveness of your marketing campaigns.

Tarun Gupta, CEO of Brainpulse Technologies, is a prolific author and digital marketing specialist. His insightful writings span SEO, content marketing, social media strategy, and email campaigns, offering invaluable expertise to businesses worldwide. Tarun's contributions continue to shape the digital marketing landscape, guiding success in multiple niches.
---