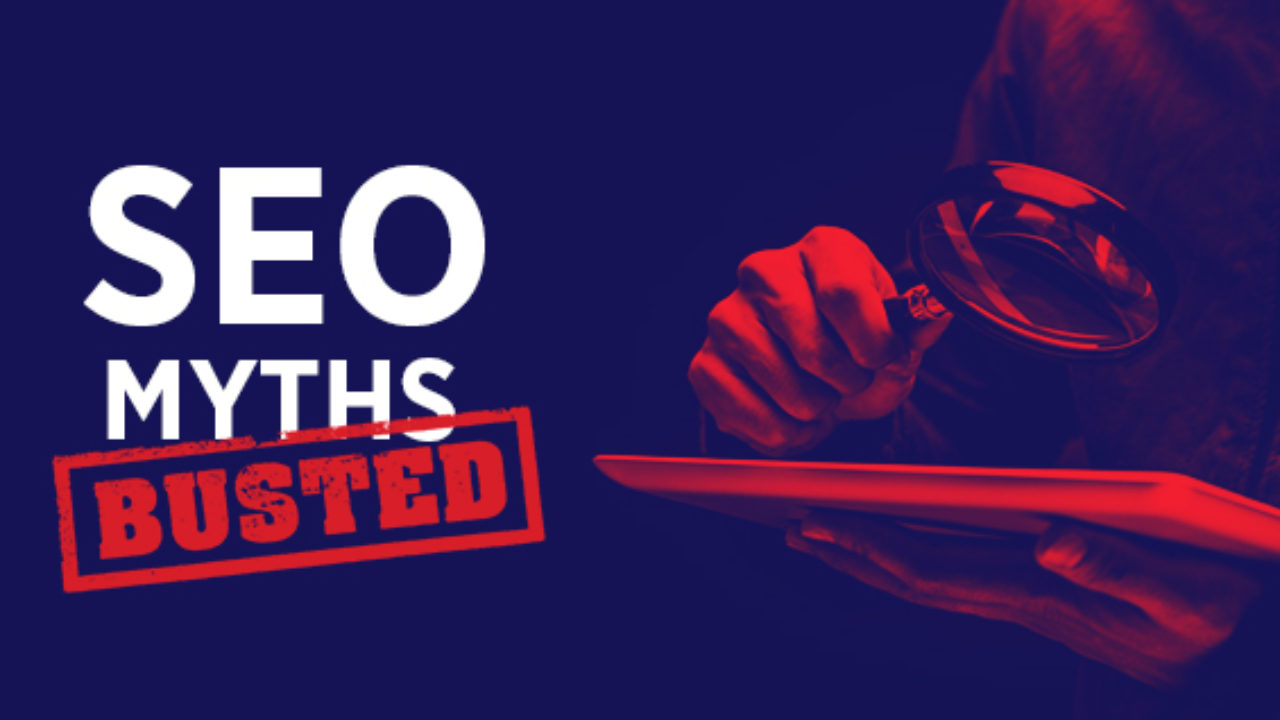 Consulting a SEO firm or SEO experts is not everything until you are fully careful about the ranking campaigns being run for your website. Don't be blindfolded by the people about the SEO techniques used for SEO purposes but you need to be also aware about the myths and facts prevalent in SEO regime. Don't easily trust those prevailing SEO Myths surrounding SEO. Search Engine Optimization is still an important component of your online marketing campaign.
Though digital marketing has blatantly replaced the existing practices of SEO, you shouldn't underestimate it being a forgotten hero. Search Engine Optimization is still an important component of your online marketing campaign. Don't easily trust those prevailing myths surrounding SEO.
21 Blunt SEO Myths and Misconceptions to Avoid
What concerns me the most is the surging rumors of SEO being obsolete or dead, and of course, I don't endorse either of the claims. I know SEO is all set to stay here for long, even longer. If you are seriously looking for triggering SEO to improve your website visibility, it's the right time to go. But, before putting your feet into the vertical, see the list of myths prevailed in the domain and that need to be debunked.
1. SEO Is Dead:
Whether you're an experienced SEO or a novice, you have already heard 'SEO is dead' many thousand times. Search portal Search Engine Watch had written an exhaustive article covering the topic in very detail. Of course, this is the biggest myth around this practice. And if you believe it, the rest of the article is of no use for you. No one can reject the fact that algorithms and search engines are not disappearing anytime soon. So, you can still trust SEO to ensure traffic and visibility on your website.
2. SEO Is All About Keywords
It's true, that in past, webmasters and Search Engine Optimization geeks used to rely on keyword density in pages and posts to achieve results. It was even deemed a good practice to write articles and blogs around chosen keywords. But the advent of several new Google algorithms forced webmasters to change their strategy. Google is OK with keywords in a page / post, unless it's not spam or stuffing.
Keywords are still important for Search Engine Optimization, but your focus should be on quality content and its relevance. Wordstream has published a detailed blog post on how to optimize keywords for better organic results. I still remember when Google introduced RankBrain. It was deliberately launched to compel the SEO community to have a clearer focus on content relevance and user experience, rather than the use of the exact keywords.
3. SEO Is About Being On #1
With considerable changes in SEO and its existing practices, merely securing #1 spot won't help much.I know your end goal is not just to grab the top spot, but achieve traffic, engagement and business. Agencies may help you in having a top spot in the SERPs, but that can't guarantee engagement and eventually conversions. Clients are getting cleverer than ever before. They can easily spot if a website appears on top of the SERPs is of any value or not. Only relevant, optimized and useful content can bring additional traffic and more engagement. #1 position just compliments it.
4. More Pages Means Greater Results
I can bet, a website with 30 pages can rank better than a website with 130 pages. Quantity of the web pages hardly helps in SEO unless they deliver value to the end users. It's up to you to create as many web pages as you want, if they add value to your site.
But keep away from creating additional, useless and fluffy pages just to impress Google and in an effort to increase your crawling from search engines. Google doesn't ever promise to get every page of your website indexed, and keeps quality factor atop. So, keep your SEO efforts aligned with the content quality and user experience.
5. Unoptimized Images are Fine
Images are very significant when we talk about user experience. Images are the building blocks of visual user experience. In the times when visual content is getting important, its optimization is something we must not miss. Though, optimizing visual elements in a website is not that tough, most of the times we skip it without fearing its impact on rankings.
This is deadly. Please understand, search engines can't understand images the way humans do. Search engines can identify images only if they carry right description, descriptive titles, ALT tags and captions. Henceforth, you should fill-in image fields like captions, ALT text and description when it's used in a content. Properly optimized image or visual content help them getting visible in search engines.
6. Mobile Optimization Is A Overrated Term
This is now an open-ended truth that mobile devices are the most used devices for online search. They simply surpassed desktops and laptops. If your website doesn't open properly on a mobile device, or offer poor user experience, you can lose a big chunk of your traffic.
To ensure compliance with the its mobile search guidelines, Google launched Mobilegeddon, its mobile search algorithm in April 2015. The algorithm was meant to penalize websites that were mobile unfriendly and tendered poor user experience. Mobile optimization is all about enhancing user experience that collectively comes from the design of the page, the responsiveness, the number of clicks, the page speed, or even the screen size.
7. Domain Age Matters
The biggest rumor I frequently come across is that domain age of a website helps in getting the site ranked well. Time and again I've dismissed this illogical assertion made by a bunch of webmasters and SEO community members. Age of a domain isn't a ranking factor at all, though may have some advantages for the website. Domain's age may indicate that the website has been in the fore since long and the most probably enjoying a better place.
Webmasters have always misinterpreted domain age factor. Being a digital marketer with an experience of over 15 years in the digital marketing backyard, I firmly refuse any notion that endorses domain age a ranking factor. Remember, an older domain name can't speak for either quality and trustworthiness of a website. What matters the most are: quality backlinks to the website and the content that that delivers value to the users.
8. Region Specific Domains Help In Ranking
This is again an inflated claim made by certain webmasters and marketers. Buying a region specific domain like .us, .ca or .au may help pulling local buyers in the net but it hardly gives any ranking boost. Search engines, especially Google are getting smarter in tracking if the search engine is tricked for ranking. I am uttering again that Google only pats your back if the information on the website is valuable, to-the-point and able to educate the people. Region specific domains only help in targeting your local audience base, that's all.
9. Domain Name With Keyword Outranks
This is again a much propagated farce and one of the blatant SEO myths you shouldn't consider seriously. Undoubtedly, eywords play an important role in ranking. Keywords spread across and placed well in web pages and source codes help website to gain visibility and ranking, but that isn't necessarily true if you put keywords in the domain name. A keyword stuffed domain name may give an idea about the offerings, but a competitor's website without keywords in a domain name may beat yours in search rankings if it's better in terms of content and user experience.
10. Keyword Rich Content Brings Ranking
A half truth indeed. Content has been very important ever since the search engine optimization arrived, and keywords complemented it. This might have been the case back in the early years, but after Google's panda and Penguin updates, things have been drastically changed. Search engine optimization is a combined process involving a number of strategies weaved and compiled together.
Though, keywords are integral to that combo, it alone couldn't bring that much magic as of now. Despite focusing solely over keyword rich content, it's important to branch out and use all aspects of SEO. Eventually, after latest Google Panda update, stuffing keywords in content might invite Google penalty and drop in rankings.
12. Sitemap Is Important To Ranking
Flush this SEO myth out of your mind that Sitemaps anyway help improving search rankings, even Google denies it. A concise sitemap does help Google in easier indexing of your website, nothing else. An easy to index website doesn't necessarily get a boost in search ranking across the search engines.
13. User Experience And Website Navigation Doesn't help
A couple of years back, Google focused on the websites which had keyword rich content content and well-optimized. But now, things have been changed at a greater extent. Lately, Google has started considering website navigation and user experience important ranking factors. Now, a website that presents visitors a valuable experience by putting a user friendly website navigation, gets more traffic and value in the rankings. A better navigation provides a path to your visitors to let them get around easily on the website.
14. Design Comes First And Then SEO
Your website designer would always suggest you to finish the design first and then move to the SEO part. The matter of the fact is that as soon you go live with your basic website design and content, Google starts to index your website. So, it would be better to do some basic website optimization before publishing the website. Make sure whatever the amount of content your website is going live with should unique and must not be taken from other websites.
17. SEO Landing Page In Addition to The Home Page
Many SEO people argue about their client's desire to add an additional SEO rich landing page in addition to the basic home page in the primary website. This seldom request is only beneficial in the case of Google Adwords campaigns and trust me it's really irrelevant in case of organic SEO. If a landing page already exists in your website don't waste your energy in adding other.
18. Optimizing One Keyword Per Page Helps
Many SEO people believe that optimizing a web page on the single keyword benefits as it allows an opportunity to put clear focus on that one keyword phrase. Let's think out of the bottle. Many content writers believe that writing a web page to promote a single keyword troubles them a lot. They find it difficult to allow a natural flow of the content across the page. So, rather fighting for single keyword per page, invite 2 or 3 keywords in the page to be optimized. It helps you to have more targeted traffic for sure.
19. HTML Tables in Pages are Bad
Very irritating notion that amuses me. Several times I come to know from SEO people to avoid using HTML since they feel that this could prevent search engine crawlers to crawl pages in complete efficiency. No need to panic. In no way a HTML made table chokes the search engines in their crawling process.
20. Image Links Don't Help
Another miss-assumption that badly affects your website's visibility prospects is speculations over induction of image links in the website. You must not spoil the beauty of your websites by removing images with proper links and navigation structure. All you have to consider is using the same words you will use in your anchor text links in your image alt attribute.
21. Top Ranking Can Be Assured
SEO companies usually publish ads that guarantee top and sometimes #1 rankings in popular search engines like Google, Bing and Yahoo. Certainly this assertion has no breath as search engines algorithms could only be followed not concurred. It simply means that with good and performed SEO strategies, an SEO firm or an SEO expert could rank you on top, however when it comes to guarantee top position in the search engines, it merely possible.

is head of search marketing division Brainpulse. He covers core search marketing topics that matter the most for online businesses. With over 10 years of his experience in the vertical, he successfully manages marketing strategies for clients.
BrainPulse SEO India is a leading SEO Company of India using organic SEO Techniques to serve clients from all over the world effectively.
---