Original content is always an utmost priority for bloggers and content creators. To keep your content unique and maintain your website's credibility, they need advanced duplicate content checkers packed with features and functions. Whether you're a seasoned blogger or a newbie, these tools will make sure that your content shines. This blog post covers 7 content plagiarism tools that can safeguard your content's authenticity.
7 Website Duplicate Content Checker Tools
1. Copyscape
Copyscape is a popular and effective tool millions use to safeguard their digital content against theft and plagiarism. Copyscape features potent plagiarism detection capabilities to help content creators, educators, and website owners fight plagiarism. The tool runs a comprehensive check and scans the internet to identify content duplication. The tool primarily works in two ways:
Website Content Check
Copyscape helps website owners and bloggers by scanning a given URL to identify instances of copied or duplicate content present on the internet. The feature is quite important as it helps content creators to maintain the originality and uniqueness of web content.
Document Comparison
In addition to the above, Copyscape offers a document comparison feature for content creators, authors, and academics to upload a document or text and check it for plagiarism. Once uploaded and run, the tool compares the submitted content against a set of web pages, academic articles, and other digital documents. It then pulls a comprehensive report showing any matching or similar content.
Content creators and businesses can use Copyscape to protect intellectual property rights. By using the tool, they can track and identify instances where their content is used without proper attribution.
2. Grammarly
In the list of duplicate content checker tools, Grammarly comes next. It's a powerful digital writing assistant with advanced AI-powered capabilities. The tool provides accurate grammar and style suggestions to help users write content that is clear, concise, error-free, and effective. The tool is helping millions of individuals, students, professionals, and businesses worldwide to write effective and error free content.
Real-Time Grammar and Spelling Check
Grammarly offers a real-time grammar and spelling checker that checks along as you type. It detects and highlights common grammatical mistakes, punctuation errors, or misspelled words. This feature helps users correct their errors on the go, promoting error-free writing and improving language skills.
Style and Clarity Enhancement
In addition to proofreading, Grammarly enhances the quality of written content by offering style and clarity suggestions. It also provides recommendations for sentence structure, word choice, and tone. It ensures that your writing matches your style and effectively communicates with your target audience to improve clarity and engagement.
Integration with Popular Software
You can seamlessly integrate Grammarly with popular word-processing software like Microsoft Word and Google Docs. The integration equips the tool with powerful proofreading capabilities to help you proofread and check the content on several parameters.
Premium Features
In addition to the basic capabilities, Grammarly offers premium features designed for professional use. These advanced features include clarity and engagement checks, tone and formality suggestions, and even plagiarism detection.
3. DupliChecker
DupliChecker is an online platform that helps individuals maintain the originality of their written content. DupliChecker is known for its robust plagiarism checker capabilities. By utilizing this feature, users can assess the originality of their text by comparing it against online sources, academic materials, and publications.
Just paste your content into the input box given and receive a detailed plagiarism report within minutes. The report tells about any matching content and provides direct links to the sources.
Plagiarism Checker
This is the key feature of DupliChecker. The plagiarism checker scans the text submitted text for similarities and duplicacies. It maintains the integrity of your content. The result it delivers provides insights into the originality of the content.
Grammar Checker
Its real-time grammar checker helps users optimize their text. It provides suggestions so that you can improve sentence structure, punctuation, and word choice and produce polished, error-free content.
Spell Checker
Its spell-checker feature ensures error-free content and identifies and rectifies spelling mistakes.
4. Plagscan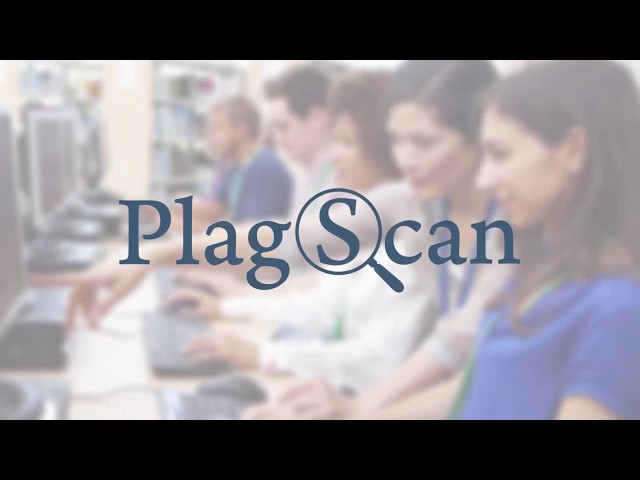 Plagscan is a user-friendly online plagiarism detection tool that ensures the authenticity of written content. This is a perfect plagiarism detection tool for educators, students, writers, and professionals. The following are the key features and functions of Plagscan:
Plagiarism Detection
Plagscan comes packed with a powerful and precise plagiarism checker. You can upload your documents or simply copy and paste the text into the text area given. Once uploaded, Plagscan starts scanning the content and then compares it to a database of academic papers, articles, and online sources. It then provides a comprehensive plagiarism report to help you improve your writing efficiency.
Real-Time Scanning
Plagscan offers real-time scanning that lets users get immediate feedback on their content's plagiarism status. The feature is a great help if you need quick, reliable, and accurate results.
5. PlagiarismCheckerX
PlagiarismCheckerX comes with an advanced algorithm to scan documents, research papers, articles, and more, comparing them against an extensive database of online and offline sources. It examines the text in detail to identify any potentially copied content.
PlagiarismCheckerX has a simple, intuitive interface that allows users to upload their content and get results immediately. This software is compatible with a wide range of documents to cater to a diverse user base.
The software helps educators to streamline the process of evaluating student work. It safeguards students against plagiarism. The tool helps users to have a deeper understanding of proper citation and referencing so that they can improve their writing skills.
6. SmallSEOTools
SmallSEOTools is a versatile online platform for website owners, content creators, and digital marketing agencies. It offers numerous services to enhance website performance, improve content quality, and boost search engine rankings.
Its core feature is its multifunctionality, with tools for SEO, content creation, and website analysis, such as plagiarism checks, grammar correction, keyword research, and backlink analysis. SmallSEOTools is your one-stop solution for various digital needs in a competitive digital landscape.
One of the most widely used features is the plagiarism checker. SmallSEOTools allows users to scan their content for duplicated text across the internet, ensuring the originality and uniqueness of their articles, blog posts, or academic papers. This feature is invaluable for content creators, educators, and students, promoting ethical writing practices.
The keyword research tool is another essential addition, assisting digital marketers in identifying high-traffic, low-competition keywords. This helps to optimize website content for search engines, increasing visibility and attracting more organic traffic.
7. Quetext
Quetext excels with its robust plagiarism detection algorithm. It scans documents thoroughly against a vast academic database, generating detailed reports that flag potential copied content, aiding users in addressing issues in their work. Quetext excels with its powerful plagiarism checker, offering detailed reports for identifying potentially copied content.
Its user-friendly interface simplifies document uploads and report navigation, appealing to a wide range of users, from students and educators to professionals and writers.
Users can securely store documents for future access, a valuable feature for writers aiming to preserve their work's originality. Quetext's thoroughness extends beyond direct matches, also catching paraphrased or subtly altered text, preventing accidental plagiarism, and ensuring accurate, comprehensive results.
Quetext stands out by fostering responsible writing and learning. Educators can efficiently check student submissions, while students and writers use it to prevent unintentional plagiarism and enhance their citation and referencing skills.
Conclusion
These tools are essential for preserving your content's uniqueness and authenticity in today's information-saturated digital landscape. Whether you're a pro or a newcomer in content creation, these seven tools empower you to enhance your work, boost your online presence, and stand out. These duplicate content checker tools help you safeguard your credibility and showcase your distinctive voice.

Tarun Gupta, CEO of Brainpulse Technologies, is a prolific author and digital marketing specialist. His insightful writings span SEO, content marketing, social media strategy, and email campaigns, offering invaluable expertise to businesses worldwide. Tarun's contributions continue to shape the digital marketing landscape, guiding success in multiple niches.
---