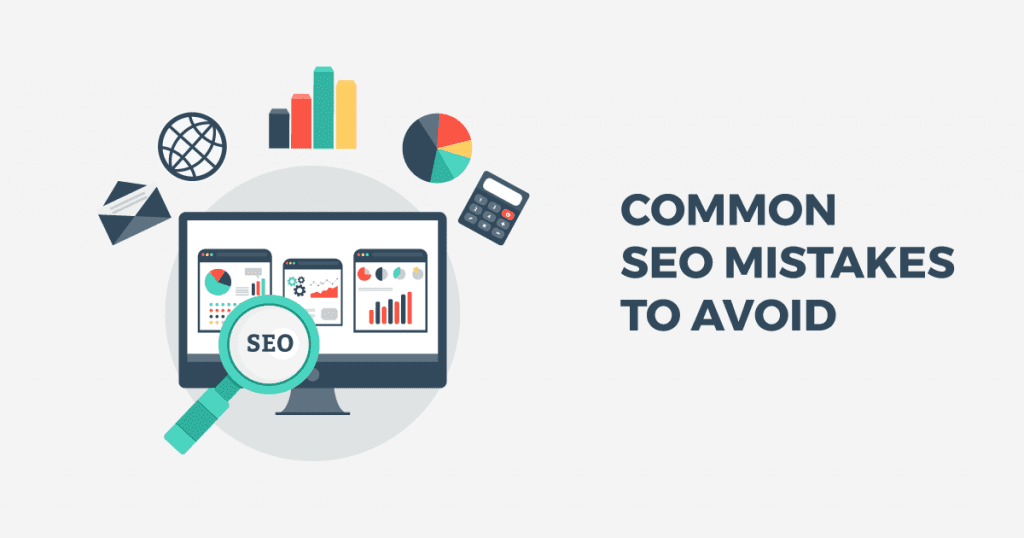 There are times when your website rankings plummet and you don't have any clue why it's happening. It's detrimental to find your focus keywords don't exist in the search. There may be a fair chance that you're still making those silly SEO mistakes most of the SEOs are prone to.
Increasing acceptance of digital marketing has sidelined existing practices of search engine optimization a bit. Amid the clues marketers got through paid search, social media and content marketing, they found it futile to invest efforts on keywords, tags and back links. However, the fact remains- it's impossible to cut off SEO completely as it determines the site's overall performance in search.
5 Huge SEO Mistakes That Affect Rankings:
After reviewing hundreds of our clients' websites whether small local businesses to the big corporate ones, we have sorted some common mistakes that they all did that led to their ranking and traffic drop. Following are the 5 major SEO mistakes that we think should be fixed on priority.
1. Poor Website Loading Speed
The first and foremost is the site speed. Do remember, loading speed of your website speed is significant to your site rankings if not directly impacts. Google prefers faster sites. Rather relying on speculations, it's better to go for speed check with Google Page Speed Insights tool. This tool presents a complete overview of what's needed to be done with your website in regards to the website loading speed.
The major recommendation from my side would be optimizing images to the best possible extent. Resizing large images is the best remedy to boost site speed. Thanks to many WordPress plugins available that resizes and compresses images.
2. Optimized for Wrong Keywords
If all you want to see your website ranking on top of Google SERPs, make sure you're targeting the right keywords. Most SEOs optimize their website for the generic keywords. If you run a small business, you might face stiff competition. You should optimize websites with long tail keywords or keywords that are not too specific. It's anyway better to include your location in the keyword where your services are available.
Longer keywords have more chances to appear in the Google search results. However, the search volume for long tail keyword is decreased. I will suggest you to optimize more of your pages with long tail keywords. It altogether brings more traffic for all these keywords than optimize for one main keyword.
3. Meta Titles are Ill-Optimized:
When Google lists websites in SERPs for certain keywords or queries, it uses the Meta title and description of the page as the key identifiers. Meta title is still one of the major factors to determine factor, thus, it needs to be optimized correctly for every page. Adding right title means adding the relevant keyword to each particular page.
Don't stretch over the prescribed character limit as Google truncates the excess characters automatically. In case your title is longer than required, visitors won't be able to read the full title in the SERPs.
Tough, not directly linked to the ranking, Meta title and description is significant to your website CTR. Click Through Rate gives some insight into how likely visitors are to actually click on your site. It's recommended to use clear and keyword related titles so that visitors can find your website easily and get the answer to the search queries.
4. Outdated Content
Even the content on your website might be decisive to your website ranking. The content you post on your website should be of utmost quality and must show your competence and expertise on the said topic. Although, there is not standard limit on how much content is enough on a page, yet Google prefers at least 300 words on a page.
Please note, content is said to be the fine one if it's written for your audience and not for Google. Google aims at organizing content in a manner so that it could provide the best answers possible. Therefore, you need to write quality content for your audience. Quality content means writing value adding and informative content. Avoid adding duplicate, spammy or thin content. Don't stuff keywords into their content as visitor doesn't benefit from a keyword filled text.
5. No Call to Action:
Call to Action on a website engages an audience and engage them into actions. No one wants their visitors immediately bouncing back to Google once they are done with your content on the website. The best way to accomplish it is by creating a call-to-action (CTA), which offers an action to your visitor.
It's out recommendation to put one call-to-action on every page to make the goal of the page clear. Multiple buttons confuse your visitors as they won't get where you want them to go. Make sure that your call-to-action stands out from your standard theme design so it's clearly visible and cannot be missed.
Critical Technical SEO Mistakes to Avoid
It's not easy to stay on top amid changing realities of search. You need to be equally aware about the basics of optimization in sync with the evolving search updates. I know many fellow marketers who frequently make silly mistakes and unintentionally skip moot points of optimization.
1..htaccess
.htaccess is a configuration files that contains specific directives that are used to block / unblock a website's document directories. .htacees helps webmasters to create a more detailed sitemap, generate cleaner URLs and adjust caching. This is a very crucial tool that cleanse up your site's indexing process.
While setting up an .htaccess file, you need to be vigilant and cautious. A simple coding error could drag your site's indexing and ranking to nowhere. Take help from a pro coder who can help you fix your code errors in .htacees file.
2. Discouraged Search Engines from Indexing
Most of the SEO plugins in CMS platforms like WordPress and Joomla have built-in features that allow users to instruct search engines not to crawl the website. This can be done via settings of that particular CMS. To do so, you need to navigate through Settings → Reading → Discourage to stop search engines from indexing the site. Tick the check box next to the option and you can stop search bots from indexing your website. Check the feature at least once a week to avoid accidental checking of the box.
Even if you tick the check box, search bots may keep indexing your website. If you really want to stop your site from indexing, better to change settings in .htaccess or robots.txt files.
3. Crawlable Robots.txt File
Many marketers / websites do this mistakes time and again. This one is the worst of all. Don't ever leave your robots.txt file open for crawling because it could lead to serious breach and privacy issues. If you are a beginner, learn in deep how you can set and manage robots.txt files.
4. Do Follow Outbound Links
Despite debated at length, links are still the most critical factor for SEO and search rankings. Just for the sake of high- quality backlinks you shouldn't pass your own link juice to other sites. Using 'nofollow' attribute is a way to drive high-quality backlinks without losing the link power on your site.
Prepare a list of outbound links on your website. Implement 'nofollow' tag attribute where necessary. However, don't go overboard in doing it. Since, link exchange is a mutual practice, tagging every link with nofollow may force other SEO professionals to nofollow you as well.
5. Unchecked Website Code in Validator
A website consists many thousand lines of complicated codes. Better the code is, better a site's visibility will be. A neatly coded website allows search bots to scan and index your website more effectively.So, before starting search engine optimization of a website, use tools to check the website code in deep. List the errors and ask a developer to fix it. Though, Google doesn't punish you for having a website with invalid HTML/CSS markups, It pays off running the validator tool once in a while.

Tarun Gupta, CEO of Brainpulse Technologies, is a prolific author and digital marketing specialist. His insightful writings span SEO, content marketing, social media strategy, and email campaigns, offering invaluable expertise to businesses worldwide. Tarun's contributions continue to shape the digital marketing landscape, guiding success in multiple niches.
---