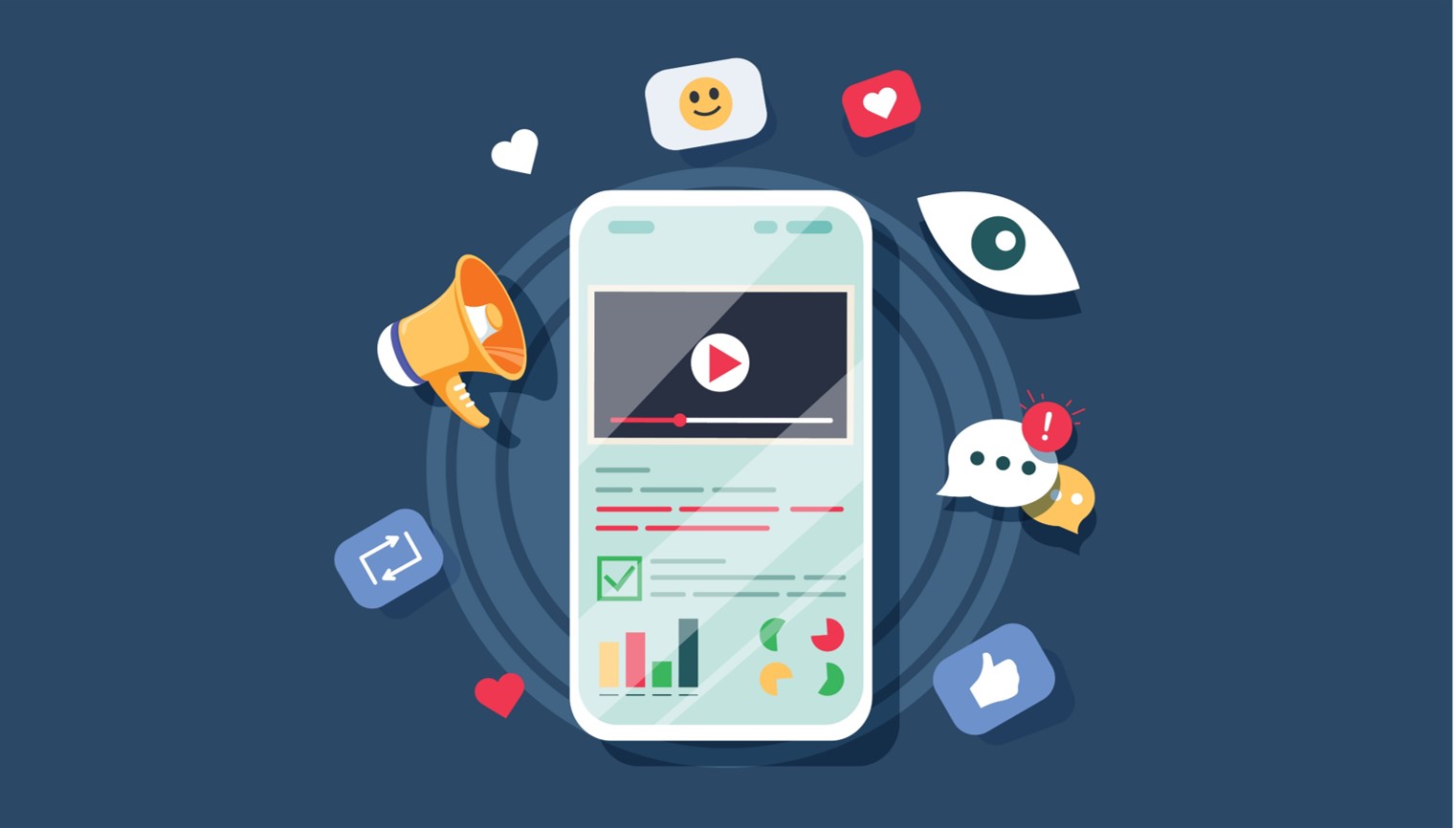 Videos are now the primary source of infotainment for the masses. Both mainstream and social media is using videos in all their formats to engage potential customers.
Here we will stick to the use of videos in social media marketing. Over the years social media has changed the way of communication. Videos have overpowered other methods of communication being the most engaging, quick, and innovative.
It's estimated that social media videos are consumed and share 40 times more as compared to other content formats especially the all-text content. It made social media videos an integral part of social media promotions adopted by SMEs and large organizations. If you haven't yet used videos in your social media campaigns to their full potential, you missed a lot.
Steps to an Effective Social Media Video Marketing Strategy
To make the most out of social media video marketing, you need to have a data-driven and audience-specific strategy. Furthermore, as social media platforms consume videos in many ways, you must run your video marketing aligned with the platforms you are using.
I have listed here a step-by-step process of an effective social media video marketing strategy. It will surely help you intensify your video reach and engage more audience.
Set Video Marketing Goals
Any marketing strategy should take off with a specific business goal. Video marketing isn't an exception. The goal should clearly define your expectations with the campaign and the way videos would be utilized in the marketing funnel.
If you've just begun with video marketing, set realistic goals that you can manage. Unrealistic and multiple goals at a time can lead to campaign failure. If you have a clear business goal (brand awareness, engagement, or product selling ), you will be able to produce the right set of videos.
Find the right Social Media Platform
Every social media platform interacts with videos in quite a distinguished manner. Each platform accepts and consumes video content differently. You can easily find the distinction between videos on platforms like Facebook and newer ones like Snapchat.
The best way to find the right platform is to find one where your interested audience is. Choose the platforms that consume the video content most. They already have a massive and established audience that spends most of their time on social media platforms watching videos. You can start your video marketing from here.
One more thing to look at while choosing the platform is what video dimensions these platforms are allowing.
Find the Video formats on Different Platforms
Social media platforms are evolving. They are constantly adding more features and abilities in terms of video viewing. As different social platforms continually adding more features, it's becoming tedious to find videos that can be uploaded there. Before picking up a platform, explore the video dimensions that the platform allows.
Facebook, the most popular social network allows both landscape and portrait feed videos on the platform. It also supports live streaming of videos and disappearing videos in form of Facebook Stories.
Facebook-owned Instagram also allows the posting of landscape and portrait feed videos. Livestreaming videos and videos in form of disappearing stories can also be done on the platform. Instagram's IGTV is suitable for long-form content.
Now, people are more inclined to watch product how-to guides on YouTube, Vimeo, and other social media platforms. Keep watching these platforms to determine the video dimensions these platforms are accepting.
Pick The Right Video Types
After platform and video dimensions, choose the right video type for your video marketing campaigns. You can use different types of videos to support your campaign. The choice of the video type depends upon your overall content marketing strategy. Research well to find the video types that work well with your brand. Videos play a crucial role in moving your business message forward.
Every video is there to support a purpose. You should stick to one that supports your business objectives. Here are the different kinds of videos you can try to convey your brand message and deliver your communication.
Educational Videos:

These videos are informational and help the audience learn new things. They are designed to create brand awareness for new customers. In case you have created these videos for your existing customers, the content must be focused on providing guides and tips.

Behind-the-scenes:

Behind-the-scenes videos provide a sneak-peek into company operations and employees. The idea behind such videos is to provide the viewer a quick look into how things are conducted in backdoors. Such videos have a sense of entertainment and enjoyment to offer to the audience along with an informational quotient.

Interviews:

Conducting interviews of guest speakers and publishing them on social media platforms is a great way of introducing your audience to a new influencer.

Entertaining Videos:

Platforms like Facebook, YouTube, and TikTok allow uploading short videos that entertain. Viewers. These videos may include jokes and even pranks. They serve two purposes- one, to entertain the audience, and two emphasizing your brand voice.
Start the Content Production
A well-calculated video content production is key to a successful video content marketing strategy. It cuts costs and saves time. A content production plan outlines the way videos will be created and filmed for marketing purposes. Instead of doing it yourself, hiring an agency or production consultant will be more beneficial.
An experienced content production agency proficiently takes care of planning and approvals as per your discretion. Content production involves a series of tasks including writing/editing the script, storyboarding the video, shoot planning, and hiring the right artists for the video, etc.
Schedule & promote the videos
As you have done with the video production, now actively start to schedule and promote it on your preferred social media marketing platforms. While publishing a video make sure to include important details like tags, category, playlist, and privacy settings.
Once published on the platform, you can start promoting it to other social networks and websites. Platforms such as Facebook, Twitter, and LinkedIn are some major platforms where you can promote the video for creating maximum audience outreach.

Tarun Gupta, CEO of Brainpulse Technologies, is a prolific author and digital marketing specialist. His insightful writings span SEO, content marketing, social media strategy, and email campaigns, offering invaluable expertise to businesses worldwide. Tarun's contributions continue to shape the digital marketing landscape, guiding success in multiple niches.
---