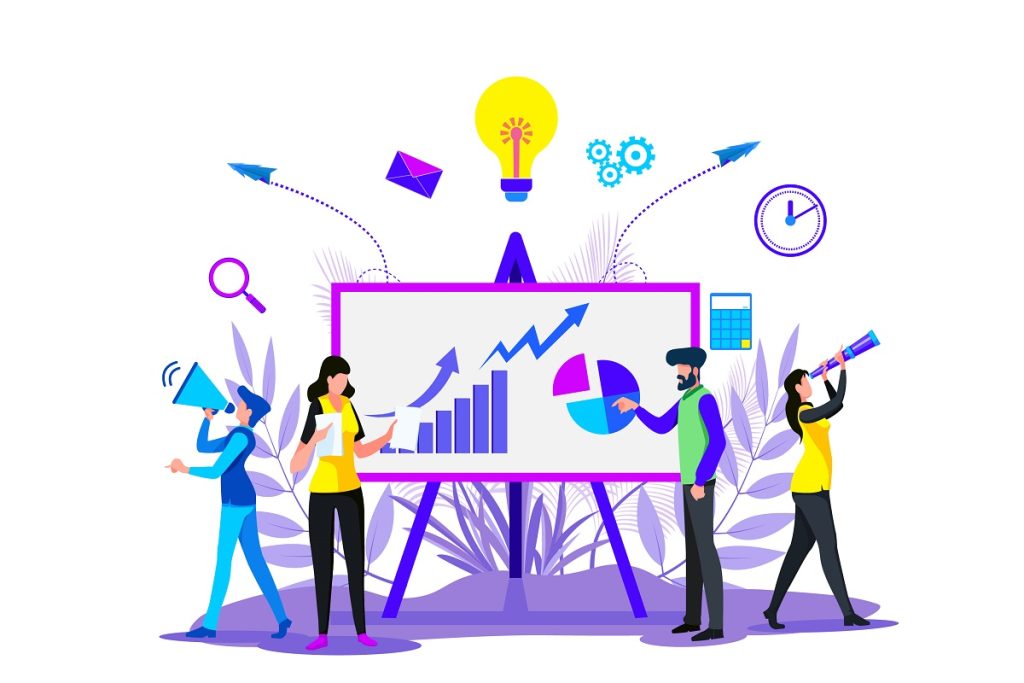 The world of digital marketing is constantly changing. With the advent of new technologies, marketers must adapt to the latest trends to conquer the competition. In recent years, digital marketing has seen several advancements in terms of trends,  tools, and technologies. This transition will continue to evolve at an unprecedented pace and open up a whole new world of opportunities and challenges for marketers.
Latest Digital Marketing Trends 2023
The digital marketing ecosystem has changed now. Several new trends are in the pipeline for marketers. You need to follow them and adopt a proper strategy to make the most out of them. We have covered here some of the most prominent trends that marketers need to look into:
 1. Artificial Intelligence (AI)
AI-powered technologies have considerably transformed the way companies engaged and interacted with the client. Several machine learning-powered tools are being used by marketers for personalized targeting, predictive analytics, and automated chatbots.
All these technologies altogether help to elevate customer experiences. AI-powered tools also help in creating personalized content created to address clients' particular business needs.
Machine learning technologies are now everywhere. From chatbots to self-driving cars, the AI ecosystem is constantly changing and growing upwards. In the future, we will see AI products getting better, faster, and more efficient.
2. Voice Search
Voice search is now a common phenomenon used widely both by brands and end users. You can experience the power of voice search on smartphones, smart TVs, and web searches where you can run a search query by using quick voice commands. Voice searches are the most convenient and quickest way to find particular information without typing in a query.
As more people are now using voice commands to search online, your website content must be optimized for voice search. It will make sure that your brand will be discovered easily through voice-enabled devices. Soon, Voice-activated ads and personalized voice experiences will be a reality.
3. Influencer Marketing
In recent years, the popularity of influencer marketing grew exponentially. It has now become a powerful tool for brands and individual marketers to promote their products and services to their target audience.
Now, brands are collaborating with micro-influencers and content creators to expand their presence among target audiences. The trend will continue to become more mainstream as brands rely on influencers for their niche expertise and dedicated followers.
4. Augmented Reality (AR) and Virtual Reality (VR)
AR and VR technologies have been in the news for their role in transforming the way brands engage with consumers. By embedding AR in the product lineup,  brands can offer customers interactive product experiences to let them visualize products in a real environment before final purchase.
Virtual reality technologies, on the other hand, are designed to provide customers with immersive real-time experiences like virtual store visits.
5. User-Generated Content (UGC)
Soon, user-generated content will play a decisive role in customer engagement and brand building. Some of the very popular UGC are reviews, testimonials, social media posts, and a few other content formats.  Brands have started to rely on user-generated content to encourage brand trust and authenticity.
6. Data Privacy and Personalization
Customers are now more concerned than ever about their data privacy. It will now be the utmost responsibility of marketers to draw a line between personalization and consumer privacy. Brands are now required to comply with privacy regulations such as General Data Protection Regulation (GDPR) and the California Consumer Privacy Act (CCPA).
These guidelines have been put in place to enforce brands to acquire user consent before using and handling user's private data. Now it will be crucial for brands to follow best practices to maintain transparency and data security.
7. Video Marketing
Videos are now the most popular content format consumed by audiences across niched. Brands also rely on videos to create personalized customized outreach. The trend is set to continue and strengthen further. Most brands are now investing heavily in video marketing to approach, engage and retain their audience effectively.
Different video formats such as Live streaming, 360-degree videos, and interactive videos are increasingly being used by companies and brands to enhance user experiences and drive higher levels of engagement.
8. Social Commerce
Social media platforms are now enabling e-commerce modules to let customers buy without leaving the platform. Social media features such as Instagram's shoppable posts and Facebook's Marketplace are striking examples of social commerce. Brands are now looking forward to utilizing these social commerce platforms to drive conversion and hone their social media planning.
9. Omnichannel Marketing
Brands are now leveraging omnichannel marketing tactics to provide customers with a consistent experience across all digital communication. The strategy involves providing customers with a seamless customer experience across several digital touchpoints such as websites, social media, mobile apps, email, etc. To monitor and measure omnichannel campaigns, you need advanced customer data integration and marketing automation techniques.
Conclusion
Digital Marketing has exceptionally changed with new trends, opportunities, and challenges in place that marketers need to understand and adopt. This blog post has covered several emerging and upcoming trends that will shape the way brands outreach their customers and build their authority.

Tarun Gupta, CEO of Brainpulse Technologies, is a prolific author and digital marketing specialist. His insightful writings span SEO, content marketing, social media strategy, and email campaigns, offering invaluable expertise to businesses worldwide. Tarun's contributions continue to shape the digital marketing landscape, guiding success in multiple niches.
---