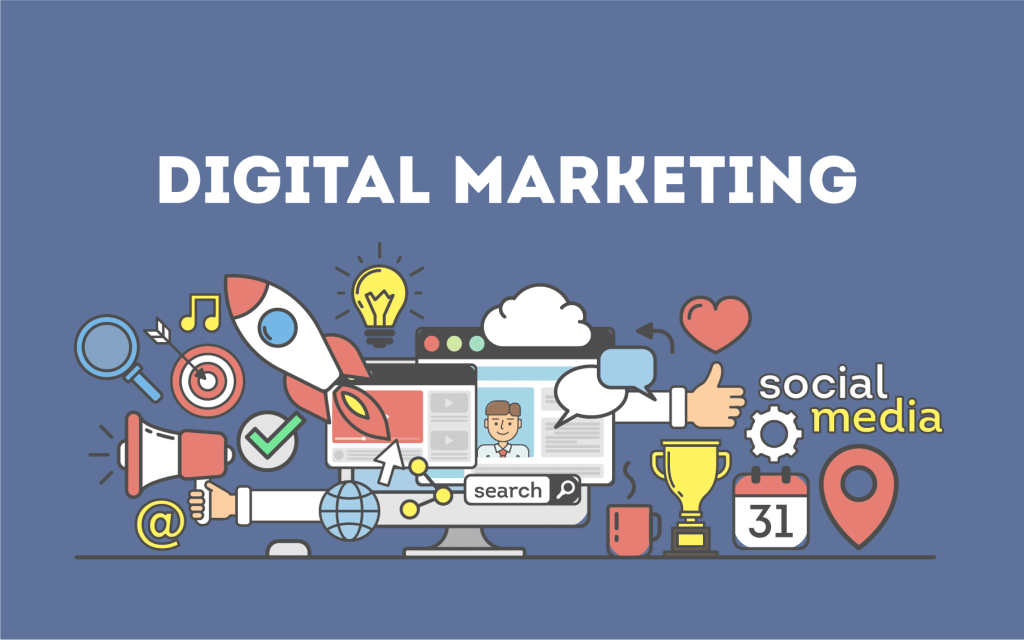 Digital marketing is an exclusive kind of marketing that refers to the promotion of products or services using digital methods such as the Internet, mobile phones, display advertising, and other digital channels. Digital marketing is focused on reaching out to a large audience through cost-effective and measurable means.
Techniques used in digital marketing include search engine optimization (SEO), social media marketing (SMM), email marketing, content marketing, pay-per-click advertising (PPC), and affiliate marketing. Businesses can target specific demographics and track the success of their marketing campaigns in real-time using analytics.
Digital marketing has revolutionized the way businesses reach customers and has become an essential component of modern marketing strategies. Here we have covered different types of digital marketing in brief.
1. Content Marketing
This is an important method of digital marketing where content plays an important role. With content marketing, marketers connect with their target audience using different content formats including blog posts, how-to-videos, and infographics.
The content needs to be valuable and informative so that it can resonate with your audience. In the final stages of the customer journey, content could even help to convert visitor traffic into paying customers.
Publishing quality content for your readers at frequent intervals makes you a trusted voice and a reliable brand within the industry. You can build your brand by producing and publishing informative and inspiring content.
While drafting a content marketing strategy, choose the core themes as per the customer's needs and expectations. Decide on the content formats (video, audio, articles, or others.) and the channels you will use to post each piece of content.
Here is how Brainpulse's content writing services can help you plan, build, and promote share-worthy content for your readers.
2. SEO (Search Engine Optimization)
SEO aka Serch Engine Optimization is a strategy that aims at positioning your business keywords higher in Google search results. It eventually brings more visibility for the business as higher rankings translate into increasing search engine traffic to the business's website.
To dominate the search results, search marketing professionals identify the keywords that users are using to find information online. They use these keywords in their content so that Google can display the website in search results when a user triggers a search for these keywords.
To win the search game and beat the completion, you need to understand Google's ranking algorithms. Google considers over 200 different signals to rank a website in Google SERPs.
Discover our suite of SEO services that can help you gain visibility, traffic, and ranking for your website.
3. Pay Per Click (PPC)
Unlike organic search or SEO, Pay-per-click refers to an action where search marketers use paid advertisements and promoted search engine results to generate search traffic on a business website.
The downside of this sort of digital marketing is that as soon as your ad budget exhausts, ads stop showing in promoted search results. PPC is a way to increase search traffic to a business online using paid advertisements.
You can see PPC advertisements at the top and sides of a page of search results, ads before YouTube videos, and in mobile apps. The best part about PPC is that you only pay for the results only.
In a Google AdWords campaign, you will pay only when someone clicks on your ad and lands on your website. The cost of an ad depends primarily on how much competition there is for your keywords. That means high-competition keywords will be more expensive as compared to low-competition key terms.
4. Social Media Marketing:
Social media marketing involves every activity taken up to promote services and products via major social media platforms viz. Facebook, Twitter, Instagram, and others.
Social media marketing is far beyond posting and sharing content. Instead, it's a strategic approach to create specific content for a targeted social media follower base.
Consistency is the key when it comes to social media marketing. To make sure your social media content is delivered to your audience on time, you can use several online tools available. Don't consider social media marketing as a standalone activity. It must be aligned with the company's wider digital marketing strategy.
5. Email Marketing:
Email marketing has always been a crucial digital marketing channel among others with its set of noteworthy benefits. This is one of the most effective and affordable digital marketing techniques so far. When visitors visit your website, you can invite them to join your email list. And with their permission, you can send them promotional offers, newsletters, and other marketing collaterals.
Email marketing brings instant results as it targets a segmented list of subscribers who are interested in your email communication. Email marketing is a sure-shot strategy for optimal and targeted audience outreach.
Email marketing is an integral part of a content marketing strategy that provides value to consumers and helps brands convert visitors into potential buyers over time. The key metrics that indicate the success of an email marketing campaign are open rate and email rate.
The Open rate indicates the percentage of recipients who opened the email – and the click-through rate shows the number of recipients who opened the email and clicked on a link in the email.
6. Mobile Marketing:
With mobile marketing, marketers outreach their target customers on their smartphones or tablet via text messages, social media content, websites, and emails. Tapping the mobile audience is equally beneficial as it's estimated that 46% of mobile users spend between five to six hours a day on their phones for personal use. Over the years, people have increasingly started to use their mobile phones for shopping for items and browsing content.
Thus, it's now more important than ever to reach out to your customers with your promotions and offers on their mobile phones. This way you can exponentially grow your product reach and increase sales.

Tarun Gupta, CEO of Brainpulse Technologies, is a prolific author and digital marketing specialist. His insightful writings span SEO, content marketing, social media strategy, and email campaigns, offering invaluable expertise to businesses worldwide. Tarun's contributions continue to shape the digital marketing landscape, guiding success in multiple niches.
---