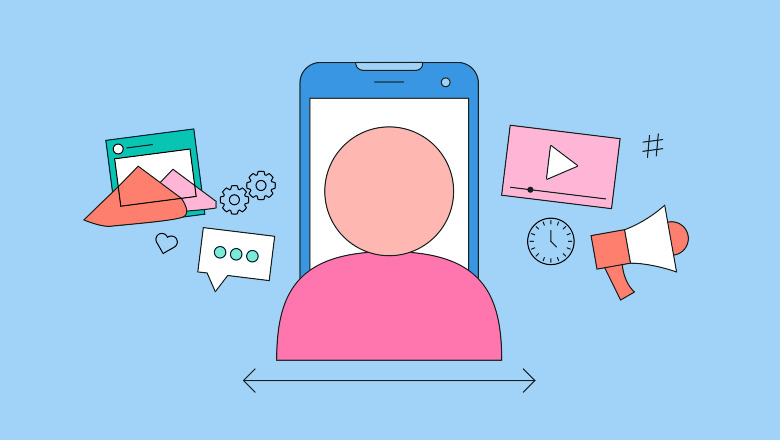 Digital mediums and social media platforms have completely transformed how users interact with content. The popularity of such mediums and the abundance of content there have opened up new avenues for a new breed of professionals called digital creators. These creators use advanced digital tools and technologies to produce relevant, engaging, and quality content that binds the audience, educates them, and influence them to act.
In this blog post, we are discussing the term digital creator, their role in the digital world, and the skills and qualities that lead to their success.
Definition of a Digital Creator
A digital creator is an expert professional that creates quality content for their target audience across online platforms. They use advanced digital tools and software to convey their ideas to a widely spread audience. Anyone can be a digital creator with his knowledge and skill. Digital creators are now making engaging content in writing, photography, podcasting, music, news, etc.
Digital creators produce and share content with their target audience using social media, websites, and blogs. It helps them to connect with their audience from anywhere in the world and build an engaged community of interested readers.
The Role of Digital Creators
Digital creators play a significant role in expediting a positive user experience for their audience. By creating thought-provoking content in all its formats, they inspire, engage and educate them.
Content Creation:
Content is the staple food for digital creators, regardless of the industry they serve. They create videos, photos, articles, and podcasts to convey their creative ideas to their audience. Following are the type of content they produce:
Videos
Photography
Articles and Blogs
Visual Art
Audio Content
Content Creation Mediums they use:
Digital creators might use a wide range of platforms and mediums to share and promote the content they produce for their readers:
Social Media: They utilize platforms like FB, Twitter, and Instagram to entice the audience and build an engaged community.
Websites and Blogs: Some digital creators use their websites or blogs to create content. It offers them more control over content creation and sharing.
Live Streaming: Platforms like YouTube, FB, and Twitch enable digital creators to engage with their audience in real-time.
Content Creation Tools they use
To create quality content that's enticing and captivating, digital content creators take advantage of several content creation tools and software.
Content Creation Software
Digital Cameras and Equipment
Audio and Recording Equipment
Digital Creators' Strategy to Build an Engaged Audience
Digital creators produce appealing content to inspire their audience and create a loyal follower base. They adopt different strategies to attract new audiences and retain them:
1. They Produce High-Quality and Enticing Content:
Producing high-quality content is crucial for digital creators. They understand its importance. So they keep producing effective, educating, and quality content with a content calendar place. The calendar helps creators to organize their content schedule and ensure consistent delivery of valuable content for their audience.
2. They Embrace a Unique Tone and Voice:
Experience and expertise are two main qualities of a successful digital creator. They influence their audience with their unique voice and style. It allows them to beat the competition and create a loyal follower base.
3. They Utilize Social Media Platforms
After creating the content, creators approach different social media marketing platforms to share it with their target audience. It's the finest way to engage their followers and develop a sustainable bond. They strategically choose the right social media platform that aligns with the content and target audience. They share their content on the platform and actively interact through comments, likes, and shares.
4. They Collaborate with Other Creators:
Active collaboration with other creators in the domain helps creators to discover a new stream of evolved audiences. The partnership enables creators to find a new user base for their content. They actively respond to this engaged community to spark discussion and deliver the audience some value.
5. They Provide Value to their Audience:
Digital creators go overboard to give value to their audience. They know what they need and what their pain points are. After evaluating the earnest desires of their target audience, creators produce content that provides solutions for those concerns. By providing content that resonates with their audience, they tap into a dedicated and engaged audience around their content.
How do Digital Creators Monetize Content?
Digital creators create engaging content to inspire and educate their followers and generate constant income by monetizing it. Every creator follows a distinct content monetization strategy based on the industry.
I am listing here some popular monetization options that digital creators use to generate income through digital content:
1. Revenue from Advertising
It's the most popular monetization method that helps creators geneat steady income. Video streaming websites like YouTube and blogs allow creators to monetize their content through ads. The ads appear alongside their content, videos, or blog articles. The creators are paid based on ad impressions or clicks. Content with a substantial viewership can make good money.
2. Brand Partnerships and Sponsorships
Digital creators make collaboration with brands and companies to promote their products via sponsored content. The content is specialized and aligned with the brand's values and niche. This brand partnership can be of different types: paid social media posts, product placements, or dedicated brand collaborations.
3. Merchandise and Products
Creators generate a steady flow of income by creating and selling merchandise such as clothing, prints, digital downloads, and e-books. They sell these merchandise directly to their loyal fan base and earn money.
4. Digital Products and Services
Some digital creators sell digital products like online courses, tutorials, and e-books. Some also offer exclusive access to premium content to generate income. They utilize their expertise to build resources that provide knowledge and value to their target audience.
5. Crowdfunding
Crowdfunding is a popular way to get funds from your loyal audience and expand your follower base. There are many crowdfunding platforms out there that help creators to ask for direct support from their loyal fan base. Creators can utilize these platforms to offer their audience early access to content and other benefits in exchange for financial contributions.
Skills and Competence that Digital Creators Need to Have
To become a digital creator, you must have some skills and qualities. I have outlined here some attributes of a dynamic digital creator:
Creative Instinct
Creativity is a required skill of a digital creator. A person with creative zeal can generate fresh content ideas to produce engaging content.
Eager to Learn
Digital creators should be eager to learn and adapt to changes, new trends, and upgrades. It will enable them to adjust their existing strategies to make the content relevant and fresh.
Technically Proficient
Digital creators should be technically proficient and know the tools and technologies used during content creation. They must have proficiency in video editing, graphic design, or blog writing. Only an expert digital creator can produce high-quality content for their audience.
Strong Communication Skills
A digital creator with good communication skills can convey his ideas precisely and engage with the audience well. Effective communication is paramount for digital creators. From creating an enticing blog post to producing engaging videos, communication skills can help to foster meaningful connections.

Tarun Gupta, CEO of Brainpulse Technologies, is a prolific author and digital marketing specialist. His insightful writings span SEO, content marketing, social media strategy, and email campaigns, offering invaluable expertise to businesses worldwide. Tarun's contributions continue to shape the digital marketing landscape, guiding success in multiple niches.
---