Content Marketing And
Distribution Services
At Brainpulse, we understand the importance of content marketing in building your brand. We create and distribute valuable, relevant, and consistent content to attract and retain your target audience. a clearly defined audience, with the ultimate goal of driving profitable customer action.
Our content marketing services provide businesses with the expertise, resources, and tools needed to develop and execute fully optimized and ROI-driven content marketing campaigns. We can help businesses achieve their marketing goals and convert more of their visitors into paying customers.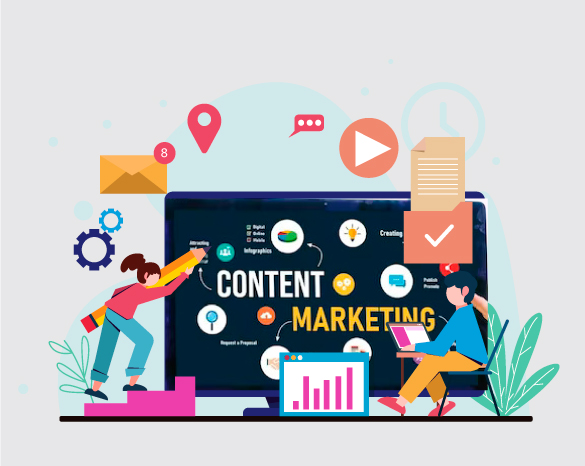 Content Distribution Channels:
At Brainpulse, we understand the innate value of great content. We make sure that it should reach out to your target audience. We have intelligently crafted and precisely curated content marketing services to help you spread your valuable content to potential readers. Our social media team utilizes major content distribution channels (social media, paid media and other digital mediums) to distribute your content across a humongous reader base who might be your next customers. Our content marketing and distribution plans are effective for all content formats that include text, video, audio and even eBooks.
Social Media Content Syndication:
This is where we set the standards. Being the # social media marketing agency, we know how to weave magic through it. The way we use social networks, communities and forums for content distribution, no one can do. Our social syndication team distributes your post on all premium social media sites, bookmarking sites, web 2.0 platforms and premium ping directories, and in no time you start experiencing visitor traffic. We don't wait for people to come to your posts and transact, rather make the content accessible to them.
Following are the top notch social networks where we promote your content for maximum traction:
Facebook
Twitter
LinkedIn
YouTube
Instagram
Tumblr
Scoop
Quora
Reddit
Influencer Marketing :
As an experienced Content Marketing Agency we know Content personalization and segmentation is an integral part of our content distribution services program. Our influencer outreach helps you to explore persona that can give brand an edge over its competition. Our experts take the time to analyze and research the platforms where influencers spend most of their time in niche related conversations. This paves the path for content responsiveness and agility and brings right content to the right audience. We identify thought leaders in your industry who are socially active and can share your content with their audience base.
Paid Search Distribution:
Our paid search online distribution has all the powers to escalate your exposure and dramatically increase the impact and engagement of your content. With our paid search campaigns we distribute only those posts that have as much engagement as possible. Our experts figure out who is going to get the best benefit of your content and then we share, and promote it on their feeds.
Video Content Distribution :
If you have video content to promote and distribute across the channels, our video content distribution plans are for you. Leveraging the most robust and innovative video distribution and tracking solutions, we upload your content and distribute it across popular social and video networks. We unleash the maximum potential of video streaming channels like YouTube, Vimeo and others to create, distribute and promote your content to your potential readers.
Other Content Distribution Channels:
When it comes to offer you the best of the content distribution services, we go even further. We optimize your content for search and distribute it through the preferred social channels. At BrainPulse we discover the places where sharing and distributing is natural. These are other ways that we take advantage of in order to share your content:
Newswire Distribution
Infographic Distribution
Guest Blogging
Comment Citation
Content Curation
Why Brainpulse For Content Marketing Services?
Being the leaders in the digital marketing we align the content distribution with your target audience. Just give us your brand promotion such as e-books podcasts and videos and leave the rest to us. We will distribute, share and promote it across our multi channel networks. There are reasons why businesses across the verticals show trust in us.
Scalable content distribution services
Measurable increase in ROI
Faster content delivery
Outstanding online viewing experience
Manage an impressive digital presence
Still have queries? Call us now on 0120-6790400 to get in touch with our Internet Marketing experts. They will tell you about our exclusive Digital Marketing plans made specially for the businesses like you.
Latest Blogs & Insights From Online Content Marketing