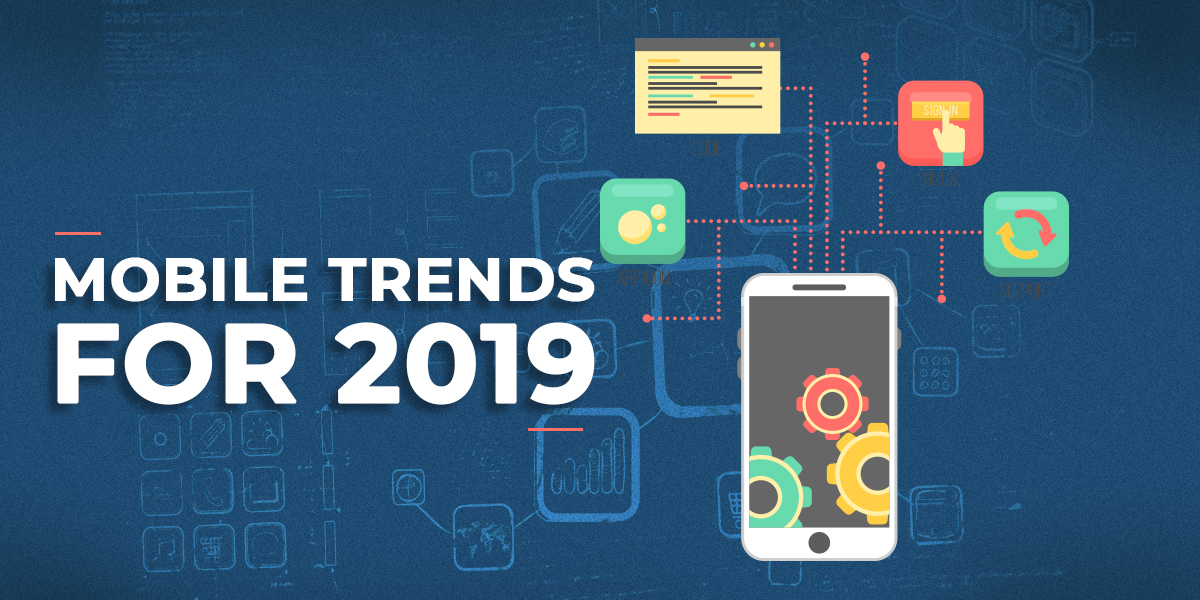 Without any doubt, mobiles have become the lifeline in recent years. From morning workout to cab bookings and from a conference call to notes making, we have begun relying on this small device. Stats show that people aged 25 and over uses smartphones around 265 times a day. The stat soars to 390 a day for people fall under 15-24 age group.
Thanks to the advent of new tech innovations and mobile technologies that made our mobile phones super exciting.
Mobile technology, especially mobile app are evolving on a daily basis. New innovations, impressive ideas and life changing applications are making mobiles a worthwhile experience.
Top Mobile Application Development Trends
The article brings forth some impressive mobile application development trends and related tech ideas that will become the mobile buzzword.
1. AR and VR: Emerging Mobile Application Development Trend
AR implies to Augmented Reality while VR stands for Virtual Reality. Both the innovations have simply turned the tables by creating new, immersive mobile experiences. Augmented reality is a kind of artificial environment created by major tech conglomerates. AR brings about a whole new world to the user where certain artificial elements are introduced to the user's physical environment. AR gives users a perception of reality.
Ever since its inception, developers and tech giants have largely inducted the technology into their ventures. Snapchat, for example, has introduced the technology to make its social media platform more interactive and engaging. Similarly, VR is also being used in multiple applications across the domains. Wherever it's used, it consists of ahead mounted displays (HMD), data gloves and a tracking system that has been built in it. With the help of these tools, VR creates an actually virtual reality environment.
We are looking forward to see more AR and VR based mobile applications coming to social media and other platforms.
2. Artificial Intelligence:
Artificial Intelligence is the next trend in the list, we are looking forward to. The technology is the brain behind most digital assistants our mobile phones have. Apple's SIRI, Google's Google Assistant and Samsung Bixby are the best examples of AI. AI is usually a machine Learning based technology. In digital assistants, AI is used for speech and language recognition, while on self-driving cars it's used to develop vision-recognition systems.
Now the technology is also being used to develop recommendation engines for e-commerce giants. The engine suggests users products they might like based on what they bought in the past.
3. Cloud Based Mobile apps:
Since mobile phones are built with limited storage capacity and the amount of data we store (doc, audio, videos, gifs etc.) is growing manifold, people will be more inclined to cloud based storage applications. Google Drive and Dropbox are two major cloud storage mobile apps that we frequently use. Google Drive comes with an inbuilt 15 GB of free storage capacity that could be increased by paying a subscription amount. Similarly other apps as well offer different storage space.
To fulfil the growing storage demands beyond the phone's native and Micro SD storage options, we will see more cloud applications making their way to our mobile phones.
4. Mobile based Payment Systems:
The stats of growth in mobile payments will stun you. It's being estimated that global mobile payments exceeded $700 billion in 2017. The amount is a straight surge of nearly $500 billion over the past four years. In past as well, tech giant Google launched its mobile payments service Google Pay for safe and convenient mobile payments.
We also have Apple Pay, another revolutionary mobile payment app. Now, more people are using mobile payment apps over credit or debit cards for making payments. Over the few months, we will likely see more mobile payment apps with impressive features in our mobile app drawer.
5. Blockchain:
Blockchain is the building block of cryptocurrencies. It will remind you of Bitcoin. Isn't it? For novices, the blockchain is an incorruptible digital ledger meant for keeping economic transactions in a programmed format.
The technology is currently powering digital transactions and data transfer across top notch business verticals. Its applications are not limited to the finance and banking only, but cover almost every niche where secure digital transfer of the data is required. As we are on the verge of second quarter of year, we are seeing this technology a master trend this year.

Tarun Gupta, CEO of Brainpulse Technologies, is a prolific author and digital marketing specialist. His insightful writings span SEO, content marketing, social media strategy, and email campaigns, offering invaluable expertise to businesses worldwide. Tarun's contributions continue to shape the digital marketing landscape, guiding success in multiple niches.
---