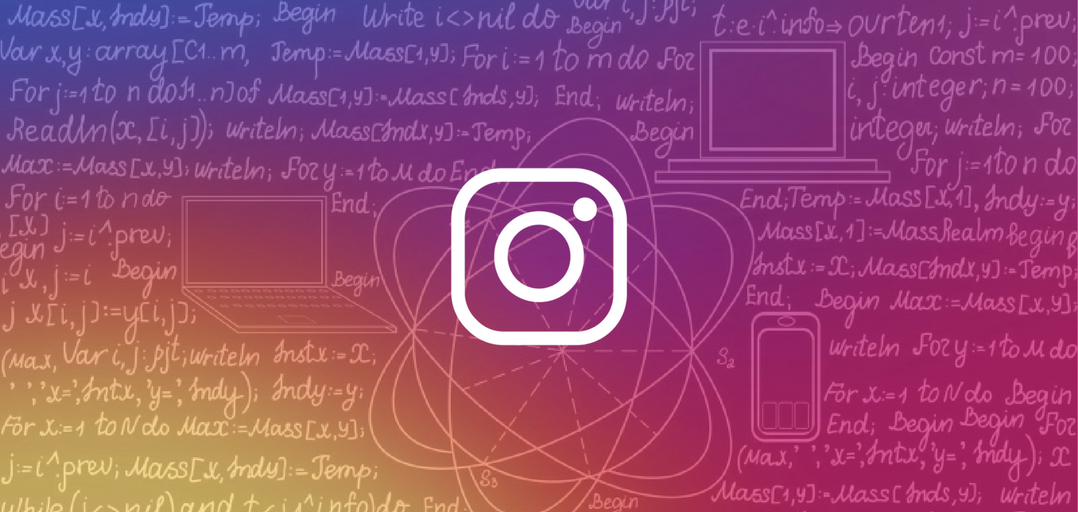 Before investing budget and efforts into Instagram marketing, a marketer should understand how actually the Instagram algorithm works. On the basis of its intelligently coded algorithm, Instagram decides which content to show up in the news feed and which one to ignore.
Eventually, the purpose behind the algorithm is to deliver users a content stream in the news feed that they love to read. If an Instagram news feed fails to impress the audience, they will leave.
When it comes to measuring how high content should show up in user's news feed, Instagram algorithm takes cues from two aspects- one, how quickly your post attracts engagement and two- the relationship between your account and your audience's accounts.
Other metrics that impact how up your post should be in the stream include engagement on prior posts, direct shares, and Instagram Stories.
Instagram's algorithm hadn't been that complicated earlier, but was pretty straightforward. Years back when Instagram was in its infancy, its posts were ordered chronologically, regardless of the engagement. For example, if Tom posted a picture of his dinner date with his better half minutes after Jenny posted a picture of her decorated Christmas tree, Tom's picture showed up first.
Things evolved later on. In March 2016, Instagram revamped its existing algorithm and ditched the way it's considered posts in the news feed. The social network ditched the chronological feed and moved towards a more engagement based content stream in the news feed.
The chronological order of the post didn't always ensure that you'd be continuously getting content of your choice in the feed. Thus, Instagram adopted engagement as the key. The changed algorithm started to consider factors like which accounts you like best, which posts you engage with the most, and which posts were attracting the most likes and comments from your Instagram buddies.
How Instagram Algo Evaluates Engagement?
Instagram starts with your first picture that you publish from your Instagram account. The post is shown to a small percentage of your audience in the very beginning. Once appeared in the news feed, it's valued on how people are getting engaged with it, especially the likes and comments on the post.
Now Instagram compares the engagement your picture is getting to other posts you've shared at similar times and days. In case your photo generates traction and engagement, Instagram will show it to a higher percentage of your audience. If the trend continues, your photo will stay at the top of your audience's news feeds. On the contrary, if it constantly fails to engage the audience from the very beginning, it will get pushed further down the page.
Instagram Algorithm now Considers Relationships first:
So far, we have looked into how Instagram's new algorithm uses engagement to determine what percentage of your overall audience sees a post. Now, let's examine what are the factors that influence the order in which posts appears on a user's feed.
Following are the 5 factors that Instagram algorithm evaluates when deciding the post appearance on top of the feeds:
1. Your relationship with the person:
If a user regularly comments and likes your posts, it indicates that the person has a stronger relationship with you. Sensing this Instagram will make sure you keep seeing this person's post.
2. Timing of the post:
As Instagram puts your relationship with the user atop, it keeps showing your new and relevant posts to the user.
3. Likes and comments:
Instagram's new algorithm considers likes and comments earned on a picture to decide whether a post should be appearing in your news feed or not.
4. Direct shares:
If a user shares posts to his friends and circle, it indicates that he really likes those posts. Thus, Instagram shows him more in the news feed.
5. Profile Searches:
If you likely to search someone's profile now and then, Instagram thinks that you want to see this person's post.
How to See Your Posts High on Instagram?
It's not that complicated to generate engagement on your Instagram posts. Here are a few tips that would help you to hit the bull's eye:
Make sure that you post your picture when most of your audience is around. If you own a business page on Instagram, go through your Instagram Insights page to find out which of your posts are most popular. It will give you a better idea which types of posts you should replicate for more audience engagement.
Create posts that create a value add and generate engagement. Keep creating Instagram stories. If these stories receive traction from the audience in the form of story replay, comments or shares, Instagram will prefer your posts in the news feeds.

Tarun Gupta, CEO of Brainpulse Technologies, is a prolific author and digital marketing specialist. His insightful writings span SEO, content marketing, social media strategy, and email campaigns, offering invaluable expertise to businesses worldwide. Tarun's contributions continue to shape the digital marketing landscape, guiding success in multiple niches.
---