Hire Dedicated SEO Professionals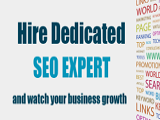 Team up with our dedicated SEO team and give your SEO campaign a winning edge with a pool of SEO professionals who are committed to deliver increased visitor traffic and top ranking in leading search engines viz Google, Yahoo and Bing. When you hire dedicated SEO team from BrainPulse, your website gains exceptional attention and 100% results. We have a team of skilled SEO professionals who are remarkably experienced in executing search marketing campaigns in niche business markets.
More than 12 Years of SEO Experience to Back our Services
Since over a decade BrainPulse has been working incessantly in the SEO domain. During the period we have served over 2500+ global clients with dedication and 100% success rate. To ensure the best results, we have formulated several core SEO Plans that help us to accomplish your business aspirations. All the plans and activities are prepared with Google guidelines in mind. As a premier SEO expert we follow best available 'White Hat' techniques endorsed by Google webmaster tools.
15+ years of extensive vertical experience
200+ skilled SEO professionals at work
500+ satisfied customers
Solutions for diverse industry verticals
Services per industry standards
Best SEO practices on board
Guaranteed Best SEO Practices
At BrainPulse, we believe in quality work. Our SEO experts believe that there is no shortcut for success. They go ahead with all ethical practices to push our clients' websites on top rankings. We proceed with a well-managed and customized SEO methodology that sets the platform of our SEO service campaigns from beginning to implementation. The services our SEO experts offer are backed by Google guidelines and in adherence with latest Google Penguin and Panda updates.
Process To Shortlist Dedicated Consultants ?
Following is the process we go ahead with to hire dedicated seo India for clients' projects on-demand:
Client Requirement Analysis :
Clients are requested to provide us detailed report about their website's current traffic and ranking positions.
We perform an in-depth analysis of client's website.
Our team evaluates weak points of your website in adherence with search engine optimization standards.
Finally,we select an apt candidate for client project.
Resource Selection & Allocation :
Once our service managers finish evaluating current standing of your website, they scan and shortlists an apposite Team to work on client projects and deliver results.
Clients are also offered an opportunity to interview potential candidates and sign the contract if satisfied.
Selected resources are assigned to work on client projects for stipulated duration mentioned in the contract. Our dedicated experts work for 8 hours per day from Monday to Friday.
Resource/ Client relationship :
Clients can directly communicate with dedicated resources through Skype, MSN, Yahoo, Gtalk and Email.
For personal communication they have phone numbers of dedicated resources.
They have shared access to our advanced reporting structure and regular audits to see work progress.
We allow clients power to control their work, while we remain aside to take care of supervision of our dedicated SEO Experts.
Why To Hire Dedicated Resource?
It's Economical than in-house SEO.
It allows efficient management of SEO program.
It enables handling of multiple projects simultaneously.
Guaranteed results in terms of traffic ranking.
Quality results delivered under your direct control and monitoring.
Easy, affordable pricing with no hidden cost involved.
Complete ethical approach, delivering natural search engine results.
Hire a dedicated SEO India team and give more flexibility to your SEO Campaign. In order to know more about our SEO services and the process to hire dedicated SEO Experts, please contact us now!
Client's Frequently Asked Questions