Professional Link Building Company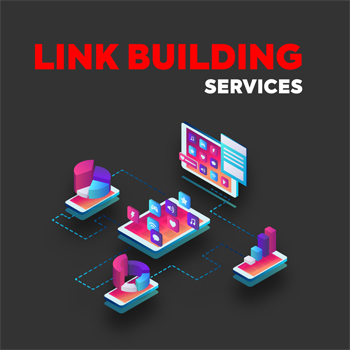 Our organic Link building services help business websites to acquire high-quality authority links. These links are sourced from high domain authority and trustworthy websites in the same niche. Quality links drive quality traffic to your website, improve search engine rankings, and establish you as an authority. Our niche-specific and tailor-made link-building solutions are backed by Latent Semantic Indexing (LSI) rules and Google's link-building standards. We are a reputed link building company that strengthens your website's SEO with white hat link building strategies and custom backlink acquisition tactics.
Why Link Building is Important?
Backlinks are the core of SEO. They act as a vote of confidence for your brand. More authority backlinks to a website show a signal to Google that website is reputed, credible, and trustworthy. Among many factors that Google considers as a ranking signal, the number of unique referring domains comes first. Referring domains strengthen your backlink profile. Authority links benefit your brand in many ways. It improves your search engine ranking, builds brand awareness, and boosts organic traffic.
Links help you establish your brand as an Authority
Links improve SEO Rankings and organic traffic
Links help build strong relationships
Link elevate your brand-building efforts
Link building is a process to get backlinks to your website from other websites. Organic link building is a resource-intensive and time-consuming process. It requires research, strategy, and efforts to build backlinks that add power to your domain. We never endorse black hat link-building techniques for quick gains. It's unethical and may invoke a link spam penalty.
Our Unique Link Building Strategy
At BrainPulse, we have a strategy based link building process to ensure the quality of the link(s) and authority of the source(s). Our highly qualified and professional link builders ensure to get links only from relevant websites and genuine resources. We get links only from cached pages since non-cached pages bring no value towards link popularity. When we say themed one-way link building program, we mean links from sites with related and alike niche and business relations.
Our premium link analysis tools and proprietary software are an integral part of our link building strategy. They help us analyze and dive deeper into your competitor's backlink profile. With the help of this data and insights, our SEO team determines several factors including the link velocity, topical relevance, and anchor text distribution. These metrics are important to elevate your organic rankings.
Link Prospecting
Our Professional link building team starts with a backlink analysis of the website to find good and bad links. The analysis also ascertains the strength of your nearest rivals. As we have enough data in hand now, we begin with Link prospecting. As the name implies, prospecting is the process of finding link prospects (that can link to your website) for your link-building campaign. We use premier link prospecting tools like SEMRush, Ahrefs, and Alexa for this purpose.
Creating Editorial Content
Editorial links acquired from large publications and niche websites bring value to the website. To grab such powerful links, we rely on power-packed and trustworthy content and market that content to a broader audience. We trust editorial content over other White Hat link acquisition methods since they come from an authoritative site with impressive metrics. Our team builds great content that niche websites will love to link to during a link round-up.
Reporting and Tracking
Our in-built analytics dashboard helps to measure and monitor link-building campaign's performance. We provide weekly reports to the clients with all the details including the number of links, source of links, and type of links we created for them. The performance report helps us to improve further. Based on these reports, our team creates custom link-building campaigns to deliver better results. We work with a unique approach that works for your business.
How We Acquire Quality Backlinks?
Inbound Link Building is a very crucial process for any SEO campaign. With the competition graph rising, companies may wish to resort to dedicated link building experts who only look after their projects. At BrainPulse, we can help you have a team of dedicated link builders who will work exclusive on your projects, and help you beat the competition. Here are some quick reasons why Link Building from Brainpulse is a viable choice.
What do We do?
Links from specified Keywords in the Anchor Text.
Sufficient randomization in the anchor text
Links from sites that have PR specified links page
Links from Pre-indexed Pages only
Links from high profile, relevant platforms
Links by publishing editorial guest posts
Links from PRs by promoting media coverage
What We Never Do?
Spammy links through automation
Unnatural backlinks with zero value
Participation in link schemes
link schemes that violate Google's webmaster guidelines
Links acquired through embeddable infographics or widgets
Paid links and link exchange
Building links from deindexed or penalized websites.
Link farms
1. Backlinks from Powerful Content

It starts from writing insightful, quality-filled, and informative blog posts for inciting audience interest. These posts are fully researched and data-driven and backed by visually appealing visual elements, animation, and infographics. We promote and market this content via targeted outreach campaigns to obtain backlinks from every relevant and niche site.

2. Backlinks from Guest Post Outreach

Our team discovers various opportunities for niche-based guest posting. We find websites that match your marketing goals and audience. The team builds content that will resonate with the target site's audience. Now, a unique outreach pitch is sent to the site owner citing the purpose of the outreach email and benefits for both the parties involved.

3. Backlinks from Competition Analysis

Here we identify your top competitors and their backlinks as well as brand mentions. We list down competitors' most popular content and sites linking to it. We also identify broken links on competitors' websites where we can place our links. The process helps us to get an insight into competitor's backlink sources and their content marketing strategies.

4. Backlinks from Natural Mentions

Our PR team sends out your blogs, articles, and stories to leading digital media platforms for pursual. These stories build a positive perception in your favor and help your brand get natural mentions via relevant and contextual links. If you're launching a product or wanting community engagement, the message needs to be conveyed to the masses effectively.
Our Link Building Plans
Our Link building Services plans are designed by keeping your interests and objective in mind. Through our experience in the link building industry, we have come across clients with varied requirements, ranging from links relevancy, PageRank (PR) requirements and reciprocal or one way link building. We have designed our link building plans in a way that clients may choose the right link building plan as per their link building requirements.
Since we understand the relevance of quality links, devising link building campaigns that promise delivering themed one way links, is an easy job for us. We offer our clients an absolute range of correct and productive link building plans to improve their website's rankings in leading search engines. Clients may seek assistance of our professional experts while choosing their plans as per their business needs.
Note: To get custom quotes on our Link Building Services, or in case you have any specific question about our link building process please get in touch with us.
Client's Frequently Asked Questions About Link Building
Latest Blogs & Insights From Link Building