Blog Management & Marketing Services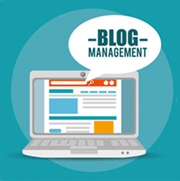 Our blog management services in India offer you a way to reach your buyers using quality blogs. We help you to inform and educate them about the services and offerings you have for them using well-written and informative posts. You just decide to launch your own corporate blog and leave the planning, creation, promotion and maintenance to us. Our experts have exceptional expertise in launching and managing custom blogs on WordPress and other technologies to promote your business.
Blog Management Services Process:
1. Blog Creation:
In this initial process, we define and finalize a professionally designed blog layout. Once done with layout, our professionals keep their utmost focus on creating appropriate title and description that include the search engine targeted keywords.They place main website links within the blogs to enhance in-bound links and page rankings altogether. Our effective blog creation management services enable you to have a well-managed and high-traffic post that engages your audience.Our blog creation process includes:
Creation of effective layout
Posts written by in-house blogging experts
Post content relevent to the subject matter
Search engine friendly content
2. Blog Integration :
With our Blog Integration services, we take your information sharing approach at next levels. Our professional developers integrate your blogs with most popular blogging platforms including WordPress. Our integration services offer you templates and plug-ins of your choice to publish and promote your product and services.
3. Blog Marketing And Promotion:
We have a capable team of SEO copywriters who market and promote your blog using RSS feeds, content distribution websites and various other promotion utilities. In order to promote the blogs more effectively, our SEO services professionals submit the post page URLs to various directories and search engines to increase visibility and accessibility of the blogs by the users. Our promotion and marketing management activities include :
User's comments, comments approval and guest post requests.
Promotion of internal pages via anchored keyword links
Submission of the blogs in almost all RSS feed directories, search engines and third-party
Social bookmarking in quality websites
Putting relevant text links in all post
With our Blog promotion services, we aim to:
Attain a wider audience for your services
Obtain one-way inbound links for your website
Create fresh relevant and keyword centric contents
4. Blog Maintenance :
Our constant blog maintenance services are focused to see your blog management running without interruption. This service segment includes:
Regular updation of the blog with relevant and quality posts
Frequent social media campaigns
Daily archives of the previous posts
High graphics modifications
Theme customization
Custom graphics for the posts
Blog Management Services Deliverables:
Maximized performance
Increased visitors response
Effective communication with your potential audience
Enhanced site's reach among customers
Improved search engine visibility
Better product and service promotion
Still have queries? Call us now on 0120-6790400 to get in touch with our experts. They will tell you about our exclusive Blog Management Services made specially for the businesses like you.
Latest Blogs & Insights From Blog Management