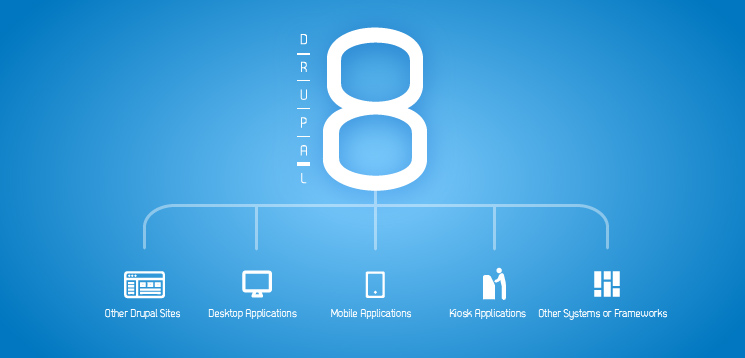 Beyond WordPress, Drupal is another content management system that gives online businesses opportunity to see through the myriad of possibilities online. Since its launch, Drupal has revolutionized the way CMS websites designed and developed. With all its versions so far, Drupal brought in striking so many features and awesome functionalities for the users.
And now, the platform is ready with its new kid on the block- Drupal 8.0. The latest version of this mighty CMS, Drupal incorporates over 200 new features and improvements.
Currently, it's the most popular CMS platform endorsed by businesses, governmental and non-governmental agencies and big corporations. After its launch in 2000, Drupal continues to set new milestones in offering a world-class technical edge to customize your website content, display data on mobile devices, and build API's. Whether you want to float a simple website or have plans to launch a complex web portal, Drupal 8.0 will help you to do so.
Why to Switch to Drupal 8?
If you haven't yet started using this platform, here are 6 compelling and high-end features that make Drupal 8.0 a quick shot for your online business.
Are you looking to launch your Drupal website with a bang? Ask the experts. Brainpulse will help you like a pro to develop a full-fledged Drupal website for your business.
1. Drupal 8.0 is easy to use:
When Drupal 8.0 came out of the closet, it became clear that makers focused more on ease of use. The platform, like its earlier versions, is not overly technical. Features and functionalities are easily exposed to the users. Many new features have been added to this.
The main highlight to include is its convenient and user friendly interface that allows site admins and editors to perform foundational tasks easily. The new interface simplifies tasks like data modeling, front end, landing page, installation, the architecture of information, and much more. With the new version, the makers have ensured that users can have access to quick help. This is why they have introduced Drupal 8 User Guide that includes video tutorials, books, and forums at a length.
2. New features and functionalities that turns platform into massive one:
The Drupal 8.0 incorporates several functionalities, user friendly features and enhancements. This version comes with over 59 inbuilt core modules such as JQuery Update, Entity API, and CKEdition. Another worth taking feature to mention is automatic packaging that helps admins analyze their site and automatically package the site configuration into a set of features.
Other features of the versions are:
Twig, a new PHP-based theming engine that is secure, fast, and flexible.
Built-in mobile friendly themes that easily adopts different screen sizes and compatible to the mobile devices.
A feature allowing us editing text on any page without going to the full edit form.
Integrated views to allow users quickly create pages, admin section, blocks, and more.
3. Built-in configuration management
The version carries a built-in configuration management at the file-system level. That means, admins can easily migrate configuration elements, such as fields, content type, and views, from local development to the server. A version control system is given to track your configuration. In addition to that, all configuration data is stored separately from the site database.
Already have a Drupal website without getting any business out of it? It may need optimization. Brainpulse offers you Drupal SEO services to help you optimize all the website elements as per search engine guidelines.
Drupal 8 comes with the Drupal Module Upgrader, which simplifies Drupal 7 to Drupal 8 migration pro-cess. The upgrader scans the entire code to ease the migration to the new version from the previous version. The upgrade flags any code that requires upgrading and also points out relevant changes when needed.
4. Better and dependable scalability
Scalability becomes a huge factor when you plan business expansion. A small website with few pages and widgets can't handle the load of additional website elements and heavy resources. It can leave your website running slow. To prevent this mess, Drupal 8 is equipped with features required to offer seamless scalability to your website. It encompasses several features for your website to be dynamic without running slow.
5. More powerful WYSISYG editor
The latest version of Drupal has an advanced WYSISYG editor CKEditor on-board. The tool is meant to simplify authoring and posting of the content through admin panel. In addition, Drupal 8 brings forth a variety of other key marketing tools, better content authoring tools and improved translation capacity for users and admins.
6. Drupal 8 is fully responsive, yeah!! True:
The world is going mobile. Unless your website offers equally incredible user experience irrespective of the devices being used, you can't unleash its true potential. Drupal 8 themes are responsive by default. This means, the platform effortlessly delivers equally great user experience on a desktop, laptop, phone, tablet, or any other device, a.
To recall, post Google mobile friendly algorithm update, it has become mandatory for website owners to have a mobile-friendly website. If your site is not mobile-friendly, you can possibly lose 50 to 79% of your visitor traffic immediately.
---