Boost Your Social Presence
with Social Media Marketing
Brainpulse is an eminent social media marketing (SMO) agency that enables global brands to engage with their target audience via premium social media channels like Twitter, Facebook, LinkedIn and others. With our proven social media marketing strategies in place we make brands more connected than ever. As social media channels are evolving rapidly, our social marketing experts make sure that your brand message is conveyed in the right way. Our social media masterplan helps brands to build lasting customer relationships, increase credibility, and improve profitability by creating a loyal followers base.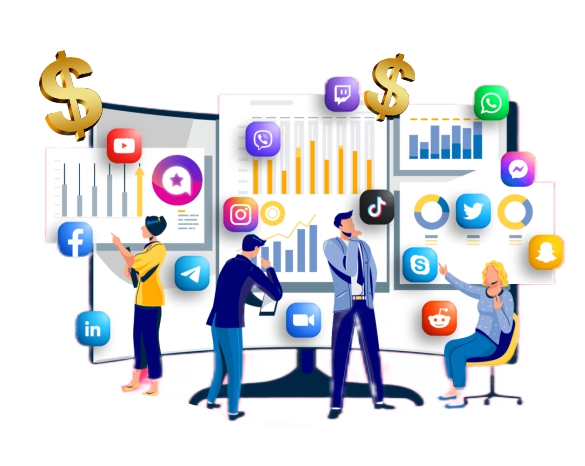 What is Social Media Marketing?
Among the many digital marketing channels used by marketers, social media marketing is the most powerful way to reach and engage with your target audience. Since social media platforms are globally popular for content creation and opinion-making both by consumers and brands, social media has become the most cost-effective audience engagement channel.
Over the years, social media platforms have become the top way for digital marketers to stay connected with their potential audience and engage in a two-way conversation. Social media is now redefining the business's digital presence where users expect to see their favorite brands on their favorite social media platforms.
Why Social Media Marketing is Important?
1. Wide Reach
Marketers can utilize social media platforms to connect with their target audience and create a wider reach instantly. These social media platforms have millions of daily active and engaged users. It brings forth an opportunity for marketers to increase brand awareness and reach new customers.
2. Targeted Advertising
Since most of your targeted audience is hanging around on these social media platforms, you can run highly specific ad campaigns by targeting specific demographics and interest groups. In this way, you will be able to align your marketing efforts to pull the attention of your most relevant audience. It will result in higher conversion rates and more dollars in return.
3. Relationship Building
By targeting your most relevant audience on Social media platforms, you will have an opportunity to connect and engage with your potential audience personally. It will help you to build lasting relationships with your audience for increased brand loyalty and repeat business.
4. Cost-effective
If compared to traditional methods of advertising such as TV, radio, or print, social can save you dollars. There are several advertisement options available with Social media marketing. You can check with the most suitable option that fits your budget and caters to your target audience. If you have budget constraints, some platforms feature free tools that you can use to promote your business without paying anything.
5. Measurable Results
The best part of social media marketing is that you can measure the results to track the performance and success of your marketing efforts. Every social media platform comes packed with in-built analytics that helps businesses monitor their social media campaigns and measure metrics such as engagement rates, website traffic, and conversion rates.
Brainpulse's

Social Media Marketing Solutions

Our social media optimization experts leave no stone unturned in order to find the right social media platforms where your brand is being discussed. They focus on the areas where further involvement is needed. Being a responsible social media marketing agency, we are committed to expanding your brand reach. Our tailor-made Social Media Marketing Services cover the following:
How Does Social Media Marketing Help Brands?
Our social media managers work on creating and expanding your network on various social media sites. The idea is to promote you as a potential business entity and bring more and more people to grow your network. Your audience is the staple food for your brand. Unless you engage them, your efforts will go unnoticed. our social media specialists will work on creating and expanding your network on various social media sites. The idea is to promote you as a potential business entity and bring more and more people to make your network more popular. Our social marketing efforts and activities align to gain direct, influenced/recommended contacts.
Attract Audience
A campaign backfires if it targets the wrong audience. For us right audience targeting is crucial. With our audience-focused social media marketing campaigns we ensure that your brand message reaches to those who are genuinely interested to hear from you.
Engage Audience
If you find the right audience, you're half done. Now focus on creating effective stream of content that keep them engaged. With our regular flow of high-quality social media content, we will make sure to create audience engagement that lasts longer.
Grow Audience
As you start getting more audience inclined to your brand, do more to cultivate their interest. Consider them your brand advocates. Pamper them. Build a relationship with them. They can bring more relevant audience to your brand.
Create Brand Awareness
Social media platforms allow marketers to share their social media content (blog posts, videos, and other content) to drive traffic to their business's website. It helps more and more audiences aware of the brand's products and services.
Improve Brand Loyality
By having their business presence on social media platforms, brands can increase their visibility among potential audiences. As your audiences get to know more about your brand, it will help you establish and increase brand loyalty.
Increase Conversions
Brand awareness and brand loyalty can directly impact the trust that your audiences have in your brand. As the trust grows, more and more of your website visitors will convert into paying customers by purchasing from you.
Our Social Media Marketing Strategy
Every business is unique so does their social media needs. Unless other social media marketing companies, we don't mix it up. We understand that each social media platform is different and requires an exclusive strategy to embrace the audience there. Here at Brainpulse, we plan a comprehensive social media plan based on your target audience. Using advanced tools and strategies of basic social media monitoring, we help you keep an eye on whatever's important to you on the web.
Analyzing Business Goals
Our social media marketing strategy starts with evaluating your business objectives. Analyzing the goals help us with planning actions that lead to real business results. You may want to grow your reach, drive leads, improve customer retention, etc. Our team sets goals that are specific to your business.
Evaluating Current Assets
Before applying any social media strategy, we audit your brand's current social media presence. The audit may include the social media platforms you're active at, platforms that are bringing the best results and how well are you doing their in terms of competition. The audit adds value to our overall social strategy.
Finding Ideal Customers
Even a great product fails to make a mark if it targets to the wrong audience. With precise audience targeting, we ensure to reach consumers interested in your products or services. It reduce the expenditure spend on irrelevant customers and helps to send messages to the right person and at the right time.
Identifying Key Metrics
Like business goals, we also identify key metrics that define the success of a campaign.Tracking these metrics is important for improving the bottom line. Among many metrics we look into includes the audience reach, overall conversion Rate, brand mentions on different platforms, etc.
Creating Engaging Content
As of now we know who your customers are and where they are. Now, we start to create and promote engaging content for your audience. Our content creators focus on content that aligns with your business objectives. We create high quality content that includes images, videos and Posts etc, that resonates with the audience.
Measuring and Optimizing
The step includes the tracking and analysis of the results obtained. Our social media experts carefully track results and analyze the data to understand the outcome. After evaluating the results, they propose fixes and tweaks to optimize the campaign further to ensure its success.
Our Social Media marketing Strategy is employed to strengthen your brand, enhance online popularity, increase customer base and offer new customers. Our plans include every important social media marketing activity needed to achieve results.
Latest Blogs & Insights From Social Media Marketing