Google Penalty Recovery Services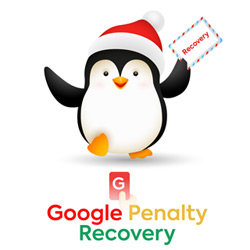 If you have recently experienced sudden drop in your organic rankings and search traffic, it's a sign of a possible Google penalty. This is Google's way to punish spam SEO malpractices that are rampant to achieve quick rankings. It's an effort to ensure and sustain a high level of user experience. Google tracks and demotes such manipulative sites in search rankings. It's unfortunate if your website is hit by a Google penalty. But it's possible to restore your ranking, traffic and reputation. Brainpulse, with 20+ years in SEO, can help you recover from penalties and updates.
What is Google Penalty?
A Google Penalty is a kind of punishment imposed on websites by Google. The search engine penalizes websites that are found to be involved in malpractices. These are the websites that trick and manipulate Google standards for quick gains. Google penalty is of two types- manual penalty and algorithmic penalties.
Sometimes, Google triggers a penalty after an update to the ranking algorithm. This is called an algorithmic penalty. Likewise, a manual penalty is triggered after a manual review of the website. The penalty occurs if Google finds that the website is involved in black hat SEO strategies.
With these Manual/ algorithm updates, Google rewards websites that follow its quality standards set under Google's webmaster guidelines. Following are the three important Google penalties that frequently occur and need to be fixed immediately.
Manual Google Penalty
As the name suggests, the penalty is levied after a manual review of a website by Google's search engineers. There is always a team that conducts a review on the websites and demotes the pages in ranking if any deviation from the standard rules is found. The positive side of the manual penalty is that the website owner is notified by Google via messaging on the Search Console if any black hat activity is spotted.
Algorithmic Google Penalty
Unlike Manual, an algorithmic penalty is an automated corrective action taken against a website for its indulgence in spam, black hat, and manipulative tricks. Goole lowers a website's search rankings if it breaches Google's quality standards. Most of the time the action happens just after the completion of an algorithmic update.
How does Our Google Penalty Recovery work?
BrainPulse has been helping businesses for over a decade with Google penalty removal services. Our SEO Consultants are well-versed with Google guidelines and algorithm updates. Our penalty recovery is backed by long-term strategical campaigns and a step-by-step process.
Google Penguin Recovery Service
1. Identifying Bad Links

The first phase involves comprehensive efforts to determine the actual cause of the penalty. Our team identifies and fixes all black hat instances found on your website including un-natural links, poor quality links, all kinds of spam, and over-optimization issues.

The process for Google Penguin penalty removal services begins with distinguishing quality links from problem links. Our team finds low-quality links coming from all possible sources including low domain authority websites, spammy link directories, site-wide links, paid links, and links from low-quality press release websites.

Scanning of Inorganic/Unnatural Links
Sorting out backlinks based on Theme, Anchor Text Being Used
Identifying the toxic links that need to be removed
Contacting Webmasters for removal of toxic links
Creating disavow.txt file for the sites/URLs

While removing the bad links we also ensure no harm to the good links. We put on work our best talent who understand how to separate bad links from good links.

2. Contacting Webmasters

Once our SEO team is done with identifying problem links and the source websites, they contact respective webmasters to remove or update the link. The team individually approaches webmasters via emails and requests them to remove your website backlink. We also use the Google Disavow tool as the lost resort to clean up bad links if webmasters don't respond.

3. Submitting Reconsideration Request

This is the final step in the Google penalty recovery process. In this step, our team submits a reconsideration request to Google. The request indicates to Google that you have identified the root causes, taken action to fix them, and are ready with a plan to prevent future occurrences. The reconsideration request also comprises the details of why the problems occurred.

The whole process of the Google Penguin penalty rescue consumes a good amount of time and effort. You have to have a lot of patience. Our team consistently monitors traffic and rankings to look if things are working or there is further scope for improvement.

Google Panda Recovery Services

Any kind of content spam leads to the Google Panda penalty. If a website is found to be involved in content spam, Google demotes its rankings in the search rankings. To avoid content penalty, make sure to produce high-quality content. Google has in place a detailed guideline on how to create high-quality content. By following these guidelines you can fairly overcome Panda penalties and prevent future ones.

Baseline Rank Check for content pages
Traffic drop analysis using GSC and GA
Plagiarism tracking
Discover and analyze low-quality content issues
Recommending pages removal/updation/ fresh content addition
Resubmit the XML sitemap in webmaster tools

The Panda update is designed to penalize websites that don't offer a good user experience. Thus, websites with extremely poor user experience are the biggest victims of the Google Panda penalty. To avoid the Panda penalty, you have to fix the errors that affect your website user experience. Our Panda recovery team identifies issues related to low-quality content and user experience, they create a recovery plan and execute it.
Client's Frequently Asked Questions About Google Penalty Recovery
Latest Blogs & Insights From Google Penalty Recovery