Difference Between Google My Business And SEO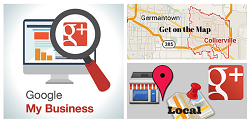 Most of our clients confuse Google My Business (formerly Google business listing) with SEO. In this quick walkthrough, I will distinguish how both of them are different entities and the way they complement each other. To begin with, both Google My Business and SEO are two of the prominently used ways through which your potential customers can reach out to you. Here what we really miss is that, Although, SEO is an evolving and imperative practice, Local SEO or Google business listing also forms one of the important aspects of search.
Before diving into deep how they are different ?
Organic SEO:
Organic SEO or SEO (Search Engine Optimization) is a practice to optimize a business website to make it search engine friendly and get it ranked higher for business specific and relevant keywords. Organic SEO doesn't necessarily include a local element as it essentially revolves around a website. The websites using organic SEO can be a full-fledged which might or might not have a geographical location.
Google My Business:
Unlike SEO, Local SEO revolves around building reliability and gaining relevant signals around specific locations. These results appeared on Google My Business are relevant to the users who present in a particular locality. These results are most of the time labelled with customer ratings, reviews and other information about the business including hours of operations, directions, phone number, address etc.
If said in one statement, Google My Business is a place where search engines display the results based on geographically related keywords used in the search query.
Key Differences Between Google My Business And SEO:
I hope, you are now able to catch the basic difference between both these entities. Now, let's have a brief point-to-point discussion on other key differences.
The first difference is 'location':
Organic SEO:
As I already said, Organic SEO might or might not have a targeted geographic location. It can consider location as a factor, but is definitely not attached to a local business. Notably, organic search and results are totally independent of the locations.These results are a mix of businesses, articles, blogs, news, social media profiles etc.
Google My Business Listing:
Local SEO is associated with a brick-and-mortar business and has a geographical component for sure. Let's say if you're searching for a 'car service in NY', then the engine would take it like you are exploring local car services businesses in NY. Then the search engine would look out for trusted and relevant business that do car service around the user's locations, that's NY in this case.
The first difference is how they target SERPs:
Organic SEO:
Organic SEO aims to rank high for a specific set of keywords.
Google My Business Listing:
The main purpose of Local SEO is to get into the local listing packs. Local SEO is about listing the business with with consistent citations at every other place where the potential customer search for. They may be niche directories, forum etc.
Organic SEO is about links, Local SEO is about citation:
Organic SEO:
Here, links means quality links. Period. Relevant and quality links are the most important aspects of organic SEO. They help businesses to increase the relevance and authenticity of your website as per Google guidelines. Greater the number of quality links, the better is the ranking.
Google My Business Listing:
Google My Business Listings treat links differently. They consider local citations here. Citations are the mentions of your Business name, Physical address and Phone Numbers across the web. If your website is consistently cited at all the relevant and important places in your niche, it would definitely increase the relevance and authority of your business.
Still have queries? Call us now on 0120-6790400 to get in touch with our SEO Consultants. They will tell you about our exclusive and the mechanism in place to put your website higher in search rankings.
Client's Frequently Asked Questions About How is SEO and Google Local Listing Different ?