Get Instagram Likes / Views Organically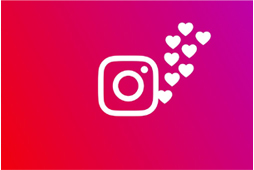 Number of likes on your Instagram posts is crucial in many ways. They help you build your authority and credibility. More likes send signal to audience that you're popular in your niche and people love to engage with your content. It takes time and efforts to grow likes on your Instagram posts. Brainpulse's social media marketing team can help you to get free Instagram likes with its proven marketing strategies. Unlike other agencies, we employ a dedicated team and a proven social media marketing strategy to create and promote engaging content that your audience loves to like.
Grow Instagram Likes to Fulfill Your Business Objectives
Imagine if your business is exposed to over 700 million monthly users. With Instagram you can unleash this potential in favor of your personal or business brand. If you create engaging and enticing content and post it to right set of audience, you can see crowd of potential audience coming your way. If you manage to get more organic and free Instagram like on your Instagram images, videos and status updates, you'll get noticed and liked more. Number of likes on your Insta posts helps you build a strong rapport for your brand on the web.
Get More Traffic
More likes on your Instagram posts attract others as well to pursue it. It results in more traffic coming to your profile and then to your website.
Generate Leads
More potential traffic on your Instagram posts help to generate more leads that convert into real business.
Drive Sales
More the leads you generate, more the number of sales you can make. Real likes encourage others to engage and purchase.
Get App Installs
Growing Instagram audience can help you to increase mobile app downloads if you promote a mobile app via Instagram
Boost Engagement
More likes bring a constant stream of loyal audience for your Instagram brand. loyal audience easily converts into customers.
Enhance Brand Reach
An engaged Instagram audience help you expand your brand reach by sharing and recommending your post further.
Skyrocket Your Brand Image:
Number of Instagram Likes that your posts on this social network manage to get, directly impacts the way people perceive your brand. Huge number of likes on a page symbolize how credible and popular your brand is. If you successfully able to get likes on Instagram, you can easily outshine the competition.
Strengthen Your Online Presence:
Having great number of Instagram posts like is crucial for your brand visibility and promotion. If you have more likes on Instagram, you can easily promote your business, build more connections and get featured on Instagram.
Expand Your Brand Reach
Your Instagram Likes can help you promote your products/services on Instagram. When your Instagram posts get more likes, your brand goes popular as more and more people come to know about your offerings. If you have no idea how to get free likes on Instagram organically, we can help.
Grow Instagram Likes with Brainpulse?
Our Instagram marketing services has been used by over thousands of enterprise all around the world. Our team creates a perfect social media marketing plan to grow Instagram likes on your posts. This is done after diving deeper into your business goals. The team creates customized Instagram campaigns that engage audience and entice them to hit the like button.
Organic and Permanent
All Instagram likes are permanent and 100%. We don't use tools, bot or automated software to generate fake views.
No Bots used
No bots, tools or automated software are used. Likes come from 100% real and genuine Instagram profiles.
No Login Required
We don't require your Instagram account access. Just provide your Instagram Post/Pics URL and start growing your likes organically
If you're clueless about how to get likes on Instagram manually, contact us. We're into business of Instagram campaign management since over a decade. So far we have served many thousands clients with organic Instagram likes and views to make their posts viral. We have a strategy in place to enhance user engagement and build follower base that like your content.
To know more about how to increase Instagram likes, give us a call at 0120-6790400. Our social media marketing experts will brief you about each and every detail.
Latest Articles Update From Social Media Marketing