2D Animation Services
2D Animation is a series of images viewed one after the other in a very short time that creates an illusion of movement. This has been one of the oldest yet the most successful medium. This is used to develop simulate actions and movements that presents the user a realistic experience. To animate means to infuse life and communicate feelings through story telling. The utilization of other medium such as sound appends another coating of meaning.

Professional 2D Animation Services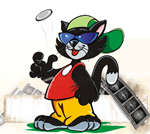 Our range of enables you to influence cost benefits without any concession on quality and standards. With an extremely accomplished and ingenious squad of professionals, we have developed the attribute of delivering world class products and services. We bring to you professional quality 2D design for websites, CD ROM and other media.
Our 2D Animation Development Process
Collection of information and resources
Development of a concrete work plan
Story boarding, character and background designing.
Colored Background
Proper creation of key-frames, dyed background and clean ups.
Compilation of 2D animation, voice-over and music along with special effects
Review and creation of master copy of animation post the incorporation of the needed correction
2D Animation Experts At Work
Our entire expert team is well-versed in customary techniques, own colossal experience in conventional, semi-classical, semi-limited, limited and cut-out animations. Our creative heads produce exclusive and stirring theme of animations to entertain children and elders. We are veterans in developing 2D animated contents for projects as follows:
2D Animation Projects We Undertake
Short cartoon films
Engineering demos
Websites
Games
E-Learning
Why You Should Consider Us ?
Advanced software and animation tools
Custom Animation as per client's demands and specifications
High Quality and Resolution
Swiftly moving presentations
Aptitude to shape up complex ideas and concepts
Careful time management
Latest Blogs & Insights From 2D Animation