Magento Mobile Application Development Services
After being very successful with your Magento e-commerce store on web, it's your turn to tap the amazing potential of M-commerce. Our Magento Mobile apps development services take your Magento store to leading mobile platforms Android, iOs and Blackberry. The rapid growth in numbers of smartphone users is opening up opportunities for merchants to bring their business to mobile users. Our Magento mobile apps are perfectly synchronized with your Magento website. That means, your users will enjoy similar users experience on either versions of your online store. BrainPulse, a leading mobile apps development company is offering a way to transform your Magento website into a Magento mobile store seamlessly. We develop both hybrid and native Magento Mobile Apps for all the major mobility platforms notably Android, iOs and Blackberry.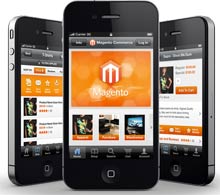 Why Magento For Your First M-Commerce App ?
Magento offers the simplest and fastest way of creating Magento mobile apps using Magento Mobile App Extension. The platform gives easy-to-manage tools and customization options to develop mobile apps for Android and iOs the way you want. Its easy navigation and great UI design make your online store look even better. With Magento, merchants get the flexibility to create the ultimate customer experience.
Native or Hybrid Mobile App: Which One To Choose ?
Don't be trapped in dilemma, either modes of mobile apps are equally significant. Your choice of mobile app type depends upon three key parameters namely the quality of the experience you want to deliver to your audience, the complexity of the features the app has and the budget you allotted for the app development.
Difference Between Native And Hybrid Mobile Apps
Native Apps:
A native mobile app is specific for a platform and is written in a programming language specific to that platform. Like Objective C for iOs and Java for Android. They leverage full potential of the platform and deliver great user experience
Hybrid Apps:
Hybrid apps are developed using HTML5, CSS and JavaScript. These apps can be easily deployed across multiple platform and is usually the cheaper and faster solution.
What Makes Magento Mobile App Extension So Popular ?
Magento brings best-in-class mobile experience to your customers by offering full integration with product catalog, inventory, checkout process and reporting functions. Find here the list of features that make Magento mobile apps development services India a worthwhile experience:
Multiple platform support for both Android and iOS platforms.
Easy integration of your Magento commerce store with your shopping app.
Features and functionalities to manage user accounts.
Collection of elegant themes to choose from that suits your brand.
Push notifications to send latest updates, offers and discount coupons to your customers.
Plug-ins that support default Magento and third - party shipping methods.
And much more.
Let Us Launch Your Online Store On Mobile
Our Magento mobile apps development process is highly organized. From creating a wire frame to final deployment, our team takes care of all. So, don't settle at ordinary, Come to us for out-of-the-box hybrid and native Magento mobile apps with features like multiple-store management & retailing, multi-site functionality, great layout structure, multiple payment gateways, advanced analytics, and CMS. Our Magento mobile apps development India covers:
App Designing
App Development
App Marketing
App Porting
Support and Maintenance
Magento Mobile Apps Development Services At BrainPulse
BrainPulse has years of experience in developing M-commerce apps on various platforms including Magento. Our team creates and configures M-commerce version of your online store and allow you move seamlessly between the web store and mobile store. Our dedicated developers develop fully customized mobile app that looks like a mobile store your always wanted to have.
Developing Magento mobile apps require the right kind of development skills and expertise, and thankfully we have that sort of experience and a team that delivers. To know more about Magento mobile apps development services, call our business development execuive at 0120-6790400.
Latest Blogs & Insights From Magento Mobile Apps