Linux Hosting Services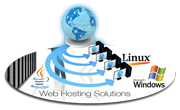 Brainpulse is a renowned Hosting solution provider that offers an array of Linux Hosting Services to the business houses of diverse capital or strength. Our hosting plans are affordable and tailored as per growing resource demands. If you are looking for low-cost yet reliable Linux solutions, you're at right place.
Linux Hosting Plans
Our Linux Hosting India plans are equipped with major hosting utilities, robust servers and the most stable operating systems. All our packages come with a set of features specially added for growing business needs. Our secure hosting plans are made to fit with your business requirements and backed with multiple data centers and amazingly fast network connections.
Why Linux Hosting @ Brainpulse?
At BrainPulse, we understand how important your business is for you. So, our hosting solutions experts make fully equipped plan that fulfills all your online business requirements. Beyond a highly advanced and multi-location Datacenter support, you can avail a number of business advantages with our services.
99.9% Uptime Guarantee With Zero Server Downtime
Private Nameservers
Unlimited Sub Domains, FTP Accounts, and Email Accounts
Unlimited Disk Space and Bandwidth
CentOS/Red hat Operating Systems
24x7x365 Live Chat Support
Robust Control Panel :
Our Linux hosting solutions are perfect and designed wisely. Get the most popular cPanel control panel to mange your website(s) conviniently. cPanel helps to perform number of functions very easily: .
Easy domain management
FTP Account Set up
Website Stats Check With AWStats and Webalizer
Password Protected Directories
Custom Error Pages
IP Deny Manager and Hotlink Protection
Web Based File Manager
MIME Types
Secured MySQL Database:
To ensure Hosting clients authenticated and uninterrupted data access, we offer them multithreaded, multi-user, unlimited MySQL relational database server and much more with Linux hosting solutions..
Unlimited MySQL Database
Easily Manageable With PHPMyAdmin
Multiple Database Users Per Database
And a lot more
Programming Language Support :
Alongside MySQL Database and other features , we also offer clients a robust set of programming with every Linux support hosting India plan. See what you get with our programming language support :
PHP 5, SSI, Perl and Python Support
Cron Job Scheduling
FrontPage Extensions
Free Module Installation
HTAccess Support
E-Mail Features :
For uninterrupted communication, we offer quick and secure e-mail features with our Linux Hosting Plans. Some of the salient features are listed below:
Autoresponders and Mailing List Access
Horde And SquirrelMail Access
Email Compatible with Blackberry/iPhone/Mobile
Unlimited Email Forwards/Aliases/Auto-responders
Unlimited POP3 Email Accounts with SMTP
Spam Prevention With SpamAssasin
And much more.
Linux Hosting Control Panels
Still have queries? Call us now on 0120-6790400 to get in touch with our WebSite Hosting experts. They will tell you about our exclusive Linux support hosting plans made specially for the businesses like you.
Latest Blogs & Insights From Linux Hosting