Dedicated Server Hosting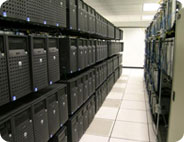 Brainpulse offers a range of managed dedicated servers hosting that fits into your business needs. Out dedicated hosting enables entrepreneurs and small businesses flexibility to configure their own server by choosing a range of customization features including Operating system, RAM, Hosting Control Panels, Firewalls, Backups and Raid etc. Brainpulse's Dedicated hosting services are available on both Linux and windows platform, and can be leased or co-located in our in-house Data Centers.
Dedicated Server Hosting Plans
Avail complete suite of managed dedicated servers backed by latest Server platforms, hosting, Ethernet bandwidth, Operating system, antivirus, public IPs and monitoring features.
Dedicated Server Infrastructure:
Brainpulse boasts of its 93,000 square feet wide data center infrastructure equipped with 24x7x365 digital, electronic, and physical security. Our dual Sonet rings and OC-192 fiber is second to none and ensures maximum redundancy and uptime. Thereby, eliminates the downtime that can be a dent on your IT budget.
N+1 power generator architecture
Latest generation E5 Intel Multi-Processor Servers.
Flawless migration of infrastructure and operations
Choose among Ubuntu, Cent OS, SUSE, Windows Server 2008/2013 operating system
Super micro-based dual-core server upto 8GB of RAM and dual HDDs.
High-end dedicated servers for multi-tier applications
99.99% uptime with availability of IT infrastructure and bandwidth
Multi-server solution with complete IT infrastructure in place
Please Note: Our Data centers are located in India
Next-Gen Dedicated Hosting Solutions:
Brainpulse houses professional dedicated server administrators with core expertise in server technologies both on Windows and Linux operating system. Our team strives to manage and optimize your dedicated severs professionally for security, availability and performance. There are enough reasons why our managed dedicated servers are best fit your accelerating your app or website's growth by leap and bounds. Here are a few:
Free Load Balancer
Free Firewall Software
Free Ping Monitoring
99.99% Uptime
No Setup Cost
DDoS Protected Dedicated Servers
Dedicated Account Manager
Quick & Easy Migration
Free Remote Reboot & Root Access
Looking for higher configuration? Give us a call or drops us a mail. Our web hosting support team will be more than happy to help you out.
Latest Blogs & Insights From Dedicated Servers