WooCommerce Development Services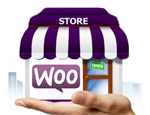 Heading to have a full-fledged ecommerce portal under a tight budget? Choose Brainpulse. We are #1 WooCommerce Development company with 15+ years of experience in design, development and deployment of WooCommerce based online stores for the clients of every size and capacity. From theme customization to theme development and payment gateway integration to shopping cart maintenance, our WooCommerce developers do it all for our esteemed clients. Our custom-built ecommerce solutions help businesses float well-designed, powerful and fully secure eCommerce website / shopping cart that stands out of the crowed.
Why WooCommerce eCommerce?
WooCommerce is an open source platform that has been built to integrate seamlessly with WordPress CMS. The plug-in serves direct and visible advantage to the to the websites that are using WordPress platform and seeking to have an online store for product selling.
With 30+ million downloads and growing, WooCommerce is the most extendable and adaptable open source platform that powers over 28% of all online stores globally. Don't settle at ordinary, get a visually appealing and seamlessly performing eCommerce store right now. Here is the list of features that's why WooCommerce is the first choice of marketers looking for an ecommerce portal.
Open-source and free
Easily scalable
Custom WooThemes options
Complete control over data
Secure source code
Worldwide community
Dedicated support

Our WooCommerce Development Spectrum:

Brainpulse is a leading web development company offering the widest range of affordable WooCommerce development solutions with exciting range of ecommerce features. With our expertise and competence in WooCommerce, we empower you to control every aspect of your ecommerce store beautifully. Following are the services we cover:

WooCommerce Website design & development
WooCommerce Shopping Cart development
WooCommerce Template design
WooCommerce Theme & plugin design
WooCommerce Component & Module Development
WooCommerce Customization
Payment Gateway Customization

Our widest range of WooCommerce ecommerce solutions are meant to deliver you a powerful online store backed by massive features, overwhelming store management capabilities and unbeatable control.

Why WooCommerce Development @ Brainpulse?

We have been in the business of offering end-to-end WooCommerce ecommerce solutions to budding startups and SMEs. With our help they can now easily float a custom-built and cutting-edge storefront to sell their products with ease.

From Plug-Ins Integration to theme development and third-Party Integration to seamless migration services, Brainpulse does it all on clients' discretion. Look at the following reasons why we are the #1 in WooCommerce ecommerce development:

Pool of WooCommerce experts
UI/ UX based development model
State-of-the-art development infrastructure
Global presence with 600+ WooCommerce stores running
Affordable pricing, no hidden charges

A team of WooCommerce developers work round the clock for dedicated projects. They are proficient in developing and integrating range of marketing and other features to your futuristic ecommerce store as per your business need.

Still have queries? Call us now on 0120-6790400 to know more about our WooCommerce Development services. They will tell you about our exclusive WooCommerce development plans made specially for the businesses like you.