Gaming Platform Development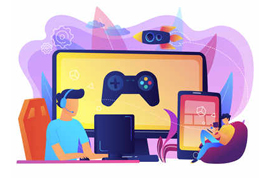 Looking for an agency to build an industry-leading esports gaming platform? Brainpulse is here to help. We are twenty years old software development firm that can build a state-of-the-art online gaming ecosystem for tournament organizers, participants, and eSports enthusiasts, everything together. Our feature loaded and future ready gaming platforms are built for both web and mobile. Our apt team of developers can develop robust, scalable, and enterprise grade Esports tournament platform for thrilling and exciting gaming experiences.
Online Gaming Platforms: Rise of the Beast
Online Gaming platforms have witnessed tremendous growth in term of popularity, viewership and revenue growth.
Esports is now turning into a massive audience outreach and engagement tool. That is why more brands and entrepreneurs are investing in eSports.
Following are the data and numbers that will show the bright future of eSports ahead and revenue opportunities it can unleash.
The global Esports market size that was USD 1.09 billion in 2019 touched USD 1.48 billion in 2020.
Trends show that the global Esports market can grow at compound annual growth rate of 24.4% from 2020 to 2027 to reach USD 6.82 billion by 2027.
Several factors that turn to be the catalyst for Esports market growth include rising live streaming of games and increasing infrastructure for the league tournaments.
It's estimated that esports audiences watched over 7.46 billion hours of content across all live-streaming platforms in Q3 2020. In 2019, before Covid-19 Pandemic, the total prize money for 5288 tournaments was $234,433,656, up 42%.
We Build State Of The Art Gaming Platforms:
Brainpulse has been into the business high-quality gaming solutions development in India since 15-years. We build gaming platforms that are beneficial for both pro gamers wanting to showcase their gaming instinct to world. We cover myriad of gaming genre on our platform including fighting games, First-person Shooter games, Real-Time Strategy games and more.
We are India's top notch and most trusted Esports tournament platform provider. While developing state-of-the-art gaming solutions, we stick to the quality and service standards.
Fast
Fast and responsive solutions for maximum user retention and enhanced gaming experience round the clock across the devices. Blazing fast game streaming every second.
Secure
Our solution is completely safe, protected GDPR compliant. The user data is only accessible to you. We respect your privacy and committed to its safeguard.
Flexible
It's a completely scalable and flexible solution that lets you accommodate more games, players and tournaments to your esports universe.
With our Gaming platform development solutions we empower brands to fully manage their presence professionally with a widest range of esports related features and themes. We strive to deliver next-gen software solutions customized to client's requirements.
Platform Features:
At Brainpulse we strive to build gaming solutions that turns Esports world to reality using world-class technology. Our team creates and delivers pro-gaming solutions packed with super exciting in-game Esports features.
Automated Tournament Management:

Organize and manage tournaments like pro. Create custom tournament pages, include multiple competition formats, provide live score and integrate streaming channels.

Automated Notifications

Ensure highest user retention by giving them live tournament updates and notifications directly in the app. Stay your audience engaged and updated Stay up to date with everything.

Plug and Play API integration

API integration is the perfect option if you're willing to create an enhanced tournament universe. Add ultra-modern features and improve existing functions for higher efficiency levels.

Major Games / Tournaments onboard

Our gaming platform solutions support myriad of tournament and tournament structures. You can create and manage PC games and / or console games via this platform.

Payment Services Integration

Drag and drop payment service integration for hassle free payment processing. Get multiple alternative payment methods onboard on your esports universe.

Multi-Currency Support

Our platform has an inbuilt multi-currency support. You focus on generating revenue we take care of the currency. Give users opportunity to pay in their own local currency.

User Management

The platform brings in extensive user management features including user profiles, Group Chat, Friends Network, Follow and Followers Module, Player Gaming Feed Module and social medic sharing etc.

Skill Rating System

The platform has an inbuilt ELO skill rating system that pulls up accurate player skills from historical match data. This is a skill-based matchmaking that considers the winner and loser of each game.

Score Reporting

Tournament platform has dedicated score reporting feature that lets players report their match scores by uploading screenshots for every game played in a match. It helps to decide the winner and runner ups.

1-to-1 and Group Chat

Engage with the players individually or in a group chat. Join the conversation with other gamers, share ideas and match experiences, discuss strategies in real-time. Build your own gaming community.
With over a decade experience in gaming solutions development we can help you build a comprehensive esports solution from scratch. If you're looking forward to take your game to the next level, our custom solutions is what all you need. We have a sound portfolio of intuitive, easy-to-use gaming solutions developed for varied range of clients across locations.
Why Brainpulse for Gaming Platform Development?
Brainpulse is a leading software development company with 20+ years' experience in agile and be-spoke solutions. We have a dedicated team having specialization in planning, developing and marketing of gaming solutions. They are equipped with cutting edge tools and most advanced technologies that help us in creating the state-of –the-art eSports solutions.
Latest Blogs & Insights From Gaming Platform Solutions