Web Development Methodology
Our aim is to thoroughly analyze and understand your business requirements and build the Web site/application for your company keeping in mind these requirements.Our methodology is based on the idea to leverage your business. The web development processes together with the innovative ideas are the key to success of every project irrespective of its size. The development process can follow a number of standards or company specific plans. Our modern approach and proven methodology ensures that our clients receive amazing results that are particularly designed to fulfill their specific needs.
Web Development Process - The Life-cycle Steps :
It is our firm commitment that helps us to provide with solutions that not only deliver the project objectives but also set standards in the industry. Our web development process includes the following steps: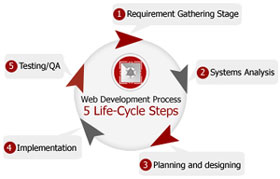 Requirement Gathering Stage :
Our marketing executives initiate contact with the clients to get a better idea of their requirements. They collect the raw data or materials from the original ideas by consultation and these requirements are evaluated for their validity and possibility of incorporating the ideas in the developing phase.
Systems Analysis :
The requirement specifications from first phase are studied carefully and a list involving the details of the proposed items are prepared in an organized manner and then technically documented.
Planning and designing:
In this phase the overall structure of the software and its lay out are defined to plan different milestones of the Website Development and it is here that the logical system of the product is developed.
Implementation :
On receiving the design documents the coding phase starts. Small modules are developed first and then they are integrated and implemented to meet their specifications.
Testing/Quality Assurance :
After the coding phase, testing begins. Different Testing Methodologies are used in order to detect the bugs. The bugs are fixed and the final website is tested to make sure that it meets the client's requirements.
Still have queries? Call us now on 0120-6790400 to get in touch with our Web Development team. They will tell you about our exclusive Web Development plans made specially for the businesses like you.
Latest Blogs & Insights From Development Methodology