SMM Services India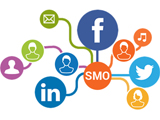 Social media enables businesses to establish huge user network, sharing their content, opinions, views, and encouraging interaction and community building via social channels like Twitter, Facebook, Digg, Stumble Upon and more. BrainPulse, an expert Social Media Marketing Services provider offers a wide range of SMM services and Online Content Distribution Network to develop a rewarding communication platform between sellers and consumers.
Our SMM Services Cover Following Platforms:
Our Social Media Marketing services enable brands tap into the two-way conversation between the brand and their customers. Our social media teams better understand where a brand is being talked and the areas where involvement is needed to help increase its brand awareness. We help you take full advantage of premier social networks to establish your brand reach. Having in mind the business requirements and the ways different social networks function, we have created custom social media marketing plans. Each of our SMM plans is backed by social media audit, competitive analysis, and custom-built interactive social media strategies to grow your online reputation and social credibility.
Scope Of Our Social Media Marketing Services
SMM Service Strategy Creation
To help you benefit from social media, we build a clear social media marketing strategy that takes into account what you're trying to achieve out of your campaign, who your customers are and what your competition is doing. Our social media marketing strategy starts with measuring your goals, creating measurable social media objectives and developing a social media content schedule. Pillars of our strategy are the following:
Industry trends and market analysis audit
Identifying Ideal Customers
Research Competition
Choose channels and tactics
Creating a social content strategy
Allocation of budget and resources
Assigning roles
Social Media Strategy Implementation
In this phase, our social media specialists will work on creating and expanding your network on various social media sites. The idea is to promote you as a potential business entity, and bring more and more people to populate your network. Numerous efforts and activities are processed to gain direct and influenced / recommended contacts. The SMM experts also employ latest tools, applications and software to enable you to connect and interact with your very potential client base.
Managing day-to-day social media campaigns activities
Building social profiles and manage presence in social networking sites
Creating brand advocacy
Community outreach program
Manage a blogger outreach program
Build network of brand ambassadors and influencers
Post and comment on relevant blogs
Produce content into social networks
Write editorial social media content
Create and upload audio visual content
Engage in conversations and answer questions
Creating a social media editorial calendar and posting schedule
Social Media Campaign Monitoring
Social media monitoring is the most important thing that we take care of. Using advanced tools and strategies of basic social media monitoring, we help you keep an eye on whatever's important to you on the web. Our effective social media monitoring helps us to find great content to curate for your audience, to keep an eye on your competitors and to look for opportunities. Key steps that we take during the monitoring phase are:
Developing benchmark metrics to measure campaign
Analyzing and evaluate social media strategies
Reporting on effectiveness of campaigns
Monitoring ongoing trends in social media
Analyzing and monitor competitor activities
Monitoring social space for related topics and conversations
Proposing changes and updates in running campaign
Our Social media marketing services India is employed to strengthen your brand, enhance online popularity, increase customer base and offer new customers. Our plans include every important social media marketing activity needed to achieve results.
Latest Articles Update From Social Media Marketing