Social Media Marketing (SMM) Methodology :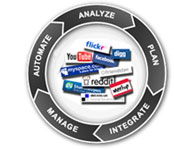 Let's Create, Publish and Promote
To leverage the maximum potential of social media marketing concept, it is important to have a well-thought, focused plan of action. BrainPulse's Social Media Marketing Methodology provides the exact platform to create a focused and result-oriented SMM campaign. Our SMM Methodology ensures to render a concrete campaign that gives you the maximum scope to engage, interact, connect, and share information with your potential customers.
Content Strategy :
Anything that helps you convey your business message to your audience is good content for you. Content helps you to educate, interact and engage your customers. We help you select and create content that strongly supports your business objectives. Our team of content strategists specialize in professionally creating content channels so that the message can be spread online in the most interactive manner.
The Popular Content channels
Articles
Press Release
Blog posts
Videos
Podcast
Images
Webinars
White Papers
Reviews & opinions
Forums
Newsletters
Integrating Networks :
Integration of correct content in correct channels is the real science of social media marketing. Our team of SMM professionals has managed to achieve so by syndicating your content to the biggest set of genuine social networks. Ensuring utmost exposure across the multiple social media channels and platforms, the technique will turn out to be the most efficient way of driving traffic.
The Popular Social Networks
FaceBook
Twitter
LinkedIn
Myspace
Tagged
Bebo

Digg
Delicious
Reddit
Google Reader
StumbleUpon

Dailymotion
Metacafe
Vimeo
Openfilm
And More
Audience Communication :
This phase is about building connection and rapport with the potential readers. Our SMM Methodology ninjas work consistently to form a direct connection with the audience and leverage the same to build and strengthen rapport with them. Engaging and monitoring the audience is one of the most critical activities of this phase.
To Resonate Your Audience :
Moderate threads and posts
Conduct new polls or survey
Start fresh conversations
Ask Open-ended questions
Network Building :
Leveraging the massive marketing scope of the numerous social media networks, we help our clients reach out to the biggest podium of potential customers. Highlighting you as a potential business entity, we ensure to invite more and more people to populate your network. Serious efforts and activities are undertaken in order to ensure direct and influenced / recommended contacts.
Populate your Network
Email Invitation to join your community
Friend group building
Joining communities relevant to your business
Call to action on website
Still have queries? Call us now on 0120-6790400 to get in touch with our Social Media Marketing Experts. They will tell you about our exclusive SMM Methodology made specially for the businesses like you.
Latest Articles Update From Social Media Marketing