LinkedIn Marketing Services India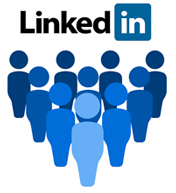 LinkedIn, the #1 professionals driven social media network offers marketers the most professional way build relationships with industry influencers and professionals. Millions of professional profiles out there on LinkedIn that could be your potential associates or buyers. BrainPulse's LinkedIn Marketing services India are best for businesses who want to create massive outreach and promote their business among professionals. With our LinkedIn Marketing, we help them having improved online visibility, sales leads and brand reputation. .
Why LinkedIn Marketing Is So Important For Businesses?
If you're out there to showcase your business in front of ace professionals and companies of repute, LinkedIn is a place you can't simply miss. Promoting your venture via LinkedIn can attract loads of traffic and quality high-quality customers. So, don't wait any more. Let Brainpulse make an ultimately professional LinkedIn profile for you so that you can driving more business, sales and revenue.
51% of the Companies get their B2C Customer from Linkedin.
93% of the marketers consider Linkedin from lead generation.
64% of total visits on corporate websites from social media channels comes through LinkedIn.
How LinkedIn Marketing Benefits For Brands?
It grows brand's reach & builds customer base.
Helps to build reputation as an influencer.
Helps to create strong relationships with audience
Create opportunities to convert relationships into business leads
Helps to influence existing customers
Stimulates outreach by creating brand impact
LinkedIn Marketing Strategy @ Brainpulse:
Brainpulse employs a team of highly professional social media marketers who are efficient in various aspects of Linkedin marketing.
Using LinkedIn application to connect with your third party content sources such as slideShare, WordPress, Twitter, etc.
Create, run and regularly update one or multiple profiles with proper images, content, and keyword rich hyperlink and descriptions
Creating competent LinkedIn Ad Campaigns
Creating attractive LinkedIn Product page
Handling posts and discussions on regular basis
Send messages to your connections regarding events, conferences, seminar, and job openings.
Connect with relevant groups to form new connections
Create an interesting event related to your business or industry
Utilizing LinkedIn Answers section to set up a Search and Answer Questions
Connecting with clients, prospects and related companies
Our Linkedin Marketing Services Process:
Review your current usage and profile
Profile Optimization
Advanced Searching & Sending out invitations
Engagement and interaction
Content Generation
Reporting
Still have queries? Call us now on 0120-6790400 to get in touch with our Social Media Marketing Experts. They will tell you about our exclusive LinkedIn Marketing Services plans made specially for the businesses like you.
Latest Articles Update From Social Media Marketing