Google+ Marketing Services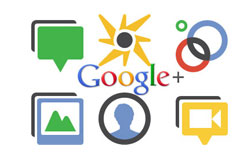 It is time to use the power of Google+ working for your business.
Industry experts foresee Google+ as a powerful marketing tool and hence, you cannot afford to miss it. BrainPulse brings to you its comprehensive Google+ Marketing services so that you can create an impressive and engaging existence on Google Plus. Our services further help you to build and grow your network by launching your own 'Business Pages' or 'Company Pages'. With our Google Plus marketing services, we can help you to grow your overall count of Followers, Engagements, +1's, Comments and Shares.
Google+ Marketing Process
BrainPulse brings to you Google plus marketing services in India. Our team of social media consultants have invested a great amount of time in understanding the mechanism of Google+. They take every care of your business page starting from creation to management. Our marketing experts perform the following activities during the campaign:
Create an impressive search-engine ready profile
Personalize your page URL
Create an engaging mini-bio
Add relevant and remarkable images
Add interesting videos
Create and manage "Circles" of clients, media, prospects etc
Adding opinion leaders and potential customers to each "Circle"
Create a custom URL to share your Google Plus profile
Add micro-circles
Promote your page via your website and other online presences
Work with +1, Comments, and Share to build and enhance relationships
Leverage Google+ hangout for active communication
Create and implement a compelling message strategy to engage audience
Measuring Results
Our Google+ Marketing services team of professionals will closely monitor the social trends on a weekly basis in order to understand the impact of your Google+ presence on your search engine rankings and traffic as well.
Launch your Google+ existence in minutes
Call us today or send an email to the team at sales@brainpulse.com to set up your call with one of our social media marketing consultants.
Latest Articles Update From Social Media Marketing