Facebook Marketing Services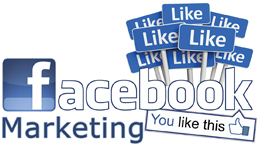 With over 900 million users on-board, Facebook has now become the #1 platform for marketers. They are increasingly using the platform to reach their target audience to promote brand awareness, increase fan base and drive sales. We are a leading Facebook marketing services agency that has been helping businesses since over a decade to fulfil their Facebook marketing objectives. Whether you need more conversions or want to skyrocket brand awareness, we will help you achieve your targets – specifically in the advertising space.
Objective Based Facebook Marketing Campaigns
Your objectives with the campaign could be conversions, leads, website traffic or page likes. Before launching your campaign, Brainpulse sits with you to work on your campaign objectives. A right objective tells Facebook what you are aiming to achieve with your budget invested in ads.
Generate Traffic
With traffic being the campaign objective, we show your ads to the audience who are more likely to click on ads and reach your website.
Generate Leads
Customized campaigns using Facebook's Leads ad forms to generate more leads right on the Facebook news feed.
Drive Sales
Our conversion focused ads are aimed to increase sales, sign-ups, purchases or any other desired action on your website.
Get App Installs
Get more app downloads with targeted ads that direct straight to your app page on the App Store or Google Play.
Boost Engagement
Targeted engagement campaigns having post engagement, Page likes, Event response and Offer claims in mind.
Enhance Brand Reach
Tailored Facebook marketing campaigns to help you reach your targeted brand audience quickly.
Our Facebook Marketing Bouquet
Brainpulse taps into its network of potential audience who may be interested in learning about your products and services. They themselves are excellent networkers and relationship builders. They further share your content with other relevant communities having like minded people.
Are you a business, organization, celebrity, and political figure and want to gain exposure on Facebook? Our Facebook page management services are for you.
Leverage the immeasurable potential of a highly advanced and interactive social networking platform with targeted Facebook advertisements.
Give your business a push with unique Facebook applications and widgets having astounding visualized designs and functionalities.
How Our Facebook Marketing Works?
Our competent social media marketing experts and Facebook experts creates effective and goal-centric Facebook campaigns to target potential customers based on preferred locations, gender, age, interest and previous interactions. From creation of a Facebook campaign to its launch; and from promotion to the measurement, our Facebook marketing team does it all.
Our Facebook Marketing process contains following activities:
Launching a comprehensive Facebook marketing campaign as per client's business needs
Creating Brand's Facebook fan page and Groups and feed them up with quality content on regular basis
Highlighting your brand events, seminars and conferences for more brand visibility
Linking your fan page with popular social networks such as Twitter, Google Plus and LinkedIn for more exposure
Live campaign tracking and reporting to get insights on how campaign is performing and what's needed to be done
Call Our Facebook Marketing Experts, Now:
Your Facebook business page (Fan page) is a powerful tool that builds relationships and brings credibility to to your business. This is the place where your prospects engage with you and discuss your products and services in detail. But, unless you have right chunk of followers, you can't reap benefits. Not just we ensure targeted followers for your Facebook page, but also help your business reach your customers, building relationships, improving the visibility of your product/service.
Still have queries? Call us now on 0120-6790400 to get in touch with our Social Media Marketing Experts. They will tell you about our exclusive Facebook Marketing Services plans made specially for the businesses like you.
Latest Articles Update From Social Media Marketing