Facebook Marketing Services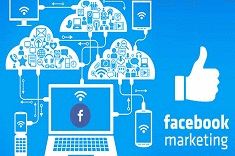 Now that FaceBook has emerged as one of the world's largest advertising and marketing platform, leveraging its potential to gain the maximum possible output has become indispensable for online businesses. BrainPulse provides integrated Facebook Marketing Services to promote brand awareness, increase fan base and drive sales. It lets you build, promote and strengthen your web presence by using gigantic platform of 800 millions of users.
Facebook Advertising & Promotion:
A premier social media channel with over 900 million active users on board, Facebook empowers marketers to strengthen audience outreach effectively. Following are the direct benefits you can get when you go for business promotion via Facebook:
Get found by audience who are looking for your products or services.
Connect and engage with existing and and potential customers.
Create a community around your products and services.
Promote webinars, blog articles, or other resources to capture audience.
Are you a businesses, organization, celebrity, and political figure and want to gain exposure on Facebook? Our Facebook Fan page marketing services are for you. There is no better way than this if you seek to establish long-term relationships with your fans, readers or customers. Don't wait any further. We are here to help you connect with people and showcase them your business with a Facebook Page or Facebook community.
Leverage the immeasurable potential of a highly advanced and interactive social networking platform with targeted Facebook advertisements. Our Facebook Ad Management services help you target your ads amongst neatly defined set of target audience. An experienced ad management team helps you create, edit and manage Facebook adverts. Operate at scale adverts, advert sets and campaigns.
Give your business a push with Facebook applications and widgets development services. Brainpulse widget developers develop advanced, user-friendly, highly customized and unique Facebook applications and widgets with astounding visualized designs and functionalities. Whether you need a customized Share Button or a Facebook page badge, we develop it all for you. Give your branding over Facebook a new dimension.
Facebook Marketing @ Brainpulse:
Our Facebook marketing India team creates effective, audience centric Facebook campaigns. Campaigns are designed to target potential customers based on preferred locations, gender, age, interest and previous interactions. From creation of a Facebook campaign to its launch; and from promotion to the measurement, our Facebook marketing team does it all.
Following are the core activities we perform while making a Facebook campaign to attract targeted visitors:
Building a comprehensive Facebook marketing strategy as per client's business needs
Highlighting your brand events, seminars and conferences etc. among your Facebook audience.
Posting business related news and events on your Facebook business page.
Creating and managing Facebook fan page and Groups with regular content feeds.
Leveraging Facebook Event feature to promote your business events.
Linking your fan page with other popular social networking sites like Twitter, Google +, LinkedIn and MySpace for more exposure.
Ideal result delivery through regular campaign reviewing and reporting.
Genuine Facebook Followers:
Your Facebook business page (Fan page) is a powerful tool that builds relationships and brings credibility to to your business. This is the place where your prospects engage with you and discuss your products and services in detail. But, unless you have right chunk of followers, you can't reap benefits.
Why rely on random followers when we guarantee you genuine followers from your own niche who could be your next customers. More the followers your page has more the reach it generates. Increased reach further improves customer engagement that translates into hot leads.We do not just ensure targeted followers for your Facebook page, but also help your business reach your customers, building relationships, improving the visibility of your product/service. Our Facebook marketing helps you gain:
Facebook Followers

Facebook Likes

Facebook Recommend
Brainpulse taps into its network of potential audience who may be interested in learning about your products and services. Them themselves are excellent networkers and relationship builders. They further share your content with other relevant communities having like minded people.
Still have queries? Call us now on 0120-6790400 to get in touch with our Social Media Marketing Experts. They will tell you about our exclusive Facebook Marketing Services plans made specially for the businesses like you.
Latest Articles Update From Social Media Marketing