Get Organic YouTube Views and Likes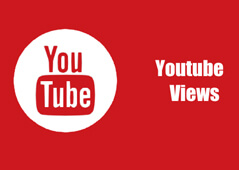 It's an amazing feeling if one of your videos becomes most viewed YouTube video. It happens when you strategically employ your marketing activities to gain video views. Our YouTube marketing services are designed to help you get more people coming, viewing and liking your YouTube videos. Our social media team works round the clock to bring real and geo-targeted YouTube video views and likes from niche audience who could be interested in your Videos. If you're clueless about how to increase video views organically, contact Brainpulse.
Why Organic YouTube Views and Likes are Important?
You must have seen YouTube channels and videos with millions of views and likes. For a YouTuber, this could be a dream to realize. If your videos and channel manage to receive millions of views and likes, no one can stop you from becoming trendsetter. Viewers judge the popularity of a video by looking at its view count and likes it has. They assume a video being popular and worth watching if its view count is impressive. Your video view count turns crucial when it comes to determine popularity. There are many reasons why views and likes are essential for YouTube videos:
It gives your YouTube videos initial push of engagement. Imagine the power of a YouTube video that gets 10k views just after a few hours of upload.
More YouTube views can quickly strengthen brand's social presence
Lot of high quality views means more opportunism to get recommended by the YouTube viewers and influencers.

Get Free YouTube Views with Brainpulse

We are not any other YouTube marketing company. It's our commitment to serve clients with the highest quality service possible. We have a dedicated social media team that works round the clock to ensure the right marketing strategy in place in order to bring more views for your YouTube videos.

Our process to increase the video views is very simple and straight forward. You provide us your video URL which you like to promote or boost. We, then setup the Ads to run on YouTube. Ads go for approval and approximately take 24-48 hours to be approved by YouTube. After the approval you start receiving the views. The process is complete in compliance with YouTube Standards and stated guidelines.

100% High Quality Organic Views:

While running our YouTube marketing campaigns to increase views and likes on your YT videos, we employ only ethical strategies. No matter what, we don't use automated tools or bots at all to generate false views and likes. Views will always come from real YouTube accounts and are remain permanent. We abide to YouTube's term of service to avoid any sort of violation and penalty. All the views and likes are from genuine YouTube profiles.

Proven Marketing Strategy:

We understand that there is no one-size-fits-all strategy at all for YouTube marketing. Every channel and its business goals are unique. So in order to attract right traffic, views and likes we regularly monitor our video marketing activities and their results. Our social media team helps you reach the users to grow engagement and watch time of videos. They work hard to create engaging and enticing video content to ensure constant audience engagement. More the audience likes the content more the views and likes grow.

To know more about our YouTube marketing plans to grow your video views and likes organically, give us a call on 0120-6790400. Our social media marketing experts will brief you about each and every detail.