Get Twitter Followers Organically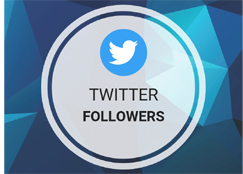 Need more organic and targeted Twitter followers to improve your brand image, credibility and trust? Brainpulse can help you. We have in place a solid Twitter marketing strategy, an apt team of social media marketers and 20+ years of professional expertise. This is how we bring highly engaging and informative Twitter content for audience that influences them. More they engage more will be the chances that they follow you. Your followers will make your gigs, events, concerts and product launches a big hit. Our Twitter marketing strategy is completely organic, Twitter compliant and known for faster results.
Why Twitter Followers are Important?
If you have huge fan following on Twitter, you're already ahead of the competition. It demonstrates your popularity and brand value. If you have a Twitter brand page with good number of followers you can direct them to content on your website. It will increase user engagement on your website and grow its visibility further. Let's say you have a blog post to share or a landing page to promote, your followers can help you. They will recommend, share and promote your content to relevant communities with a link to your website or app. This way you can get new users to your site. Having huge Twitter followers offer brand a number of business benefits that include:
Ability to showing up your brand personality
Adding up to your website traffic
Helps in researching and discovering trends
Enables brands to have real-time feedback
Gives opportunity to provide customer service
Allows more engagement with the community
Why Organic Twitter Followers from Brainpulse?
Brainpulse is a leading social media company with a team of Twitter marketers, content creators and social media geeks at work. Before launching a campaign to bring followers we spend time to understand client's business goals, expectations and pinpoints. Once we outline this, we prepare a social media strategy that is 100% safe, organic, manually done and within the purview of Twitter guidelines.
To grow your Twitter followers strategically, our Twitter content creators create and post engaging content that includes text, audio and video. They also answer mentions and DMs to engage your targeted audience further. We utilize both organic as well as paid Twitter campaigns to grow your content reach and get more followers.>
Organic and Permanent
All Twitter followers are permanent and 100%. We don't use tools, bot or automated software to generate fake views.
No Bots used
No bots, tools or automated software are used. Followers are from 100% real and genuine Twitter profiles.
No Login Required
We don't require your Twitter account access. Just provide your Twitter URL and start growing your followers organically
Unlike our competitors, we offer only genuine and real followers who have genuine Twitter profiles. People who follow you have profile picture, real name, bio and tweets on his/her timeline. They are permanent and non-drop followers.
To know more about how you can get more Twitter Followers with our Twitter marketing plans, give us a call at 0120-6790400. Our social media marketing experts will brief you about each and every detail.
Latest Blogs & Insights From Twitter Followers