Grow your Instagram Followers Organically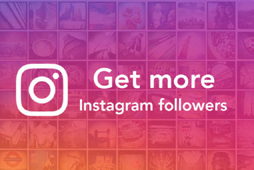 Your followers are the most precious asset for your Instagram brand page. They love to see your posts and interact with it. Your followers like your posts, comment on your posts and share your stuff further to help you gain more audience who could be engaged with your brand. With Brainpulse, start to get Instagram followers and build your presence. We have in place right Instagram marketing strategies that can bring more Instagram followers for your brand.
Get Instagram Followers to Accomplish Your Business Objectives
If you manage to have more organic and free Instagram followers on your Instagram brand page, your brand will get noticed and followed by more people. Number of followers on your Instagram brand page will eventually help you to build a strong presence on the web. Having more followers makes a brand valuable and stronger. It indicates how people love that brand and how this brand is different from others. You can grow your follower base exponentially by offering valuable, compelling and engaging content and conversation. Potential buyers always trust authentic reviews and recommendations from brand followers before making a buying decision.
Generate Traffic
More followers on your brand page are the people who likely click on ads and reach your website.
Generate Leads
Instagram followers help to generate more leads that converts into paying and loyal customer
Drive Sales
More Followers increase sales, sign-ups, purchases or any other desired action on your website.
Get App Installs
Instagram followers help you increase app downloads. More followers means more chances of app downloads on respective play stores.
Boost Engagement
Create next level of engagement on your content with campaigns designed around your target audience and business goals.
Enhance Brand Reach
Instagram campaigns to help you expand your brand reach. Content creation and sharing on multiple communication mediums.
Enhance Your Brand Image:
Number of Instagram followers directly impacts the way people perceive your brand. Having massive following is an indicator how your how credible and popular your brand is. If you manage to get free Instagram followers on your brand page, you can easily outshine the competition.
Improve Your Online Presence:
Having great number of followers on Instagram is crucial for promoting your content on this social network. If you have more followers on Instagram, you can easily promote your business, build more connections and get featured on Instagram.
Promote Your Brand:
Your Instagram followers can help you promote your products/services on Instagram. When they like your brand content and share it within their communities, your brand goes popular and more and more people come to know about your offerings.
Get More Instagram Followers with Brainpulse
We have a proven Instagram marketing strategy to grow your Instagram follower base manifolds. Our services comprise both organic and paid activities to boost engagement and grow your followers. We do a number of things for increasing organic reach of your Instagram content. It includes leveraging the hashtags and finding right audience that are like minded and ready to engage.
Organic and Permanent
All followers will be permanent, of high quality and coming from permanent Instagram profiles. 100% white hat strategies in place.
No Bots used
Followers come from real Instagram profiles. No bots or automated tools are used to generate followers.
No Login Required
No need to provide Instagram access, we need only your Username and we start growing followers organically.
We've so far helped many thousands brands and online businesses with organic Instagram followers. Trust on our Instagram marketing services that are effective, affordable and strategy based.. We guarantee 100% organic and real Instagram followers without using bots, software or automated tools.
Still struggling to know how to get more followers on Instagram and how you can get get Instagram followers organically, give us a call on 0120-6790400. Our social media marketing experts will brief you about each and every detail.
Latest Blogs & Insights From Instagram Followers