Social Media Marketing Services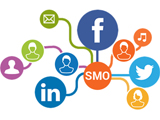 Brainpulse is an eminent social media marketing (SMO) agency that enables global brands to engage with their target audience via premium social media channels like Twitter, Facebook, LinkedIn and others. With our proven social media marketing strategies in place we make brands more connected than ever. As social media channels are evolving rapidly, our social marketing experts make sure that your brand message is conveyed in a right way. Our social media masterplan helps brands to build lasting customer relationships, increase credibility and improve profitability by creating a loyal followers base.
Social Media Marketing Platforms we Cover
Our social media optimization experts leave no stones unturned in order to find the right social media platforms where your brand is being discussed. They focus at the areas where further involvement is needed. Being a responsible social media marketing agency, we are committed to expand your brand reach. We get your brand voice heard and unlock the potential of premium social media channels and major book marking sites. Having in mind the many ways Social Media Channels allow content to flow and communication to further, our SMM and SMO teams create custom social media marketing plans backed by social media audit and competitive analysis.
Social Media Optimization (SMO) @ BrainPulse: Create Distinct Brand Voice
Our social media managers work on creating and expanding your network on various social media sites. The idea is to promote you as a potential business entity, and bring more and more people to grow your network. Your audience is the staple food for your brand. Unless you engage them, your efforts will go unnoticed. our social media specialists will work on creating and expanding your network on various social media sites. The idea is to promote you as a potential business entity, and bring more and more people to make your network more popular. Our social marketing efforts and activities are aligned to gain direct and influenced / recommended contacts.
Attract Audience
A campaign backfires if it targets wrong audience. For us right audience targeting is crucial. With our audience focused social media marketing campaigns we ensure that your brand message reaches to those who are genuinely interested to hear from you.
Engage Audience
If you find the right audience, you're half done. Now focus on creating effective stream of content that keep them engaged. With our regular flow of high quality social media content, we will make sure to create audience engagement that lasts longer.
Grow Audience
As you start getting more audience inclined to your brand, do more to cultivate their interest. Consider them your brand advocates. Pamper them. Build relationship with them. They can bring more relevant audience to your brand.
Social Media Marketing Strategy: Stay Ahead of the Curve
Every business is unique so does their social media needs. Unless other social media marketing companies, we don't mix it up. We understand that each social media platform is different and requires an exclusive strategy to embrace the audience there. Here at Brainpulse, we plan a comprehensive social media plan based on your target audience. Using advanced tools and strategies of basic social media monitoring, we help you keep an eye on whatever's important to you on the web.
Analyze Business Goals
Our SMM Services strategy start with evaluating your business objectives. Analyzing the goals help us with planning actions that lead to real business results. You may want to grow your reach, drive leads or improve customer retention etc. Our team sets goals that are specific to your business, measurable, time bound and relevant.
Evaluate Current Assets
Before applying any social media strategy, we audit your brand's current social media presence. The audit may include the social media platforms you're active at, platforms that are bringing the best results and how well are you doing their in terms of competition. The audit adds value to our overall social strategy.
Find Ideal Customers
Even a great product fails to make a mark if it targets to the wrong audience. With precise audience targeting, we ensure to reach consumers interested in your products or services. It reduce the expenditure spend on irrelevant customers and helps to send messages to the right person and at the right time.
Identify Key Metrics
Like business goals, we also identify key metrics that define the success of a campaign. It's important to tracking these metrics for improving the bottom line. Among many metrics we look into throughout the campaign includes the audience reach, overall conversion Rate and brand mentions on different platforms etc.
Create Engaging Content
As of now we know who your customers are and where they are. Now, we start to create and curate engaging content for your audience. Our content creators focus on content that aligns with your business objectives. We create high quality content that includes images, videos and Posts etc, that resonates with the audience.
Analyze and Optimize
This is final but foremost step of the social media marketing strategy. This includes the tracking and analysis of the results obtained. Our social media experts carefully track results and analyze the data to understand the outcome. After evaluating the results, they propose fixes and tweaks to optimize the campaign further.
Our Social Media marketing Strategy is employed to strengthen your brand, enhance online popularity, increase customer base and offer new customers. Our plans include every important social media marketing activity needed to achieve results.
Latest Articles Update From Social Media Marketing