Mobile SEO Services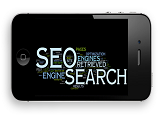 With mobile subscriber base growing and counting more and more, online businesses have got an innovative medium to reach their potential buyers. They have created their own mobile websites to give users a way to browse and shop on the go. If you too have a mobile website and want to rank it on top in search engines, you need our Mobile website optimization services specifically designed for you. With a set of optimization plans, we are ready to give your website maximum visibility and higher search rankings it deserves.
Why You Need Mobile SEO Services ?
Smartphones and other similar device are smaller in screen size, thus an optimization strategy should be one that must not hurt user experience. We take care of this aspect and optimize them precisely so that it should be rendered and indexed by the search engine spiders. While optimizing websites, we strictly follow accessibility guidelines as set out by the W3C and Google. We make sure that optimization must not impact site's visibility, navigation plans and other important aspects and should deliver smooth scrolling every time it's scrolled.
Our Mobile SEO Service Process:
Optimization for keywords and short key phrases
Keyword optimization in title tag, H1 tags, H2's and in the content itself
Making Keyword rich anchor text for internal links
Using external style sheets and JavaScript
Using separate CSS files for screen rendering
Using %s for sizes instead of pixels as it will help ensure things scale down
Hiding items in the CSS or re-arrange an item to ensure that content isn't pushed to far down the mobile page
Submitting sites to search engines
What Our Mobile SEO Services Cover
Website Analysis
Mobile Website Design
Local SEO
Accessibility and Usability Consulting
Keyword Research
Multilingual Mobile Site Optimization
Why Mobile SEO Serices From BrainPulse ?
Brain Pulse is a market leader in SEO Services in India that ready to infuse cutting edge technologies in mobile website optimization campaigns to deliver the best results to our clients. We have a team of experts who ensure your website' compatibility with smart phone browsers when optimized for different mobile devices. We have a proven track record of website designing and optimizing for smartphones to give them top ranking in search engines.
Still have queries? Call us now on 0120-6790400 to get in touch with our Search Engine Optimization Services experts. They will tell you about our exclusive SEO Plans made specially for the businesses like you.
Client's Frequently Asked Questions About Mobile SEO
Latest Blogs & Insights From Mobile SEO