WhatsApp API Development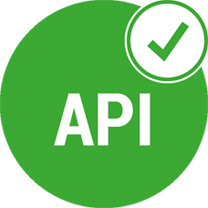 If you want to create WhatsApp chatbots, WhatsApp based support system or any other service that functions within WhatsApp ecosystem, WhatsApp API is the utmost requirement. A WhatsApp API gives programmers programmatic access to entire WhatsApp ecosystem. Now programmers are working on WhatsApp API Development to develop advanced WhatsApp chat APIs to create different chat bots that they can integrate with business systems: CRM, ERP or a website. Many B2B and B2C businesses and Fortune 500 companies have already started using WhatsApp API gateways for sending messages, running marketing campaigns and creating chatbots.
WhatsApp Chat API Development
The main benefit of using WhatsApp API is that you can build innovative application over WhatsApp. Being the most popular and #1 cross-platform messaging app, the platform is used by many small business and reputed companies for sending and receiving communication. A WhatsApp API is required to create a WhatsApp based platform for Business purpose.
WhatsApp API based platform acts a standalone solution that can help businesses connect with prospect new leads / customers / vendors.These API based solutions are stable, secured and capable to manage multiple requests on a given official WhatsApp Number.
WhatsApp API Integration:
With WhatsApp API Integration with existing CRM, ERP and other web solutions, programmers build fully customizable online application that enable businesses send / receive / view and update content on a dedicated WhatsApp Number. The integration makes a solution that enables businesses reach recipients and be reachable at any given time. They help you stay connected to recipients through multiple communication mediums.
Here are the benefits of a WhatsApp API based solution:
These solutions can be installed directly as Google chrome extension.
You have full control over WhatsApp accounts
You can integrate multiple WhatsApp accounts using a single WhatsApp API
Ability to integrate all your WhatsApp and WhatsApp Business accounts with your favorite web services with few customizations.
WhatsApp API based solutions help you interact with WhatsApp using any programming language.
They are developed by abiding industry standard protocols to protect privacy and security.
Features of a WhatsApp API Based Messaging Solution:
Besides the benefits stated above, a standard web based messaging application made using WhatsApp API integration offers businesses a plenty of other business benefits as well. Let's have a look on them:
Web Based Dashboard:

Wherever you are at a given moment, access your web based application online and launch campaigns. All you need is an active internet, and you are done.

Automated Responses:

Worried about delayed response? API based messaging dashboard takes care of that. Just upload files and autoresponder will start responding to the recipients.

Multi language Support:

Have clients who don't understand English? No worries. You can set autoreply in the preferred language.

Multimedia content Support:

Want to send images, pdfs, audio or video clips through your ERP, CRM or Websites? WhatsApp API integration allows you to do so.

Trusted and Secure:

Most of the WhatsApp API Based Solutions ensure secured & encrypted communication.
WhatsApp API- The Next Big Thing:
It's a fact that there is no official WhatsApp API as of now and even the Facebook owned company doesn't have plans to launch one anytime soon. Yet there are companies and developers that are offering WhatsApp API Development and Integration services to the clients on –demand. These solutions offer quick customizations, scalability, technology updates & integrations whenever it's required. Developers have total control over the solution and its functioning messaging SDK with full access to source code.
Disclaimer: BrainPulse does not offer WhatsApp marketing Services or any Whatsapp related messaging platform / software for sending messages.