Bulk Transactional SMS Service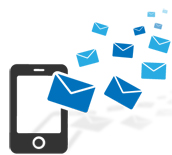 Brainpulse is India's #1 provider for Transactional SMS Marketing services. With our Premium bulk transactional SMS gateway, we enable our clients design, build, host and operate your own SMS applications, quickly and effectively. To offer our end users seamless transactional text message marketing campaign, we have in place multiple Gateway connectivity with major mobile operators. For corporate users, we have HTTP API and SMPP bulk SMS / streaming SMS gateway integration tools.
Type Of Transactional SMSes We Deliver:
We make it easier for you to send Transactional text messages to your customers within matter of seconds. You can make changes to these template based messages as per your needs. Following are the types of transaction messages that we deliver via our bulk transactional message marketing.
Notifications sent from banks
E- bills and alerts sent by credit card companies
Reminders regarding fee payment, registrations and other notification
E-commerce transactions, dispatch and delivery status notifications
Ticket booking information, flight and train timings notifications
Following are the two examples of transactional SMSes:
-"Your order no XYX125 has been shipped. You will receive this order by 01 JAN 2019. Thanks for using our services."
-"Thanks for participating in our missed call campaign to save nature. Your enrollment id is MOP25"
Transactional SMS Marketing Service Features:
Brainpulse offers you complete freedom to send sms from anywhere and at any time using simple SMS Web Interface and High Priority SMS Gateway and Normal SMS Gateway. Whether you are a bank, organization, entrepreneur or a company, keep your customers updated with transaction alerts, important communication and detailed delivery reports. Our reliable API can easily be integrated into Websites and software. Some of the key features of our solution are:
Tranactional Messages on DND number 24X7
6 Character Alphabetic sender id
Delivery on PAN INDIA Numbers
Direct Connectivity with the leading operators.
Real time Message Delivery and Report
Password authentication and Audit trail.
To make our SMS Marketing Service campaigns even more effective, we have launched special SMS Marketing plans prepared specially for businesses like you. Pick the most suitable plan that fits your campaign needs and contacting your customers. Every plan that we offer provides High Speed Bulk SMS service with multiple operator connectivity and PAN India Coverage
Why Brainpulse?
Whichever the plan you opt, we guarantee:
Feature rich software, quick to install and easy to use
Speed and accuracy
Quick Setup and installation
Best and competitive Prices
Unmatched level of Support (Phone, Ticket, Live Chat,SPOC).
Still have queries? Call us now on 0120-6790400 to get in touch with our Experts. They will tell you about our exclusive Transactional SMS Marketing plans made specially for the businesses like you.
Latest Articles Update From Internet Marketing