SEO Services Company in Pune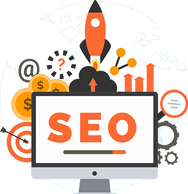 Brainpulse is a fastest growing SEO company in Pune serving online businesses of all size and capacity. As online becomes the new normal for information search and shopping, websites that rank on top of the organic search get maximum visitors traffic and leads. We provide customized SEO (Search Engine Optimization) plans for clients having their exact business needs in the mind. Our SEO services are fully customized and backed by white hat SEO best practices. Join hands with us to grow your organic search rankings and boost your online business.
SEO has visible impact on your overall online business presence. For small online businesses it's a key driver for creating robust and user-friendly websites that rank higher in search rankings. SEO helps businesses generate more qualified potential leads and get more conversion.
Why Your Business Needs SEO?
Websites that stay longer in top petitions of SERPs are deemed more value adding and trustworthy by the users. Here are some of the many reasons why SEO services in Pune is inevitable for your business in such volatile times.
Higher Rankings
A search optimized website with all its SEO elements in place likely to achieve top positions in organic search rankings for competitive keywords.
Targeted Traffic
Websites with higher organic search rankings have more chances to get found by target audience looking for similar product and services.
High Visibility
A website that constantly ranks higher in organic search rankings get more clicks. As it's opened up more frequently, its visibility goes up at scale.
Targeted Leads
Since your website attains targeted visitor traffic via organic search, people landing on the website are hot leads who are interested in buying from you.
More Revenue
Increase in the number of leads eventually heads up to a steep rise in overall revenue. Conversion rate is high if a website receives targeted traffic.
More Trust
Audience assumes a website credible and trustworthy if its organic search rankings are consistently good and visitor traffic is going upwards.
SEO Services in Pune: Our Bouquet
You can count on our result oriented SEO Services in Pune. Our search engine optimization and allied services are the testimony of our highly professional approach to SEO. The services we offer are aimed at improving visibility and increasing traffic at scale. Following are the services we provide to our clients across the global geo-locations:
Best SEO Company in Pune: Our Process
No campaign can ever succeed if it's ill-planned. As a responsible search engine optimization company in Pune we understand it. Our SEO process is planned, designed and executed as per our client's evolving business needs. It's a result driven, resource intensive strategy made to bring in massive organic traffic, increased number of leads new clients for your products and services. Find here our ROI Driven step by step SEO process:
Initial Planning
Our SEO process starts with understanding your business, its existing ranking, its strengths and weaknesses etc. Every business is unique in itself do the SEO activities involved. Every SEO may have different optimization process. Our initial planning looks into your business by observing your industry, audience and major pain points to be addressed.
Website Audit
As a professional SEO services company in Pune we understand search engines better than any random agency. Top ranking depends on multiple factors. Our website audit comprehensively looks into these factors to identify bottlenecks and recommend clear and actionable inputs that will help your website improve its performance at scale.
Keyword Research
With in-depth keyword discovery we try to better understand your target market and audience. It helps us to ascertain how they are searching for your content, services, or products and what the keywords they are using to search. This specific search data is crucial for underlining an actionable marketing strategy for making campaigns successful.
Content Optimization
As name suggests content optimization is a well thought process where our content team optimize website webpages to make it more interactive, engaging and information rich. During the process we take care of fixes and content improvements across the website so that your website can perform and rank better for competitive keywords on search engines.
Backlink Analysis
During backlink audit our SEO experts in Pune scans through all backlinks pointing to your website. They identify both the bad links and good links and plan a strategy to weed the bad out and retain good links. Our link building experts benchmark your backlink profile Against Competitors. They download link list from search console and review them manually.
Performance Monitoring
It's impossible to measure the results unless you rightly track the performance metrics. We employ performance optimization best practices to ascertain which strategy works and which don't. By analyzing and monitoring the right KPIs, we list the activities that aren't driving the expected profit and focus on those that are bringing the results.
Brainpulse: Top SEO Services Agency in Pune
If despite a great website and competitive budget your online business fails to scale as per expectations, your SEO plan is at fault. It's right time to change your SEO agency. Brainpulse is a 20 years old SEO company in Pune that has been simplifying search engine optimization for our clients across global geo-locations.
With our customized SEO plans we make your website visible. We strategically rope in Google backed SEO strategies to improve your organic search rankings and attract new customers for your products and services. Don't wait any more. Give your online business a winning edge. Contact for free quote now.