SEO Company in Ahmedabad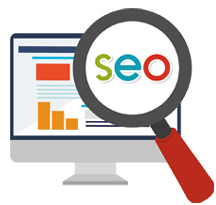 Businesses that appear in top of the search engine rankings get the most customers. Whatever the business or service you offer, your target audience is searching for that on search engines. Don't miss this potential. If you haven't thought of website SEO yet or struggling with futile SEO campaigns without any result, Brainpulse is here to help. We are a top SEO company in Ahmedabad that offers second to none SEO services to help businesses rank high on search results, connect with the target audience and get more customers. Stay ahead with more leads & increased sales.
To get found via search, it's important that your website is appearing the top of search results. This is where SEO or search engine optimization comes in. Search engine optimization is both the art and since that work in conjunction to rank web pages higher in search engines such as Google. Since most of the searches are made through online and via search engines, a search optimized website gets most of the traffic and online visibility.
Why Your Business Needs SEO?
Unless you have a fully visible website with its pages ranking high in search engine, you won't get high paying customers. It's estimated that over half of the consumers scan through organic searches and click on first three listings. This means a website on lower positions, even on the first page, can't get enough customers. A professional SEO services agency in Ahmedabad brings a plethora of business benefits including the following:
Higher Rankings
A fully search optimized website consistently holds top organic rankings on search engine result pages even for highly competitive keywords.
More Traffic
High ranking translates into increased visitor traffic as more and more potential customers click your listing and visit your website.
More Visibility
A website ranking higher for competitive keywords receives high level of visibility as it's get found easily by its potential buyers.
More Leads
With more traffic coming your way, you have opportunity to convert your target audience into high paying customers.
More Revenue
Increase in the number of paying customers elevates your revenue chart. Traffic always results in high number of sales opportunities.
More Trust
A website that remains on top of organic search results is known to be a trusted and credible brand having subject matter expertise.
SEO Company in Ahmedabad: Our Services
At Brainpulse, we offer our clients a wide range of SEO services to help you attain and sustain top organic search rankings in Google. Each of the services we have listed here is designed as per the client's business needs. We don't believe in short cuts so always stay away from the black hat SEO tactics to gain quick results.
Our SEO Process
To be on top of the Google SERPs you have to be right with your SEO. Our consultants know how Google measures ranking signals and how its algorithms work. At Brainpulse, a premium SEO company Ahmedabad, we work with a proven SEO strategy. Our process is designed to fetch massive organic traffic, more leads and new clients for your business. Find here our fool proof step by step SEO strategy:
Initial Planning
Our SEO process starts with understanding your business, its existing ranking, its strengths and weaknesses etc. Every business is unique in itself do the SEO activities involved. Every SEO may have different optimization process. Our initial planning looks into your business by observing your industry, audience and major pain points to be addressed.
Website Audit
After initial planning, our SEO consultants in Ahmedabad pick up the website audit. The process looks into various website elements including its architecture to improve its online presence. Among many website ranking and traffic factors that our audit team evaluates, user engagement, user experience, site health and website performance are primary.
Keyword Discovery
During keyword analysis our SEO team discovers long tail and short tail keywords that can help you bring visitors on your website. Keyword analysis is in itself an important process. Our team creates a list of seed keywords. They use advanced keyword research tools to find the overall search intent and competitor keywords for your SEO campaign.
Content Optimization
As it implies we optimize the entire content of the website to make it more engaging, attractive and actionable for end users. During the process our team runs fixes and improvements on content copy to make sure that it performs and ranks higher in search engines. Optimized content helps websites engage visitors longer and drive more value.
Backlink Audit
Our link audit team conducts a comprehensive backlink analysis to find good and bad links pointing to your website. Using best link audit tools, our SEO experts in Ahmedabad find total number of links & unique domains links are coming from, total number of referring domains and percentage of toxic and non-toxic links pointing to your domain.
Performance Monitoring
Performance monitoring helps us to manage and improve your campaigns efficiently for sustainable results. Once the campaign signs off, our SEO consultants run thorough checks to audit campaign results. We keep tracking campaign performance to find what is working, underperforming and where improvement can be done.
Brainpulse: Best SEO Services Company in Ahmedabad
Looking for a Search Engine Optimization Company in Ahmedabad? Brainpulse is at your doorstep. We are a 20+ years old SEO firm that can help you increase your online visibility, search ranking and organic traffic. We can help you grow your online business at scale. Don't struggle with low visibility and dull rankings, contact us now.
Still have queries? Call us now on 0120-6790400 to get in touch with our SEO Consultants. They will tell you about our exclusive SEO plans and the mechanism in place to put your website higher in search rankings.
Latest Articles Update From India