Yahoo! Search Marketing Services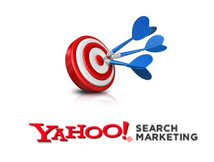 Yahoo is not only known as one among the top content leaders in the web space but also continues to innovate in ad formats and monetization opportunities in search in partnership with Bing. It tenders potential advertisers an opportunity to ensure enhanced visibility, increased reach, and improved ROI throughout their business ventures. Being world's leading comparison search site, Yahoo! turns Yahoo Search Marketing an important component to serve online advertising campaigns. Its hight time to promote your products to millions of motivated buyers as Yahoo! and Microsoft are working together to bring-in a new dimension in search advertising.

Trust The BrainPulse Expertise
BrainPulse enjoys enormous expertise and skill set in offering Yahoo search marketing PPC campaign management services and tracking to its global clients. We accommodate a highly competent team search marketing professionals who analyze your business and the context of the industry and then target keyword phrases to obtain the maximum result. This expertise finally results successful Search advertising campaigns for our valued clients.
Our Process That Works:
At BrainPulse, we take care of every stage of your Yahoo Search Engine Marketing campaign to avail immediate traffic. Our result driven process includes:
Comprehensive Website Analysis
Extensive Keyword Research
Creation of Relevant Ad Copies
Creating effective Landing pages
SEM Campaign optimization
Log file analysis
Benefits We Deliver:
Our customized and highly affordable Yahoo Search Marketing services it gives online businesses definite ROI through generating high quality traffic.
Target your ads to the potential customer base
Highly effective geo-targeted advertising
Steady and relevant user traffic
Instant Results with increased curies once campaign is set up
Improved ROI
Our PPC experts help you to successful manage your Yahoo Pay per Click Campaign and help you to reach on top.