SMS Marketing Services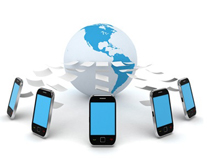 Brainpulse's bulk SMS Marketing services are the most economical and effective way to target your potential customers on mobile wherever they are. From campaign setup to message scheduling, and from sending to reporting, our user-friendly dashboard does it all with few clicks. Our custom SMS marketing plans and SMS Blast Packages help you promote your product / business to your domestic and international customers with ease. Send offers, services, coupons, reminders to your customers on mobile anytime anywhere with our text blast plans.
Promotional SMS
Our Bulk Promotional SMS Marketing is a quantifiable marketing tool that can be utilized to launch bulk SMS campaigns for quick and effective business promotion. Whether you're a brand or a budding entrepreneur, our promotional SMS marketing will allow you to send offers, services and coupons etc.
Transactional SMS
With our Premium bulk transactional SMS gateway, we enable our clients design, build, host and operate your own SMS applications, quickly and effectively. To offer our end users seamless transactional text message marketing campaign, we have in place multiple Gateway connectivity with major mobile operators.
International SMS
Our service has turned out to be an effective method of promoting products, service and offers beyond the domestic consumers. Our International SMS Campaigns help marketers / businesses / corporate houses send international messages to their overseas audience no matter what the network providers they use and time zones they live in.
To begin bulk sms marketing campaigns, just recharge your account with a set amount of money and we would offer you an applicable discount for that recharge. We offer recharge packs of various denominations, and with each denomination of recharge, you get a specific discount % associated with it. Now you are ready to shoot bulk messages with India's most affordable and trusted SMS Blast Provider.
How SMS Marketing Services Work ?
It is simple, straight and Sparing. Send Text Messages from anywhere. You may get started with just a couple of steps.
Select the customer database city wise, state-wise and target industry wise.
Send SMS to databases owned by us, or you can import your list of opted-in contacts to whome messeges need to be sent.
We manage customer database and send messeges on your behalf with your sender id and contact details to the customers of your choice.
Customers can text your mobile keyword to a short code and join your contact list.
You will be provided with delivery reports of the activity.
OTP Services
We have made OTP based two-factor authentication even simpler. Now you can send One-Time Passwords out to your subscribers / users / customers for enhanced security across your app, mobile website or online services. Get your mobile app/ website secured with our Bulk OTP SMS Delivery services backed by 24x7 technical support.
SMS Marketing @ Brainpulse:
User Friendly Control Panel to manage the SMS Campaign with Full Reporting.
Send upto 100,000 messeges per minute.
Send messeges to all GSM and CDMA Networks.
Send upto 160 characters in a single SMS.
Avail 8 characters sender name.
Convenience to set schedule to send text message to mobile.
The most affordable text messaging Pricing
Maintain your sent message history.
Avail dynamic sender ID and promote your Brand.
Ease of creating group Online and sending group SMS to individual group.
Bulk SMS marketing campaigns have provided a way to reach the right focused audience on their mobile phones. In order to gather more information about our service, get in touch with our sales representative or email us at sales@brainpulse.com..
Latest Blogs & Insights From SMS Marketing