Brand Communication Designing Services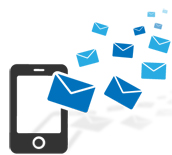 Brand communication is the core of any branding strategy. Our effective brand communication design services determines the overall success of your brand and helps to build value for the products and services in the market. When all you need is a vocal branding that speaks a lot, we help. We have already served 20+ businesses with focused strategies for their branding aspirations.
Brand Communication Design Elements
Our dedicated expert team conceptualizes, designs and implements brand communication solutions to help businesses communicate their business message to the outer world. Our process brings together a number of popular digital mediums together to convey your messege to the targeted audience.
Interactive Communication
Our interactive model is developed by a team of media relations experts. The brand communication designing India model takes following mediums into the considerations in order to spread your message to your potential buyers:
Websites
Flash applications and Powerpoint Presentations
2D & 3D Computer Animation
Business Presentations
CBT (Computer-Based Training)
Video Production
Creative & Print Communication
Our brand communication designing model creates impactful platform to improve awareness of your brand among your potential buyers. Our Brand Management experts leverage the following creative methods to convey your message.
Digital, print and outdoor
Special Events
Media Relations
Influencer Programs
Product Launches
Brochures Design
Annual Reports Design
Collateral Systems
Exhibits & Promotional materials
Business-to-Business Communication
Business -to- business communication helps us to demonstrate the positioning and value of your brand even further. With this communication designing model we develop an opportunity to let business houses create direct connect with you by attending your business meetings and corporate confrences.
Still have queries? Call us now on 0120-6790400 to get in touch with our Experts. They will tell you about our exclusive Brand Communication Design plans made specially for the businesses like you.
Latest Blogs & Insights From Brand Communication Design