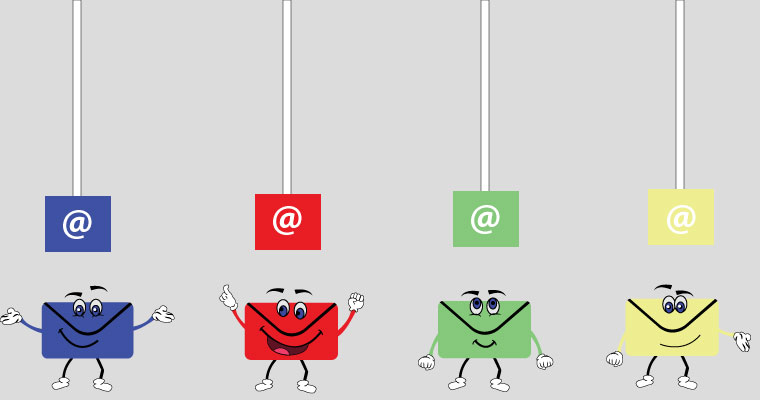 Among so many digital marketing methods available, email marketing is one that marketers trust the most. This is the most used method to create quicker audience outreach and bring faster results. I have been in the business of email marketing from over two decades, and I always find email marketing relatively inexpensive, convenient and holistic method of business promotion.
Tips To Tune Up Email Marketing Campaigns-
Marketers opt for different email marketing strategies to get the desired results. Which emailing strategy fits whom is debatable, but its relevance and significance is absolutely not. Being a marketer, I have tested email marketing in so many ways. Some of them fell flat, but some drew expected results.
I am sharing here some of the sure shot tips that helped me, and I'm sure they'll help you too.
Spend Time On Your Subject Line:
Your email subject line is the soul of your email content and heart of an email marketing campaign. If it fails, everything fails. Unless you input a catchy and compelling subject line, it won't touch your audience. The subject of your email should be purely in line with the business / product you own. Different brands use subject lines differently. Irrespective of the business or service you offer, your subject line should be able to compel people open the email. Here is a list of the best words to use in subject lines.
Segment Your List Properly:
Each of your customers is a distinct entity. Their needs are different. Thus, you can't send out the same email to every customer in your list. Imagine sending an email to a doctor and asking him to buy your CRM software. This is where segmentation helps. A list might have people from different age groups, professions and demographics. Filter the list and segment people as per different attributes.
Now start sending emails separately to the people in the list. Integrate analytics to track how your customer base responds to your messages. In this way you can plan your campaign better and can deliver the right message to the right people. Segment your list by product or service type, interest, geography and age or date of last purchase etc.
Give Your Message a Personal Touch:
Segmenting the data first and then validating it with a data validation tool opens up a set of new opportunities for marketers. Data segmentation helps you to personalize your email campaigns. Customers have become more vigilant now. They're now more specific about what they receive and what they read. Consumers today tend to receive information that is relevant and personalized for them. With a segmented list, you can address the person with his/her first name in the subject line or you can even refer a previous purchase the person has made.
This personalization will make that person feel valued. If he feels that warmth, he will more likely to be one who take the action called for in the email.
A Visible And Clear Call-To-Action:
A call-to-action is another important component of your email. It dictates users what to do next. Call-To-Action can be of different types. Whether you want your users to download your newsletter or want them to go to the checkout page for payment, your CTA should clearly indicate that. It's really disappointing to see mails without CTAs or with confusing CTAs. Ambiguous call-to-action, not only annoys users, but hurts your business too. After receiving your email, if recipients fail to figure what to do next and how, your CTA is not a good CTA.
Perform A/B Testing:
Though, you're ready with your email, don't send until you've tested it through A/B testing. This is the quickest way to find what works best and what doesn't throughout your email marketing campaign. You should perform A/B tests with subject lines, email headlines, body copy, CTAs and email content. I'll however recommend you test one component at a time and keep other variations in content minor. This will ensure accuracy in the test results.
---