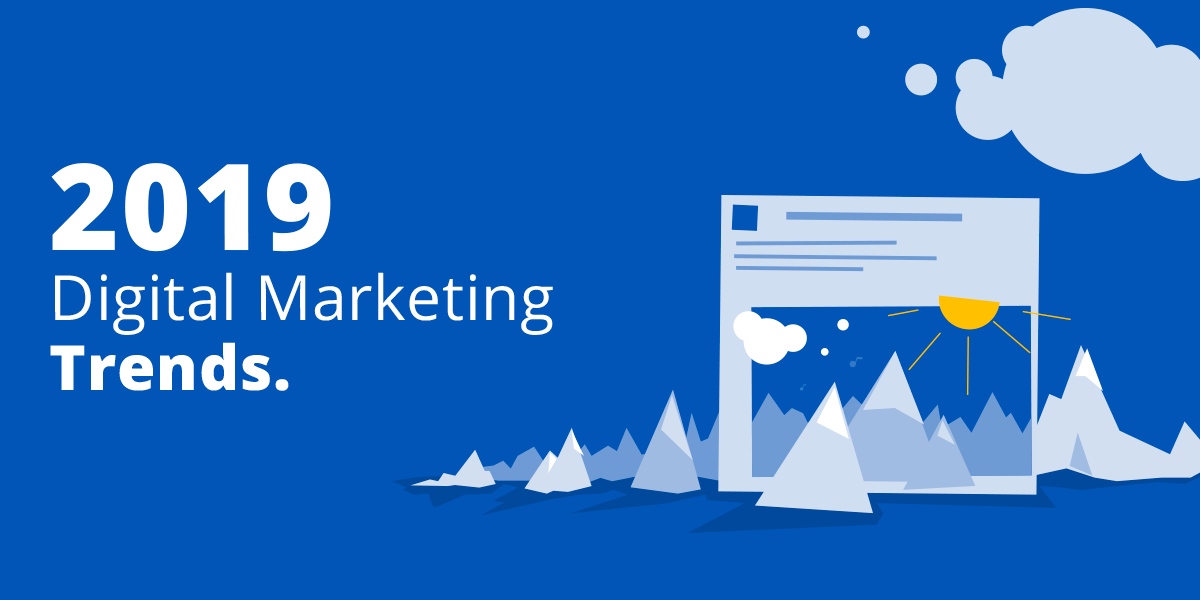 Digital marketing has always been a favorite tool for marketers to capture their audience using influencing brand messages.The basic purpose of the digital marketing remains same. What really changed are the technologies used and methods involved in yielding results. And the pace will likely to continue.
Over the years new and advanced marketing and promotional methods overpowered the existing. They prompted marketers to adopt the changes and accelerate the business growth. Now, digital isn't only about search, social, PPC and email. It's now a full gamut of services that collectively help marketers power up audience communication and ensure delivery.
Top 5 Digital Marketing Trends
Through this guide I am taking you through five notable trends that are eminent for 2019. They will keep you busy throughout the year. These trends will be game changers if you're gearing up to scale your marketing efforts for more leads and business.
1. Artificial Intelligence:
I am sure AI (artificial intelligence) will make its presence felt this year. The technology that's powering digital assistants in our mobile phones is a phenomenon now. Its applications aren't limited any more. AI is now being used even for customer segmentation, retargeting, push notifications and click tracking etc. If you haven't yet unleashed the stunning role of AI in digital portfolio, chances are that you may lag behind. You can find many ways to use AI in your business portfolio.
How you can unearth the great advantages that AI delivers will depend on your goals and your channels.I will recommend you to induct people in your digital marketing team who can leverage the AI in marketing intelligence and delivery systems. A study conducted by Blueshift revealed that AI is used for product recommendations by 28% marketers while 26% are using it for campaign optimization.
The most prominent application of AI-laden personalized campaigns. Despite many advantages that AI offers, very few businesses are currently utilizing it. There are many ways a marketer can induct AI in his business process. You may have seen AI-powered image-search shopping features used by ecommerce magnets.
2. Online Chabot:
Online catboats are other major innovation that artificial intelligence made possible. Being humans, it's ultimately impossible for marketers to reach out to every customer when an issue is raised. Thanks to the AI powered Chatbots. The advancements in machine learning helped business to install and deploy chatbots on their websites to interact with website visitors on their terms.
Since their inception, Chatbots have evolved at a greater extent. They have become more advanced and improved. Now they are capable to hold a basic conversation with visitors and resolve escalated issues and answer most-asked questions. Chatbots can engage in a conversation with the customers like a live human customer support representative does.
Many tech giants have adopted chatbots into their businesses to offer live chat support without human interference. Indian Railways has recently launched its chatbots Disha that answers your queries about train availabilities, schedules, arrival / departure times and much more.
The best thing with the chatbots is that they immediately respond to the queries unlike human customer support where one has to wait to see if an executive is available or not. This means, whether it's a vacation, leave or official holiday, chatbots will immediately respond to the questions asked on a website.
3. Omni channel Marketing
In changing marketing dynamics, customers tend to scan multiple channels to find desired information.
Omni channel marketing lets prospects to communicate with businesses through various channels. Businesses now promote their services via different platforms including social, paid, emails and SMSes etc. So, a business can now be found via:
Social media channels like FB / Twitter.
Paid ads like Google ads / FB ads
Email through email subscriptions
Business website through customer / chat support
To note, Multi-channel marketing contains multiple channels, but they are not interconnected. Unlikely, Omni channel marketing ensures that every channel is connected and available to the consumers. Omni channel provides a better experience for prospects. It delivers quite a seamless and consistent communication process to prospects and customers across all channels.
The aim of Omni channel marketing is to let marketers keep track of the prospect's interactions through different channels. Omni channel marketing makes it possible for marketers to connect to the consumers via interconnected communication platforms such as website, email, social media and paid ads. If you haven't yet applied Omni channel marketing into your business model, have one now. Integrate a customer relationship management (CRM) program that helps you to keep track of your interactions with customers on different communication platforms.
4. Accelerated Mobile Pages:
Google's page speed algorithm led to the arrival of AMP or Accelerated Mobile Pages. Due to huge influx of organic traffic on mobile websites, their load time and bounce rate spikes. This unwarranted increment in the metrics can drastically hit the Google ranking.
This is why Google announced its AMP project years back. The USP of the AMP pages is that they load in less than 0.5 seconds and eventually lowers the bounce rate for your page. Google hasn't yet confirmed if AMP is a ranking signal. But if it reduces the bounce rate, it will eventually boost the user experience.
The best part with AMP is that it allows websites to render and load fast. It could possibly improve your website rank. In the upcoming year we will see more marketers to adopt AMP versions of their mobile websites for quick load time and improved user experience.
5. Email Marketing Automation:
Email Marketing, as usual, will be dominating the domain being the top rated communication channel.
This year, it will be more power packed, effective and result oriented. Thanks to the automation and personalization of email campaigns.
With email automation and personalization in place, businesses can send different emails to different subscribers based on their interests and content preferences. For instance, now you can send a welcome message to a customer who has recently registered on your website. Another good example of email automation is sending automated email to those customers who left your shopping cart midway for any reason whatsoever.
With the automation in place, business should focus on improving their email communications and start repurposing it as a lead nurture and customer engagement tool.

Tarun Gupta, CEO of Brainpulse Technologies, is a prolific author and digital marketing specialist. His insightful writings span SEO, content marketing, social media strategy, and email campaigns, offering invaluable expertise to businesses worldwide. Tarun's contributions continue to shape the digital marketing landscape, guiding success in multiple niches.
---