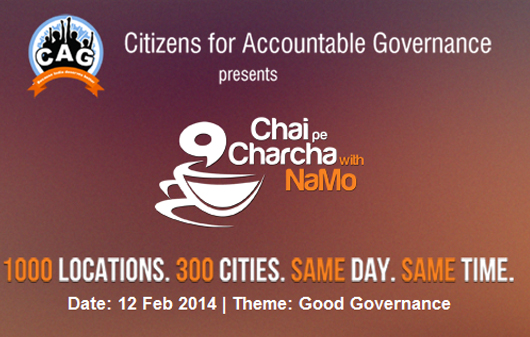 We have made Chai Pe Charcha, a CMS based web application for the representative of a political outfit who planned a campaign to promote their prime ministerial candidate in forthcoming general election 2014. They contacted us to develop a community website to launch their people engagement program across various domestic locations. They wanted to create an online environment to enable individuals to engage with the candidate directly and share their views using using videos, images and views. The client was seeking a mini community website-cum-discussion board to facilitate dialogue, creativity, collaboration and participation to push the candidature of their prime ministerial candidate.
We have studied the client's business requirements in details and put a team of dedicated developers at work. As per the client's requirements we developed their web portal using ultimate WordPress development, an Open Source Framework. Our developers have implemented all the features & functionalities that clients requested for. Functionalities we included have allowed people to locate the place for the event, upload the images/videos in support of the cause and contribute to their funds. Apart from these, member login and user registration were two premier features we have included in the website.
We have built an innovative and fully website for our client. All the features were fully functional and up-to-date. Users had an option to register and login from the panel to upload their videos and images to the website. Users also accessed a panel to comment their views and involve in a direct communication with the leader.
We have so far developed an exhaustive range of robust web applications, e-business solutions and CMS based business portals for our esteemed clients across the destinations. Our impeccable expertise in PHP and .Net technologies helped us to rationalize their complex business processes and improve their bottom line.

Tarun Gupta, CEO of Brainpulse Technologies, is a prolific author and digital marketing specialist. His insightful writings span SEO, content marketing, social media strategy, and email campaigns, offering invaluable expertise to businesses worldwide. Tarun's contributions continue to shape the digital marketing landscape, guiding success in multiple niches.
---